Add Camas to Tumwater's 4A girls basketball hit list as the 2A-contending Thunderbirds rally for 54-51 victory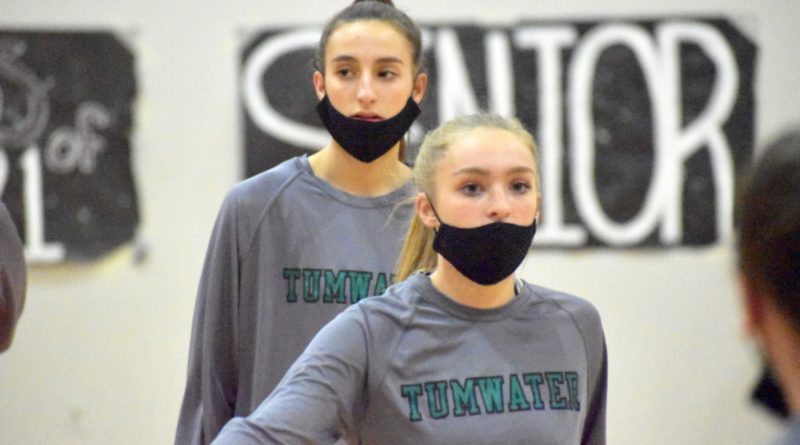 TUMWATER – If for some reason the Tumwater Thunderbirds are uneasy about traveling to Yakima and competing in the size-appropriate Class 2A girls basketball championships, they could always petition for something closer.
The 4A tournament in Tacoma.
They have already beaten the top two ranked teams in that classification.
After posting an opening-week victory over No. 1 Woodinville, the Thunderbirds rallied for a 54-51 triumph over second-ranked Camas on Monday night.
Kylie Waltermeyer scored a game-high 20 points – nine coming in the pivotal fourth quarter as Tumwater, ranked No. 2 in 2A, overcame as large as a nine-point deficit to the reigning 4A GSHL champions.
"I appreciate them so much coming to play us," Thunderbirds coach Robin Johnson said. "They are such a good team, and exposed a lot of what we need to work on, and improve on to make it to the state tournament and play well there."
On a night when Camas largely held Natalie Sumrok and Aubrey Amendala, Tumwater's top two players, in check with 20 combined points, it was Waltermeyer who picked up the scoring slack, and sophomore Regan Brewer's hustle plays that gave the Thunderbirds multiple-shot possessions.
Waltermeyer's straightaway 3-pointer gave Tumwater a 48-47 lead with 4: 25 to go.
After that, the lead changed hands two more times – and Keirra Thompson's twirling inside bucket tied it at 51-51 with 1:31 remaining.
Amendala's pull-up 12-footer gave the Thunderbirds the lead for good, 53-51, with 59 seconds remaining – but the Papermakers will certainly look back at their final possession as one that got away.
Trailing by two points with 10 seconds to go, Tumwater inexplicably left 6-foot-1 standout Addison Harris alone near the basket, and Kendall Mairs immediately fed her with the inbounds pass.
Harris turned on an uncontested 4-footer, but the ball hit too strong and bounced off – and Tumwater grabbed with three seconds to go.
Waltermeyer made the second of two free throws, and Camas' midcourt heave at the buzzer hit nothing but backboard.
Ava Smith led the Papermakers with 17 points, including five 3-pointers.
"We haven't been able to find a way to get over the hump against these top-five teams – these really, really elite teams," Camas coach Scott Thompson said. "We play them close, and then we haven't been able to find those keys to winning down the stretch.
"As soon as they do, those wins are going to start coming – and we are going to start rolling."