Add defending Class 3A champion Eastside Catholic to Kennewick's slay-the-Metro-League giants list: 4 observations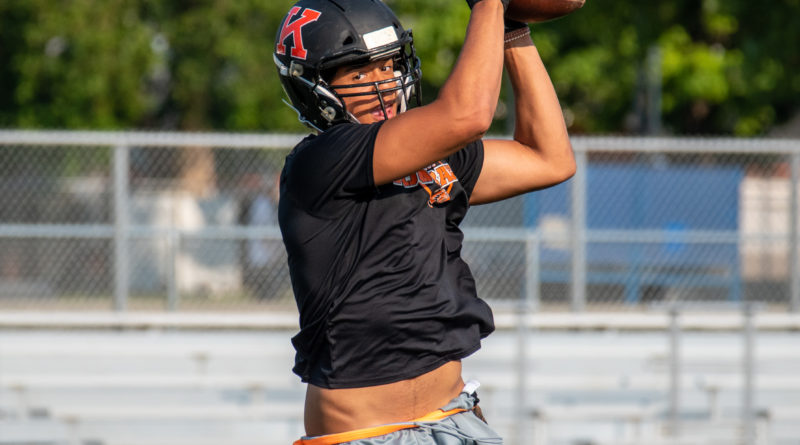 SEATTLE – Defensively, the Eastside Catholic football team pinned its ears from the start, registering three sacks on the first four offensive plays by Kennewick.
It looked like the Lions were in for a long, drizzly evening.
But sixth-seeded Kennewick turned the tables with stout defense of its own and forced four turnovers and came up with the big plays to score a 14-7 triumph over second-seeded Eastside Catholic on Saturday in the Class 3A semifinals at Memorial Stadium.
Senior Simeon Howard provided a pair of interceptions for the Lions, making a 62-yard interception return for touchdown with 9:52 left in the third quarter for a 14-0 lead.
"We tell our kids to just make a read," Kennewick coach Randy Affholter said of Howard's pick-6. "He just made a read and played it."
It was more of that same defense that preserved the win as the Lions came up with a huge defensive stand, stopping Eastside Catholic (9-2) at the Kennewick 20-yard line with 35.3 seconds remaining. After the Lions forced two incompletions to end the drive, they took a knee and ran out the clock.
Kennewick (12-1) moves on to the 3A state championship game and earns the right to face undefeated Bellevue (13-0) on Saturday, Dec. 4 at noon in Puyallup's Sparks Stadium. The only time the two programs have met in the playoffs was in the 3A title game in 1983 with Bellevue prevailing, 17-14.
Here are four observations from the Kennewick-Eastside Catholic game:
STODDARD COMES UP BIG FOR LIONS
Kennewick senior receiver/defensive back Austin Stoddard made impactful plays on both sides of the ball that factored into the final outcome.
First, Stoddard helped a gamble-of-a-play-call come off without a hitch from deep in the Lion's own territory. Then, in the end zone, he batted down Eastside Catholic quarterback Brady McKelheer's second-to-last pass attempt from the Kennewick 20-yard line on the Crusaders' final drive of the game.
The 6-foot-1, 195-pound Stoddard made the gambling play-call pay off by turning a 10-yard pass into a 96-yard touchdown pass play from quarterback Dayton Davis for a 7-0 lead at the 9:53 mark of the second quarter.
His last act came with Eastside Catholic trying for the potential game-tying score and Stoddard dove in front of McKelheer's pass to the end zone to receiver Christopher Taylor for a break-up with 41.3 seconds showing in the game.
A LITTLE METRO-LEAGUE REVENGE
The last time Kennewick reached the 3A state semifinals with a chance to get to the title game, it was a Metro League denial.
Not this time.
The Lions avenged a 29-7 defeat to another Metro power, O'Dea, in their last trip to the semis in 2019.
"This means lot, because coming into my sophomore year we were in a similar situation in the final four, so coming out on top this time is honestly beautiful for me and my teammates," said Stoddard.
BIG PLAYS OFFSET LOW OFFENSIVE NUMBERS FOR KENNEWICK
Just looking at the offensive numbers, one wouldn't think Kennewick had much of a chance of coming out on top on the scoreboard.
The Lions managed just 141 yards of total offense and only 27 yards on the ground. Eastside Catholic was only slightly better with 182 yards total with 131 of those rushing.
But a pick-6 interception and a 96-yard touchdown pass play can make the difference.
"We knew coming in that (Eastside Catholic) had a great defense and we were going to have to take our shots (downfield) on offense, and we got one," Affholter said.
WHAT COULD'VE BEEN FOR CRUSADERS
With a juke, quick move past would-be tacklers and alley down the right sideline, it appeared senior return man Drew Sanidad had saved the day for Eastside Catholic with 6:10 remaining in the game.
Sanidad exploded down the right sideline and raced in for an 88-yard punt-return touchdown, and the Crusaders' faithful erupted, thinking their team was an extra-point kick away from tying the game at 14-14.
But then came loud groans and booing when it was discovered that one of the officials had thrown a yellow flag all the way back at the Eastside Catholic 40-yard line, some 28 yards downfield after Sanidad worked his magic.
And just like that, the touchdown was wiped off the scoreboard with an apparent block-in-the-back penalty.
"I never got an explanation on that, honestly, Eastside Catholic coach Dominic Daste said. "I asked (the officials) several times. It's tough. Even with that, we still had a chance with two more possessions."
And with those penalties – seven for minus-74 yards — and four turnovers came a price: a chance at the school's fifth state title.
"You can't turn the ball over and you can't have multiple penalties," said Daste. "We give up a pick-6 and we had a miscommunication on the other touchdown. Our defense played their butts off. It was pretty emotional in that locker room.
"We all shed some tears in there. It's hard to swallow."
(Featured file photo by Tommy Wolf)