Isaiah Pierce, Montesano roll past La Center to nab 1A state playoff berth: 4 observations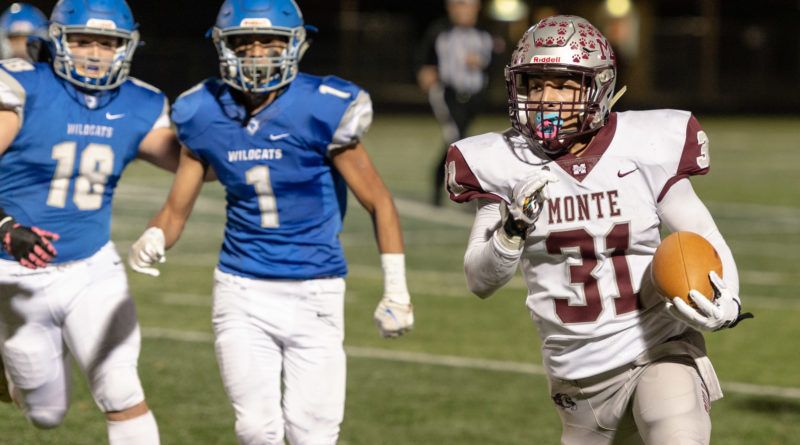 WOODLAND, Wash. — Montesano running back Isaiah Pierce will take anybody to paydirt.
Whether it's defenders hanging on, teammates that need blocked for, or a Bulldogs team seeking a 15th straight state tournament berth, the bruising 5-foot-10 back can lead the way.
On Friday night, Pierce amassed 295 offensive yards and four touchdowns in a dominating 42-20 win over Trico League champion La Center at Beaver Stadium. The victory in the 1A Southwest District playoff game secures a state berth for Montesano, while ending La Center's season at 6-3.
The Bulldogs (6-3) will be seeded into the 1A State Tournament by a committee on Sunday morning.
PHOTO GALLERY | STATEWIDE SCOREBOARD
Montesano responded to La Center's opening-drive touchdown Friday night with four straight scoring drives. Pierce caught touchdown passes from Jayden McElravy of 40 and 35 yards, while running in scores from four and six yards. Jared Whisenhunt also scored a pair of short-yardage rushing touchdowns for Montesano.
La Center's Darren Cepeda threw for 178 yards and touchdown passes of 77 and 10 yards to Colby Hylton and Jalen Ward, respectively. The senior quarterback also ran for 72 yards on 15 carries, including a 13-yard fourth-quarter score.
Here are four observations from the game:
MONTESANO A 'SCARY' TEST
The seeding committee has its work cut out Sunday morning in regard to this Montesano team.
On one hand, the Bulldogs lost three games and finished third out of the Evergreen Conference. On the other, they just thumped the Trico League champions.
This is a Bulldog squad that's battle-tested. They lost their projected starting quarterback, Isaac Pierce before the season began with a knee injury. They had some bumps along the way, including a COVID-19-related pause to start the season. But right now, Montesano is playing its best ball of the season and won't be an easy out wherever they're seeded among the final 16.
"We might scare someone," Montesano coach Terry Jensen said. "Let's hope that we can."
PIERCE'S SUCCESS A TEAM EFFORT
Every opposing coach schemes to stop Isaiah Pierce. He's 5-10, 180 pounds but runs angry and is a nightmare to take down.
On Friday, Pierce showed his versatility. A pair of inside routes over the middle led to 40- and 35-yard receiving scores on Montesano's first two possessions.
Then came the sweeps and the disguised runs out of the wing-T formation. Even when La Center was right on top of Pierce, he rumbled for five, six, seven more yards, carrying Wildcats with him. He's now over 1,500 yards on the season in just nine games.
"We have a lot of different ways of getting him the ball," Jensen said. "It's just trying to figure out how they're defending us. There's going to be holes somewhere and we're going to find a way."
BULLDOGS RETURN TO BULLY BALL
The Montesano sideline is unceasingly loud. "Maroon storm!" they chant endlessly. Inside the white lines, those roars turn into the loud clack of pads as the linemen clash forward.
The Bulldogs are a big, physical team unafraid of contact. On Friday, they started three sophomores on the defensive line, and still held La Center to just one score in the opening 38 minutes.
"The harder we hit them, the harder they're going to fall," Pierce said. "I told the team before the game tonight, if you hit a tree enough with an axe, it will fall down."
LA CENTER CAN'T GET OVER MONTESANO HUMP
Last spring, La Center and Montesano, both ranked highly at the time, met at Beaver Stadium.
The result was almost identical to Friday night's.
La Center lost 41-24 in that affair, and despite some significant roster overhaul on both sides, it proved to be a prelude to what was to come with higher stakes at the same location eight months later.
Montesano also defeated La Center 47-0 in a 2009 playoff game, and 41-19 in a 2005 nonleague contest. The last victory for John Lambert's side over the Bulldogs was a 46-20 victory in 2004.
—
(All photos by Joshua Hart)