Behind Ryan McKenna, quickly-gelling O-line, Gonzaga Prep's vaunted triple option in late-season form in 44-6 win over Eastmont: 3 observations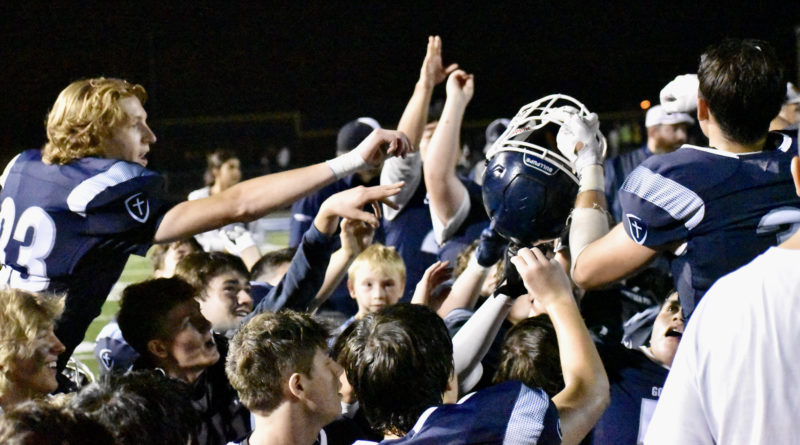 SPOKANE, Wash. — When asked about his offensive line, which replaced every single starter over the summer, sophomore running back Matteo Saccomanno heaped praise on junior Nick McGann's leadership of a group that has gelled in a short window.
In the moments following Gonzaga Prep's 44-6 win over a short-handed visiting Columbia Basin Big 9 power Eastmont in a sustained early September rain storm, Saccomanno attributed his career-high 187 rushing yards not just to his explosiveness, but largely to the newly-formed O-line.
"To be honest it was the offensive line, they carried me," Saccomanno said. "(They've been) making big holes. It was just so easy for my vision to see through."
Added QB Ryan McKenna: "There couldn't have been bigger holes for us."
BOX SCORE | STATEWIDE SCOREBOARD | PHOTO GALLERY
McKenna, an SBLive preseason all-state pick who has run G-Prep's vaunted triple-option offense for most of his life, rushed for 230 of the Bullpups' 431 rushing yards, including an 88-yard burst on the first play from scrimmage, and completed all three pass attempts for 62 yards and a touchdown.
The Bullpups led 23-0 as toward the end of the third quarter when Eastmont quarterback Luke Gale's 24-yard touchdown pass to Ivan Corona pulled the Wildcats (1-1) within two scores. 
That lead extended significantly with the help of a pick-six by senior DB Greg Flynn and a blocked punt by Bullpups (2-0) standout Kaz Melzer returned for a scoop-and-score touchdown by sophomore Preston Yim to put the game well out of reach late.
Eastmont was missing five starters — six total players — to COVID-19 protocols that ruled them all out on Tuesday, including its top two rushers. Gonzaga Prep also missed a starter in the middle of its defense due to COVID-19 protocols.
Here are three observations:
Gonzaga Prep rush attack picking up where it left off
Defending the triple-option, an offense predicated on misdirection in the run game, can be tough for many reasons.
First, it's hard to replicate. It's out there at the high school level, though less than common, and coaching up a scout team to mimic it in practice can be a challenge.
Secondly, when it's run well with the right pieces in place, good luck stopped — or even slowing — it. Prep's veer triple-option has a prototype at QB in McKenna. He's the conductor and Bob Casano, a longtime OC under coach Dave McKenna, is the composer.
With QB Ryan McKenna leading the charge, the Bullpups entered the season hoping several young backs would replace the production of all-GSL carrier Jaden Ortega.
In Week 1, it was junior back Nick Bankey who rushed for 99 yards and three touchdowns. On Friday, Saccomano carried the torch, providing the Bullpups a rushing weapon that demands attention be pulled away from McKenna.
"Our O-line blocked it unreal," Ryan McKenna said. "Couldn't have been bigger holes."
Added Saccomanno: "It was hectic the first couple weeks, but man, we got it together, coach Casano came in and helped that O-line."
Want to run against the Bullpups? You'll need to get through an imposing front seven.
All Eastmont could hope for in establishing its run game was staying out of the way of imposing defensive end Kaz Melzer.
"We tried to run away from him as much as possible," Eastmont coach Mike Don said.
Even when they successfully evaded Melzer, a 6-4, 240-pound Division I prospect, the Wildcats had to answer for Ephraim Watkins, Luke Miller and the rest of the Bullpups front seven, which returns every starter from a team that went undefeated in the spring.
When watching film of G-Prep's 49-0 Week 1 win over University, Don saw the Bullpups log nine sacks on the opposition's 19 pass attempts. And he watched how Melzer wreaked havoc on blocking schemes and contained anything and everything on the edge.
"They're so fundamentally sound, they don't make mistakes and they're just really athletic," Don said.
Depth across the board is a concern for Prep, and especially so missing a member of that front seven to COVID-19 protocols. But the starting unit sets a strong tone. That suffocating front seven held a Wing-T-type offense that ran the ball well against CV a week ago to 103 rushing yards as a team.
"Just the leadership they have," McKenna said, "they're awesome."
While the Bullpups have yet to see a team that will challenge a less-experienced secondary, the defense, which has allowed six points through two weeks, is taking shape right away.
"Defense wins titles," head coach Dave McKenna said before the season. "And our D could be really good."
Despite a performance it deemed 'awful,' Eastmont signed up for the challenge for a reason.
Don was intentional when he put together the Wildcats' schedule, which opened with a one-two punch of upper-tier Greater Spokane League mainstays Central Valley at home and Gonzaga Prep on the road.
As nice as it is to sweep the Columbia Basin Big 9, Eastmont needs early challenges, Don said. Come playoff time, it needs to know how to respond after being punched in the mouth.
If a punch in the mouth was the desired result, Friday night bordered on an early round knockout.
"We're not used to being down, so when we go down, we're not used to it," the Eastmont head coach said. "We've got to be able to compete through that. Right now we're playing like frontrunners and we can't do that when it comes to playoffs."
The Wildcats were the 2018 and 2019 Big 9 league champs, but suffered lopsided first round defeats once they reached the state playoffs — both years.
That's why Don hopes Friday's loss will send a clear message to his group, which was riding high after a momentous 33-31 Week 1 win over Central Valley.
"We don't handle adversity well right now," Don said. "Part of it is we usually roll through teams in the regular season, and that's why we went out and put two really good teams on our schedule is we needed to learn how to compete. I thought Gonzaga Prep, those kids play hard.
"We've got some guys that needed to step up and we just didn't get good step-up from guys we needed to replace this week."
After going up three touchdowns on a Central Valley team that should compete for a 4A Greater Spokane League title, Eastmont weathered the Bears' comeback and escaped with a momentous Week 1 victory.
On Friday, the Bullpups delivered the first punch. Then the second. Then the third, taking a 23-0 lead after a Nate Boyum interception in the third quarter.
By the time Eastmont's offense began picking up when Gale hit junior running back Ivan Corona for a 24-yard touchdown late in the third quarter, the deficit was too much to overcome, especially as the Bullpups continued to pile on.
"There's nothing wrong with getting beat early in the season," Don said. "I'm a little disappointed with how we competed in the second half. I thought the first half is a little more who we are."
Game highlights