Week 2 Washington high school football preview: 3 storylines, game predictions and matchups to follow around the state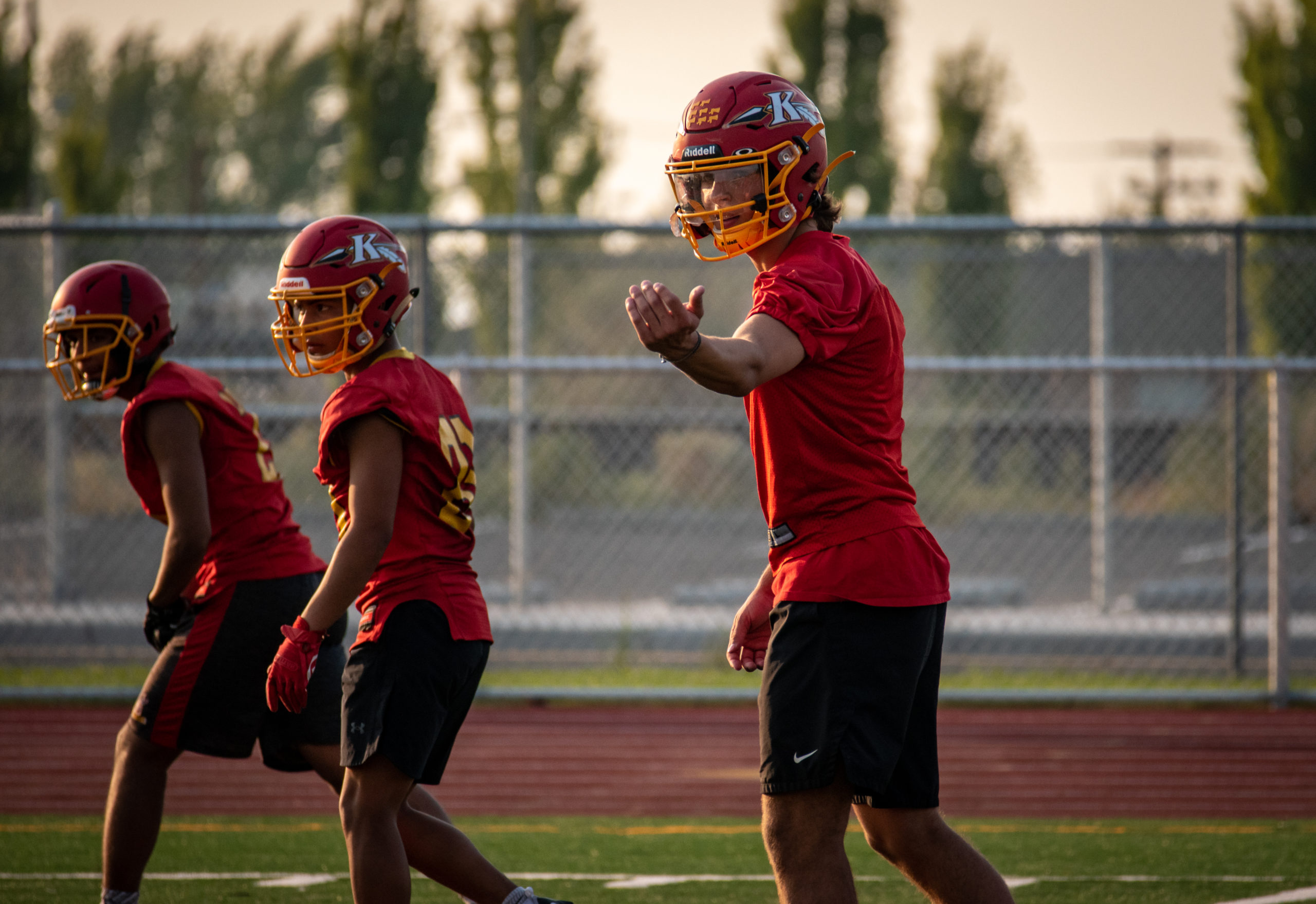 Look East, football fans, if you like early-season rivalry games.
It starts Thursday in the Mid-Columbia Conference with reigning champion Chiawana travels to Kamiakin. And on Friday, the "Battle of the Bell" showdown is in Spokane – Mead vs. Mount Spokane. And don't forget a small-school extravaganza with No. 9 Othello (2A) going to No. 1 Royal, of 1A.
Here is a quick recap of last week's highlights, and a look forward to Week 2 storylines and games to follow:
THREE THINGS WORTH REVISITING FROM WEEK 1
Can anybody keep Jason Brown under 200 rushing yards?
Jason Brown didn't even see any carries for O'Dea in Week 1 of the spring season – and finished with nearly 1,000 rushing yards in a limited slate of games as a ninth grader. His sophomore-year debut was much different – 284 rushing yards and three touchdowns as the No. 1 Irish of 3A won at then-No. 4 Union of 4A. Afterward, senior lineman Mark Nabou called the talented running back "a prodigy."
A win for Eastmont was a big victory for the 4A CBBN
Eastmont coach Mike Don is well aware of recent perceptions statewide of the lagging-behind 4A CBBN. That is why the Wildcats' 33-31 win over then-No. 10 Central Valley was an important statement moving forward – especially in a game Eastmont led much of the way. "What we have to do as a league is win those games," Don said. "We've had competitive games with some of those teams … but it was good to win one."
New cast in charge of Royal passing games are twins
New Royal quarterback Derek Bergeson (also an all-state linebacker) has been throwing to twin brother – wide receiver Luke Bergeson – since the third grade. And two connected six times (twice for touchdowns) in the Knights' 41-0 victory over Ellensburg. "Luke is a good route-runner and is fast … but I was more impressed that Derek was looking at other guys when he needed to," longtime Royal coach Wiley Allred said.
REWIND SBLIVE'S WEEK 1 COVERAGE
Thu: (4A) Sumner 62, (4A) Emerald Ridge 22
Fri: (3A) No. 1 O'Dea 35, (4A) No. 4 Union 17
OBSERVATIONS | HIGHLIGHTS | PHOTO GALLERY
Fri: (3A) No. 4 Bellevue 51, (3A) Peninsula 13
Fri: (3A) No. 8 Eastside Catholic 23, (4A) No. 5 Kennedy Catholic 8
Fri: (4A) Lewis & Clark 34, (4A) Ridgeline 13
Fri: Central Catholic (Ore.) 28, (4A) Camas 17
Sat: (4A) Eastlake 53, (4A) Kentwood 0
Sat: (4A) Bellarmine Prep 30, (4A) Olympia 27
* SBLIVE'S TOP 50 TEAM PREVIEWS
TOP STORYLINES TO FOLLOW IN WEEK 2
Which powerhouse 4A league will continue to flex its muscle?
It was a banner first weekend for some of the top Class 4A leagues in the state and their rated programs inside SBLive WA's preseason top-50 rankings – with the 4A KingCo Conference going 5-0 (Bothell, Eastlake, Mount Si, Woodinville, North Creek), the 4A SPSL going 4-0 (Graham-Kapowsin, Sumner, Puyallup, Bellarmine Prep) and the 4A/3A MCC going 3-0 (Richland, Kamiakin, Chiawana).
Eastside Catholic travels to powerhouse program in Colorado
Reigning 3A champion Eastside Catholic overcame late-week COVID-19 circumstances to beat 4A Kennedy Catholic, 23-8, to open the fall season. Next up – Valor Christian, the No. 1 team in Colorado, led by Oklahoma tailback commit Gavin Sawchuk. "They are big, fast and really good," Crusaders coach Dominic Daste said. Game was set up after Daste got to know Donnie Yantis as the ASU recruiting coordinator before being hired at Valor Christian in 2020.
Don't be surprised if big-legged Ethan Moczulski kicks one out … of a stadium
Last week, Texas A&M kicker commit Ethan Moczulski had eight kickoffs go out of the end zone for Mount Spokane, including two through the uprights. "I've seen it one time before with one of the Rehkow boys doing it on grass at Central Valley," Wildcats coach Terry Cloer said. And yet, Moczulski's personality does not match his booming kicks. Cloer said he is "shy and unassuming." One thing is for sure, the Wildcats are not shy about letting him boot it from anywhere.
TOP THREE WEEK 2 GAMES ON TAP
Chiawana Riverhawks (1-0) at Kamiakin Braves (1-0)
7 p.m. Thursday at Lampson Stadium, Kennewick
Skinny: Chiawana has won last three meetings – including past two by a total of four points. Defenses usually dominate, and that should be the case Thursday.
Live streaming link: None.
SBLive Washington's pick: Kamiakin, 17-13.
—
No. 4 (3A) Yelm Tornados (1-0) at (4A) Mount Si Wildcats (1-0)
7 p.m. Friday at Mount Si High School, Snoqualmie
Skinny: Recently-made matchup due to COVID-19, high-powered Tornados' offense against multi-faceted Mount Si defense should be a four-quarter treat.
Live streaming link: NFHS Network.
SBLive Washington's pick: Yelm, 28-24.
—
No. 2 Napavine Tigers (1-0) at No. 3 Onalaska Loggers (0-0)
7 p.m. Friday at Onalaska High School
Skinny: Intense Southwest District 2B rivalry writes another chapter, but will Loggers be at disadvantage after having opening-week game canceled?
Live streaming link: NFHS Network.
SBLive Washington's pick: Napavine, 30-28.
—
(Featured photo by Tommy Wolf)