2021 MLB Draft roundup: Skyview LHP Caden Vire describes 'surreal' moment being picked by Milwaukee Brewers in 12th round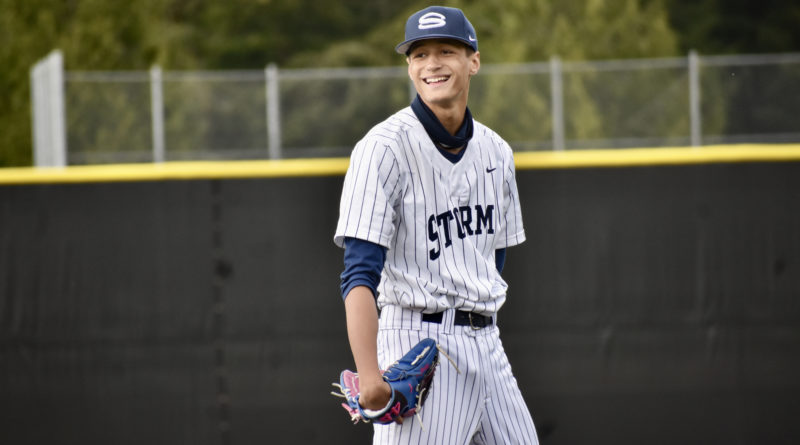 In spring 2020, Caden Vire, a tall, long and scrawny left-handed pitcher had yet to make his first high school varsity start, yet his junior season had just been canceled in the onset of the COVID-19 pandemic.
A strong entrance onto the Washington high school Class 4A stage, and ensuing summer and fall playing club, could have positioned him as one of the region's top high school arms. He was uncertain — and nervous — about how pandemic shutdowns might impact his future.
Back then, being picked in the 2021 MLB Draft seemed like a long shot to the Vancouver, Wash. native and Skyview High School product.
On Tuesday, the 6-foot-6 left-handed pitcher became the only player from Washington picked straight out of high school in the 2021 MLB Draft when he was taken in the 12th round — 357th pick —by the Milwaukee Brewers. He's one of 10 Washington high school products to be selected in the 20-round draft, which took place in Colorado in tandem with the MLB All-Star festivities. The other five were selected out of college. 
"I definitely did not expect to be in the position I'm in now" last year, Vire told SBLive Tuesday. "It's obviously just surreal and super exciting that I have this opportunity."
It sure helps that he had a shutdown senior high school season, logging a .56 ERA, 74 strikeouts and a 4-0 record to help the Storm go 17-0 and win both 4A Greater St. Helens League and district titles.
Starting — and dominating — on the high school stage led to a breakthrough in the way Vire approaches the game mentally.
"I but up a ton of confidence over this high school season," he said. "I'm kind of going and doing my thing now."
Vire has until Aug. 1 to decide whether to sign with the Brewers or play college baseball at Arizona State. He told SBLive he hasn't made a decision yet, but there are several factors that point toward him leaning pro.
The Sun Devils fired their baseball coaching staff after the 2021 season. Former ASU standout Willie Bloomquist was hired away from the Diamondbacks' front office to replace outgoing coach Tracy Smith and pitching coach Jason Kelly left for LSU.
One read of the Brewers drafting Vire could signal its confidence in him signing.
"We've still got to work a couple things out," Vire said. "Arizona State is a great option for me, but so is going in the draft, it's something I've always wanted to do, play professional baseball. Just gotta kind of wait it out and see what happens."
Top in-state prospects opt for college
The top two Washington high school prospects in the draft, Marysville Getchell outfielder Malakhi Knight and O'Dea right-handed pitcher Max Debiec were not selected, though both received early round buzz. 
Knight, a UCLA commit, withdrew his name from the draft after the first round and Debiec, a Washington pledge, saw his draft stock change after he underwent Tommy John surgery in late June.
Debiec said he kept his name in the draft to see if a team would show investment in his recovery and development, but none came through with his desired signing bonus.
Here are all of the 2021 MLB Draft picks who played high school baseball in Washington in order of selection:
Aaron Davenport, RHP, 6-0, 185, Hawaii
Cleveland, Round 6 (186th pick – $259,400 slot value)
High school: Cedarcrest
—
Shane McGuire, C, 6-0, 195, San Diego
Oakland Athletics, Round 9 (278th pick)
High school: Kentwood
—
Ernie Yake, SS, 5-11, 165, Gonzaga/Whatcom CC
Minnesota Twins, Round 10 (309th pick)
High school: Squalicum
—
Chad Stevens, INF, 6-4, 215, University of Portland
Houston Astros, Round 11 (328th pick)
High school: Gig Harbor
—
Justin Armbruester, RHP, 6-4, 235, New Mexico
Baltimore Orioles, Round 12 (347th pick)
High school: Eastside Catholic
—
Tyson Guerrero, LHP/OF, 6-1, 188, Washington
Kansas City Royals, Round 12 (349th pick)
High school: W.F. West
—
Caden Vire, LHP, 6-6, 175, Skyview High School
Milwaukee Brewers, Round 12 (357th pick)
FEATURE: Caden Vire is realizing his potential on the mound. The scary part? 'This is definitely not his ceiling'
—
Brandon White, RHP, 6-8, 230, Washington State
Miami Marlins, Round 12 (359th pick)
High school: W.F. West
—
Alek Jacob, RHP, 6-3, 190, Gonzaga
San Diego Padres, Round 16 (490th pick)
High school: North Central
—
Ryan Long, RHP, 6-6, 225, Pomona-Pitzer
Baltimore Orioles, Round 17 (497th pick)
High school: Overlake