White River basketball star Wyatt Glissmeyer was always a great athlete. Now, he's 'on a different level'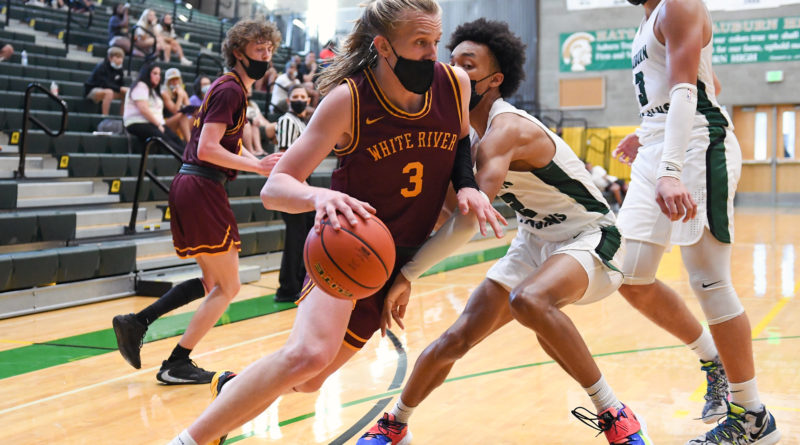 Wyatt Glissmeyer didn't miss a workout. Not a single one.
For 14 months, the White River guard/forward knew he'd be tasked with bringing more than just lockdown defense, rebounding and slashing to a team that looked to build on a state tournament appearance in 2020.
And Hornets coach Zach Johnson watched in awe, day by day, as he readied to assume that role. Even after the coronavirus pandemic resulted in the cancellations of most organized basketball in Washington, and placed his senior high school season in limbo, he stayed the course.
And it paid off.
Glissmeyer led White River to a 13-3 record and a second place 2A South Puget Sound League playoff finish this spring, while averaging 18.6 points, 12.8 boards and 7.9 assists – as well as one high-flying dunk after another.
"I didn't know how the season was going to turn out," Glissmeyer said. "I didn't know if we'd have one. So I just tried to get ready and better for a season."
Glissmeyer is no stranger to hard work.
He's the youngest of five siblings and the son of a brick mason. He recalls going to work with his father as a 10-to-12-year-old, where he experienced everything from mixing to carrying bricks in searing heat.
"Definitely the hardest stuff I've done in my lifetime," Glissmeyer said. "That's really hard work."
Glissmeyer's jump from role player to feature player was, in many ways, natural.
Johnson said his work ethic set a high standard for the rest of the team, and he was fueled by a 2A state quarterfinal loss in 2020 that he hoped the Hornets would get the chance to avenge.
When the most important offseason of his basketball career to date drew on long enough to make many question whether a season would occur, Glissmeyer leaned into the unknown and relied on his work ethic.
Johnson made it clear to Glissmeyer, who moved into the White River boundary from South Prairie in eighth grade, that he'd have to shoulder a bigger load offensively, essentially playing point guard at 6-foot-5, 195 pounds. That meant shooting and dribbling workouts — lots of them. 
It's paid off.
"He's just a completely different player this year," Johnson said. "The whole shutdown I don't think he missed a workout."
That included nearly daily player-led workouts in a teammate's home gym.
Glissmeyer grew up being pushed by his siblings, namely his older brother Zeb Glissmeyer, a former Sumner standout. 
Zeb, who played for Highline College before hanging up his shoes to pursuing a career as a diesel mechanic, routinely watched film with Wyatt, breaking down the intricacies of each outing, and finding areas where Wyatt could improve.
For Wyatt, who loathes social media or self-promotion, singing his own praises to the public at large didn't come naturally. 
That's why Hornets' coaches have made it a point to plaster his successes – and his "2.3 OMG moments per game" – across social media (the 0.3, Johnson jokes, is when he gets you to partially leave your seat). Watch Glissmeyer fly above the rim and it's easy to understand why. 
"He plays off of the crowd's energy," Johnson said.
Though state playoffs aren't being held in Washington, Glissmeyer treated last week's four-team 2A SPSL playoff with the same level of focus. The Hornets finished second, losing to Franklin-Pierce 75-70 in the title game on June 11.
Like many standout high school basketball players in the class of 2021, his plans for next year have not been determined. He held an offer from Whitworth, and said his recruitment has picked up since the season returned.
He hasn't made up his mind on what's next.
And he leaves White River with the legacy of a building block for a program that has kept a winning pace since Zach Johnson assumed the head role in 2018 after nine seasons as an assistant coach under Rick Tripp.
"He's the most important program-changer for me," Johnson said. "I took over his sophomore year when he could have switched high schools. Ever since then, we haven't missed the playoffs.
"His personality, his work ethic has totally transformed the program. Just sucked that this season didn't end in Yakima."
(Photos by Vince Miller)