Braeden Smith plays show-stopper, Seattle Prep edges O'Dea to win Metro League basketball title: 3 takeaways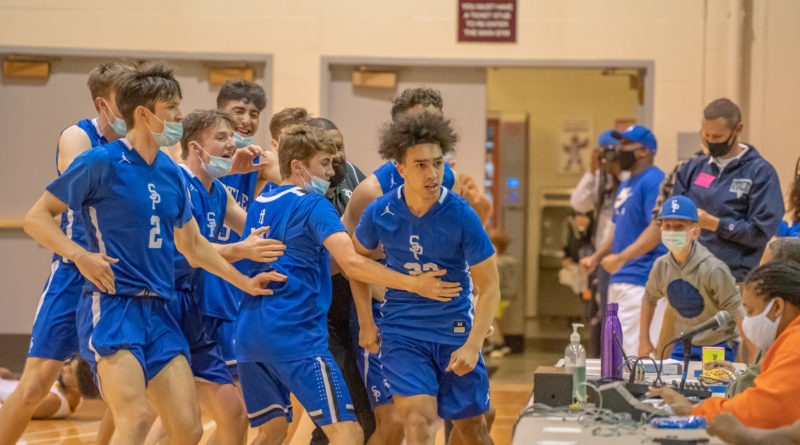 SEATTLE — Mike Kelly's message to Braeden Smith may as well have come from Seattle Prep football coach Aaron Maul.
Don't chase the ball. Watch the inbounder's eyes. Trust your instincts.
In other words, "be a free safety," Kelly said
Smith, Seattle Prep's standout guard (and, relevantly, star receiver/defensive back), did just that, turning on his football instincts to pick off a baseline inbound and score a contested buzzer-beating layup with two seconds left.
The heroic, how-did-he-do-that final effort lifted Seattle Prep to a Metro League championship win over O'Dea, 62-61, on Friday night and turned the gym at Seattle Pacific University into a madhouse.
Well, except for maybe Maul.
"I read his eyes, got the steal, made the layup," Smith, a junior, said. "It's crazy. We wanted this real bad. We wanted to hang a banner."
And now, the Panthers (9-1) will. Smith scored a game-high 24 points in a back-and-forth game, in which the momentum veered O'Dea's way in the final frame. Prep withstood blow after blow in the fourth quarter, which included the evaporation of a 15-point lead and three fourth quarter 3s from Irish senior Dezjay Perkins.
PHOTO GALLERY: Braeden Smith leads Seattle Prep past O'Dea in Metro League title
The game was played more than a week after both schools held graduation, and served as the pinnacle achievement each side. Both entered 2020-21 as 3A state contenders. And it marks an end to a season that was shortened, postponed and rid of a statewide postseason due to the pandemic.
"Still a high-level, fun basketball game, even on June 11," Prep coach Mike Kelly said.
Here are three takeaways:
The Panthers controlled the game. Until they didn't.
Smith grabbed a rebound with 1:51 left in the third quarter, waved off a potential outlet pass and brought a fast break-heavy, up-tempo game to a simmer.
For the first time of the game, the Panthers were in control, up 14 points, so they dialed the pace back and started playing like it.
But no lead is safe against O'Dea, which disorients teams with its defensive intensity and an ability to use that to turn momentum. Not even a 50-35 lead entering the fourth quarter.
"We knew they weren't going to give up," Smith said. "They came out hot, hit a few shots."
The Fighting Irish whittled the lead away to three after Owen Moriarty hit a 3 with 4:29 to play.
After Smith hit 1 of 2 at the line to put Prep up two with 27 second left, Perkins, who scored 13 of his team-high 17 points in the fourth, hit a step-back 3 to give O'Dea its first lead since the first quarter at 61-60 with 15 seconds remaining.
O'Dea had the ball with seconds left, and the Panthers had several fouls to commit in order to get in the bonus and send O'Dea to the free throw line.
The clock was ticking, but Prep didn't panic.
"The message was there's time on the clock, it's great to be alive," Kelly said.
Added Smith: "Coach and teammates kept supporting me, kept me in it and I was able to go and make a play."
O'Dea's season defined by resilient seniors, team play
Before the opening practice, the O'Dea boys knew blue chip Duke pledge Paolo Banchero wasn't going to play the spring season, nor was Creighton-bound guard John Christofilis. As of now, both are already at their respective colleges.
The rest of the group, especially its four seniors, took that as an opportunity to step up — and prove wrong anyone who thought they might not make a league title run absent its top two players.
"Even without those guys, we're still a team, we can still hoop, we can still get the job done," Perkins said. "We just gotta pick up a lot of slack that's left behind, but all that is is just hard work at practice."
The Fighting Irish built an identity around team defense, versatility and sound ball movement. Plus, seemingly any player could step up and lead the team in scoring, whether it be soon-to-be MLB Draft pick Max Debiec, Jaylon Ellis, Takeo Staten-Sylvester or, as seen on Friday, Perkins.
Combine those traits into one team, it's no wonder no lead feels safe for opposing teams.
Just ask Seattle Prep, which led by 15 early in the fourth.
"(O'Dea coach Jason Kerr) and I go back to Redmond and Franklin days," Kelly said. "And a whole lot hasn't changed between us over the years. In some ways, that team he has mirrors a lot of the teams I've seen him coach. They play hard, share the ball, have several kids who score.
"I kind of figured they wouldn't miss a beat and they'd be really good."
Many of the players on the court Friday night were a part of one, possibly two, state championship games (O'Dea won in 2019, and finished second in 2020).
They can add an 11-2 finish in 2021 to that resume.
"We just wanted the last ride," Perkins said. "It was kind of a messed up season, really. But we just wanted to come in for the 14 games we had and handle business."
Seattle Prep was determined to hang a banner. And now it will.
Jared Roznos played the Metro League football title, played between the same two teams, with a still-broken collarbone. He also played in the basketball season-opener against O'Dea not long after.
Roznos, who is signed to play football at Air Force, was determined not to miss his final basketball season. Same with fellow seniors Kyle Carlesimo, Chike Ezeonu and Kendin Alexander.
The Panthers will return a core of Smith, 6-6 guard Tyler Mrus and a roster with lots of underclassmen in 2021-22. They'll enter the season bonafide 3A contenders.
First, they had to give this year's seniors a proper send-off.
"I love those guys, they're like my brothers," Smith said. "I'm glad I was able to pull it out for them, and glad we were able to pull it out as a team."
Kelly can only remember one game in his decades-long coaching career playing out in a similar way. In 2012, D.J. Fenner made a similar steal-and-score play late against Lake Washington.
Consider a situation where the Panthers were trailing with their season on the line. Those made Friday's finish one for the ages.
"It had all the theatrics and drama you needed for it to be on the side we were on," Kelly said.
Game highlights
More Metro League title coverage:
Seattle Prep boys beats O'Dea at the buzzer (highlights, 3 takeaways)
Seattle Prep girls complete perfect season in win over Bishop Blanchet (highlights, recap)
Photo gallery from Seattle Prep boys' 62-61 win over O'Dea
Photo gallery from Seattle Prep girls' win over Bishop Blanchet, 54-48
(All photos by Tim Oishi, @takeshimedia)