Washington's top high school football players: Meet the state's best 30 defensive backs in spring 2021
Will this large group of seniors, led by O'Dea's Hayden McDonald, end up being shutdown cornerbacks in college? Will Kennedy Catholic's Kieran Collins or Lake Stevens' Drew Carter be the state's top defensive back next season as seniors? And in this talented 2023 class, who has the highest ceiling as a Power 5 recruit?
In the past week, and moving forward, we'll be taking a position-by-position look at some of the top players in Washington high school football this season. Our next list focuses on the best defensive backs in the state.
MORE: TOP 30 RUNNING BACKS | TOP 30 LINEBACKERS | TOP 30 DEFENSIVE LINEMEN
Players are listed in alphabetical order:
TOP 30 DEFENSIVE BACKS IN WASHINGTON
KENDIN ALEXANDER, Seattle Prep, 5-11, 185, sr.
This is as good a collection of skill-position guys coach Aaron Maul has had with the Panthers, highlighted by this Air Force cornerback signee.
COLTON BOWER, North Kitsap, 6-1, 185, jr.
As a ninth grader, the West Sound's top player was an all-state linebacker, but has enough lateral quickness and burst to excel at safety.
DREW CARTER, Lake Stevens, 6-2, 185, jr.
One of the state's most exciting athletes, Carter plays the football as well as anybody – at cornerback or when the Vikings move him to safety.
JACK CHARLTON, North Creek, 6-3, 210, sr.
A Sacramento State decathlon signee, Charton has been impact football player (QB/WR) for the Jaguars whose best position is at free safety.
This all-4A NPSL free safety always seems to be a step ahead, physically and mentally – and usually is the one to put finishing touches on plays.
JALIN CHURCH, Kentwood, 6-1, 195, sr.
Before last season, Church had never played defense. Now this 4A NPSL first-teamer is one of the most-skilled free safeties in the state.
CHASE COALSON, Peninsula, 6-0, 195, sr.
The Seahawks' best three-phase player, this CWU signee is a pass-covering machine at free safety who seems to be in on every tackle.
He is often referred to as the "Richard Sherman" of the Lancers' secondary – an elite cover man who thrives being left on an island by himself.
The grandson of late legendary coach Terry Ennis does so many things to impact a game, especially on the edge as an all-Northwest 2A cornerback.
Will likely be a wide receiver at Western Oregon, but was a two-way all-3A GSHL first-teamer in 2019, so you know he can defend a pass as well.
D.J. FRYAR, Steilacoom, 6-3, 225, sr.
Wanting to be more physical, the Sentinels moved Fryar from linebacker to safety – and the Arizona signee's cat-like reflexes show up there as well.
CADE HALLER, W.F. West, 5-10, 165, sr.
Wide receivers just can't shake this multi-sport standout on pass coverage, and the cornerback was just named co-2A EvCo defensive MVP.
VA'ALELE HANSEN, Graham-Kapowsin, 5-10, 180, sr.
Part of four football-playing brothers, is the most talented athlete of all – a fast-twitch cornerback who hits pass catchers like a linebacker.
DEONTE HAYES, Spanaway Lake, 6-0, 175, sr.
What more can the Sentinels' elder statesman do? He has been a reliable pass defender at cornerback – and led the team in receiving (2018, 2019).
LEROY JACKSON, Eastlake, 5-8, 150, sr.
The Wolves' leader on both sides of the ball, he is arguably 4A KingCo's top cover man – a shake-and-bake artist who plays bigger than his size.
J.J. JELSING, Wenatchee, 6-0, 195, sr.
With his ability to run, jump and physically contain other perimeter athletes, no wonder he was a two-way, all-Big Nine first teamer in 2019.
DESMIAN "DES" LICON, Pasco, 6-0, 175, sr.
The lone returning all-Mid Columbia Conference first teamer in three phases, he is a fearless one-on-one cornerback – and impact returner.
JATAVIOUS MAGEE, Federal Way, 6-1, 195, sr.
There might not be a deeper and more talented defensive backfield in 4A than the Eagles – and this Florida Atlantic signee at safety is top notch.
TIM MALO, Sehome, 6-0, 195, sr.
If you see flashbacks of Taylor Rapp in this Brown University signee – bingo! Malo has trained with the NFL standout, who also went to Sehome.
HAYDEN MCDONALD, O'Dea, 5-10, 170, sr.
All he does is put the clamps on standout pass catchers, and go about his business. Headed off to play in the Ivy League at Columbia University.
CHARLES "KEEKEE" MCQUEEN, Spanaway Lake, 5-9, 165, jr.
The Sentinels have an abundance of riches in the secondary – and he is the one back there flying around and monitoring things at safety,
DONTAE OWENS, River Ridge, 5-9, 165, sr.
With his 4.3 second (40) speed, he is gone in a flash – which makes him unshakeable at cornerback given his closing burst is better than most.
XAVIER OWENS, Skyview, 6-0, 175, sr.
If you ask international all-stars, Owens is a bona fide baller (caught TD in International Bowl for Team USA). A WOU signee at safety.
The 2023 class is loaded with blue-chip defensive backs, and he is at the top with multiple Power 5 offers. Does it with swag and smack.
ANGEL SANCHEZ, Puyallup, 5-11, 180, sr.
The Vikings have dudes, and this savvy three-year starter at cornerback is one of them, even though he doesn't get a ton of must-see hype.
NIC SAUNDERS, Central Valley, 5-9, 165, jr.
If you dare to throw at this speedy cornerback for the Bears, you very well might pay the price – he usually wins those one-on-one battles.
RYAN SCHMIDT, Shadle Park, 6-3, 175, sr.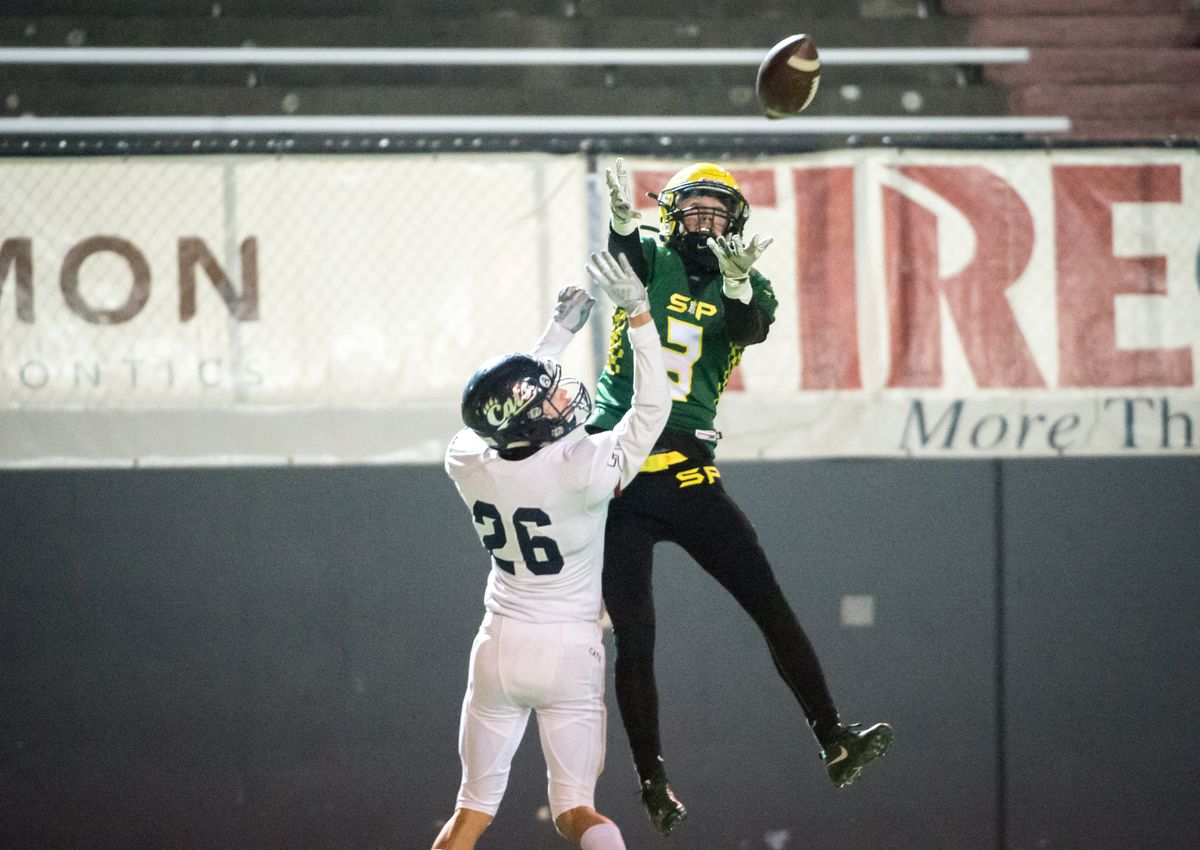 There's no better athlete than this two-time all-Greater Spokane League safety – as a three-way threat in football and outfielder in baseball.
SAM STEWART, Bothell, 6-2, 190, jr.
Tall and wiry, not only is Stewart the Cougars' top ball hawker at cornerback, he is arguably the 4A KingCo's best two-way player (WR).
JASIAH WAGONER, Spanaway Lake, 6-0, 170, so.
Sentinels coach Cameron Robak says he has never seen a more instinctive athlete play in this program – top 2023 recruit as lockdown cornerback.
MICHAEL WESTBROOK JR., Lakes, 6-1, 205, so.
Just like his father, Westbrook is a dynamic playmaker, and leader of a young and up-and-coming Lancers' secondary. Hits big and balls out.