Previewing the Top 50 high school football teams in Washington: No. 15 Union Titans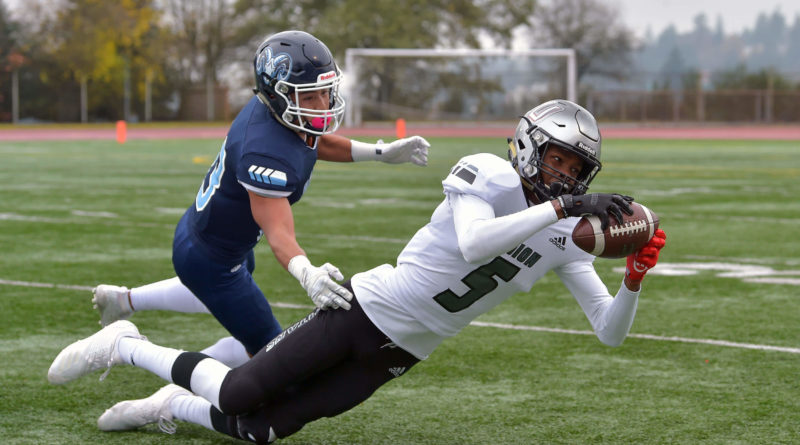 SBLive Washington is previewing the Top 50 high school football teams in the state ahead of the 2020-2021 season. Here's an inside look at the Union Titans of the 4A Greater St. Helens League – No. 15 in our countdown.
2019 IN REVIEW
6-5 overall, 2-2 4A Greater St. Helens League (second place); lost to Lake Stevens in the first round of the 4A playoffs.
COACH'S RESUMÉ
Rory Rosenbach, fifth season.
Coordinators (base scheme): Offense – Rory Rosenbach (spread). Defense – Kevin Coad (multiple front).
NOTABLE DEPARTURES
RB Isaiah Jones
DB Daron Ulrich
RETURNING STARTERS
Offense – 7. Defense – 5.
TOP PLAYERS
LB Thurman Bibens 5-11, 205, sr.
WR Jake Bowen 6-4, 210, jr.
WR Marques Cantu 5-9, 165, jr.
QB Alex Gehrmann 6-2, 2180, sr.
OL/DL Jack Grimsted 6-3, 270, sr.
DL Levi Harms 6-1, 225, sr.
DB Liam Mallory 6-0, 180, jr.
WR Tobias Merriweather 6-5, 190, jr.
LB Kellen Milliken 6-1, 205, jr.
THREE TO SEE
Jake Bowen, receiver
Popular third down target, has a knack for scoring the ball and is among the many examples of a player whose recruiting could have taken off in the fall, if given the chance. The San Diego signee caught for 593 yards (18 yards per reception) and eight touchdowns as a junior.
Tobias Merriweather, receiver
Length, athleticism and raw speed have already led him to a long list of high-major scholarship offers. He's evolved as a confident route-runner, making the four-star recruit an even scarier mark. He had 804 yards (17.5 yards per catch) and five touchdowns as a sophomore.
Alex Gehrmann, quarterback
He stepped into the spotlight in his first start due to injuries and led Union to a win over ranked Chiawana and threw for 1,485 yards with a 62 percent completion percentage and 12 touchdowns opposite six picks. Now, it's his team and he's risen to the occasion.
2021 OUTLOOK
It's hard to imagine a wide receiver corps being mentioned in the same breath as Kennedy Catholic's Pac-12 trio of Junior Alexander, Jabez Tinae and Reed Shumpert.
Until you see Union.
It starts with the 10th ranked receiver in the country (per 247 sports) Tobias Merriweather, whose raw athleticism jumps out — he holds offers from all 12 Pac-12 teams — and includes Jake Bowen, a junior who was the Titans' top receiver last season in yards per game and touchdowns.
Peppered around them are intriguing young pieces like slot receiver Marques Cantu and junior Liam Mallory, a Hockinson transfer who made a key appearance in the 2A state title game as a freshman.
And that young, still-figuring-it-out Union team from a year ago is a year wiser. The 2021 Titans may be closer to the 2019 4A state title-winning team than last year's Titans, who finished an up-and-down season by coming within a touchdown of 3-seed Lake Stevens in the first round of the 4A playoffs.
Much will lie in the hands of quarterback Alex Gehrmann, who enters his first year as the day-one starter. In 2019, he led the Titans to a win over Chiawana and had some nice moments throughout the season, especially after QB CJ Jordan went down.
"Confidence, leadership, understanding of offense and what we ask him to do are awesome," coach Rory Rosenbach said. "He's done a great job. It's his team."
The Titans bring back experience on the line — Jack Grimstead and Manaia Feurtes to name two —and will have a baptism-by-fire start to the shortened 2021 season.
Union opens its season with defending 4A state champion Camas, a rivalry game typically reserved for the end of the season.
"You already know the state championship has run through Southwest Washington," Rosenbach said. "All you can do is compete and play well. If you come out on top, you can stake your claim."
COVID-19 IMPACT
"We had to get creative for so long, now it's 'let it rip.'" —Rory Rosenbach 
Feb. 26 at Camas
March 5 vs. Mountain View
March 12 at Skyview
March 18 vs. Heritage
March 23 vs. Battle Ground
March 27 at Evergreen