Previewing the Top 50 high school football teams in Washington: No. 39 Richland Bombers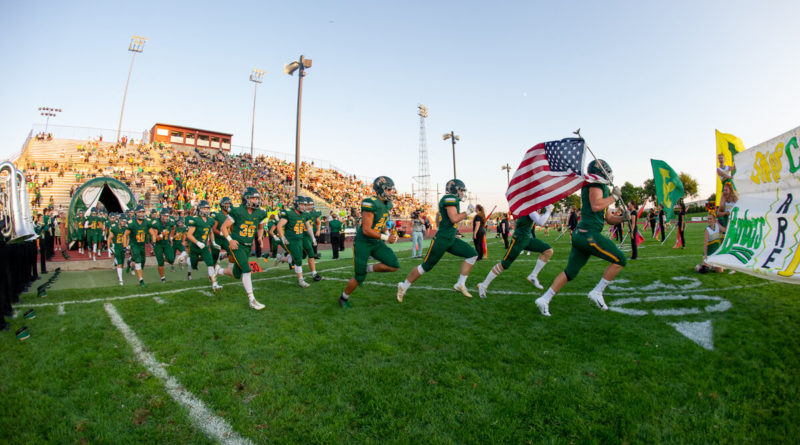 SBLive Washington is previewing the Top 50 high school football teams in the state ahead of the 2020-2021 season. Here's an inside look at the Richland Bombers of the 4A/3A Mid-Columbia Conference – No. 39 in our countdown.
Editor's note: Richland is in the South Central Region of Washington's COVID-19 reopening plan. The region is still in Phase 1 of the plan, which means moderate and high risk high school sports have not been cleared to return to competition. The earliest they could move to Phase 2 — and start their season — is Friday, Feb. 12.
(Feature photo by Kim Fetrow)
2019 IN REVIEW
4-6 (seventh place in 4A/3A MCC).
COACH'S RESUMÉ
Mike Niedhold, 13th season.
Overall record: 95-39.
Coordinators (base scheme): Offense – Tom Moore and Tyler Thomas (multiple). Defense – Wes Mason (4-2-5).
NOTABLE DEPARTURES
LB Camron Ball (opt-out)
DL Sam Stanfield
DL Josh White
RETURNING STARTERS
Offense – 11. Defense – 10.
TOP PLAYERS
DB/WR Deacon Boyce, 5-11, 165, jr.
WR/DB Ben Fewel, 6-0, 175, sr.
OL/LB Jacob Kump, 6-0, 230, sr.
DB/RB Elijah Rodriguez, 5-11, 175, jr.
RB/DB Eric Strasser, 5-9, 165, sr.
QB Harrison Westover, 6-2, 200, sr.
OL/DL Mason Williamson, 6-4, 300, sr.
THREE TO SEE
Ben Fewel, wide receiver
This all-MCC first teamer will catch passes, take hand-offs and even get behind center to get the football.
Elijah Rodriguez, rover
Playmaker can come downhill at the line of scrimmage, man half the field in pass coverage – and win at both.
Harrison Westover, quarterback
Underwent an offseason physical transformation, and came back faster, more agile – and ready to bust out.
2021 OUTLOOK
There are very few communities around the state of Washington that take football as seriously as Richland.
The Bombers' track record reflects that: They have won 489 games, have scored more than 17,000 points, have won 23 league titles – and have been crowned Class 4A winners three times.
To say last year's four-win campaign with a retooled roster was frustrating would be a huge understatement.
"There's no excuse for the kind of season we had," coach Mike Niedhold said. "Those kids understand the role football has in our school, and our community. They did not feel like they held up their end of the deal."
All it did was provide offseason motivation to reclaim Mid-Columbia Conference championship contender status.
Niedhold said his players went out for different sports such as wrestling, basketball and track and field (which was suspended because of the pandemic) in an effort to improve for football.
Will it work? Niedhold is hopeful as he sees a newfound look of determination in these same faces.
"It is basically the same team (as 2019) with more seasoning and better players with chips on their shoulders," Niedhold said.
Harrison Westover has made it a personal mission to lead this team – first by reshaping his body (15 pounds heavier, but leaner and lighter on his feet) and then by getting the skill-position players together for work. Niedhold likes the fact he is a "flatliner" emotionally, too.
And Westover has big-play weapons, starting with Ben Fewel, a Georgetown signee who emerged on the scene last season as a do-everything performer. Also, standout baseball player Carson Craig is out for football, and could be the team's best athlete as a wide receiver.
A big worry is how the Bombers' front seven on defense rebounds from a poor season. Camron Ball was expected to be the most reliable stalwart at inside linebacker, but he decided to opt-out this winter – putting more on the plate of linebackers Skyler Irme and Ryan Johnson.
COVID-19 IMPACT
"It has cut out a lot of our teaching time. We spend a lot of time in the spring and summer doing that. But in November when we started back up, we focused on two things – teaching and culture. We were able to make up for our non-spring." – Mike Niedhold
2020-21 SCHEDULE
Yet to be determined.