SBLive Boys Basketball Recruiting Rankings: Garfield's Jaylin Stewart ranked No. 7 in Washington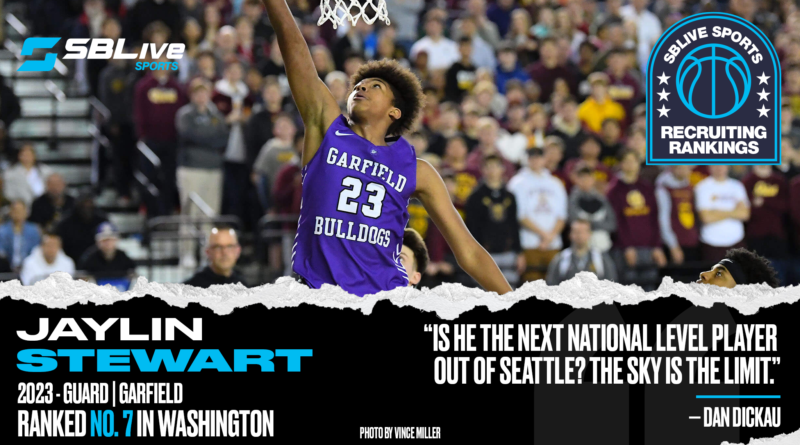 In an effort to shine a brighter spotlight on Washington high school basketball players, we are introducing our first-ever SBLive Boys Basketball Recruiting Rankings.
Our rankings are compiled by SBLive Basketball Analyst Dan Dickau based on observations and conversations with an extensive network of coaching and media sources across the country. The players have been evaluated through a college recruiting lens and analyzed in four categories: athleticism, ball skills, basketball IQ and upside.
Over the next few weeks we will continue to roll out our Top 25 players in Washington. You can find the full rankings at the bottom of the post.
Here's a closer look at No. 7 on the list, Garfield sophomore Jaylin Stewart.
JAYLIN STEWART
SBLIVE WA RANKING: NO. 7
➡️ HEIGHT: 6-FOOT-5
➡️ WEIGHT: 175 POUNDS
➡️ POSITION: GUARD
➡️ CLASS: 2023
➡️ HIGH SCHOOL: GARFIELD
➡️ HIGH SCHOOL COACH: BRANDON ROY
➡️ CLUB TEAM: SEATTLE ROTARY
➡️ OFFERS: ARIZONA, WASHINGTON, MONTANA
➡️ TWITTER: @jaylinstewart6
DICKAU'S ANALYSIS
ATHLETICISM: Long, athletic and smooth is a great way to describe Stewart on the court. Maybe the biggest question will be how strong he becomes, allowing him to absorb the physical play which is sure to come. He can finish easily above the rim.
BALL SKILLS: Stewart has a good, not great, handle. He is also a good, not great, shooter. But these will both become strengths in time because he is only a sophomore and he was elite as a freshman a season ago.
BASKETBALL IQ: Stewart showed a really good feel for the game as a freshman. With the mentorship he receives from the Seattle area's basketball fraternity — and continued guidance from his father, Lodrick — this will be a point of emphasis as his career moves on. 
UPSIDE: Is Stewart the next national level player out of Seattle? More than likely he is. He began receiving Division I offers his freshman year and was recently offered by Arizona. As he continues to fill out and work on his game the sky is the limit. He is surrounded by the Seattle hoops community that looks after their own and he is coached by former NBA great Brandon Roy who should help him achieve his potential.
—
NO. 25: OMARI MAULANA, LIFE CHRISTIAN ACADEMY
NO. 24: KELSON GEBBERS, BREWSTER
NO. 23: TYCE PAULSEN, CURTIS
NO. 22: GAVIN MARRS, ELLENSBURG
NO. 21: COBI CAMPBELL, PUYALLUP
NO. 20: TYLER BILODEAU, KAMIAKIN
NO: 19: COOPER CHURCH, TAHOMA
NO. 18: CAYDEN MCDANIEL, WILSON
NO. 17: QUIN PATTERSON, MOUNT SI
NO. 16: TYLER MRUS, SEATTLE PREP
NO. 15: JULIAN AGOSTO, NATHAN HALE
NO. 14: TREVON BLASSINGAME, AUBURN
NO. 13: BRAEDEN SMITH, SEATTLE PREP
NO. 12: KOBE YOUNG, CHIAWANA
NO. 11: MALEEK ARINGTON, AUBURN
NO. 10: LEO DEBRUHL, SEATTLE ACADEMY
NO. 9: TYLER LINHARDT, KING'S
NO. 8: JOHN CHRISTOFILIS, O'DEA
NO. 7: JAYLIN STEWART, GARFIELD