Back in pads! Uncommitted football recruits relish opportunity to play, gather new film at FSP ID Camp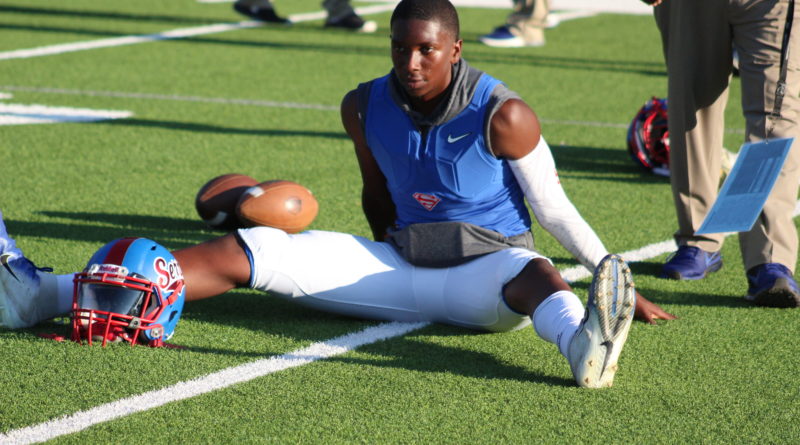 TACOMA — Reed Shumpert cut loose for two of the longest-gain touchdowns of the day. It shouldn't be a surprise, considering Shumpert is a productive three-star receiver in maybe the most dynamic offense in the state of Washington in Kennedy Catholic.
But on Sunday at Tacoma's First Creek Middle School, at a padded scrimmage for the top uncommitted upperclassmen across the state, Shumpert's big day was well-timed.
"It felt good," Shumpert said. "(This) definitely allows people to get more film, especially not being able to play until spring."
Shumpert is used to competing alongside four-star wideouts Jabez Tinae and Junior Alexander, and catching passes from five-star quarterback Sam Huard. But as one of the state's shiniest uncommitted football players, the senior jumped at the opportunity to put on pads at a three-day regional college ID showcase put on by Bellevue-based Ford Sports Performance.
For many of the more than 100 recruits from Oregon and Washington present, it was the first time strapping on pads since the 2019 football season.
And not all of them hold as many college offers — seven in total— as the 5-foot-11, 175-pound Shumpert.
The high-profile scrimmage came at a time when high school football is on pause due to COVID-19. The fall season has been postponed to the spring in the fallout of Governor Jay Inslee's Safe Start plan to combat and slow the spread of the coronavirus, and for months, high school athletes on the cusp of college offers have sought opportunities to produce game film of their own to send to college coaches.
Players also assumed their own risk at the event, not wearing masks on the field, though most coaches and some onlookers wore masks. Participants quarantined for a week in advance, Ford acknowledged on Twitter, and said Monday morning players were instructed to bring no more than two spectators. Those in attendance deemed the potential gains from the opportunity to outweigh the inherent risk the virus presents.
Among those gains is potential exposure to college coaches.
Garfield running back Leon Neal Jr. is a three-star according to recruiting site 247 Sports. Like many in attendance Sunday, Neal Jr., whose father Leon Neal was a standout for University of Washington in the 1990s, says COVID-19 threw a wrench into his recruitment because of the importance of senior season game film to the college coaches he's spoken to.
Like many others, Neal Jr.'s approach has been to keep his head down and hope the opportunities to show out in front of college coaches come.
"I'm being patient, seeing what's out there and being open to everything," Neal Jr. said. "Hopefully I get one big (offer). Hopefully."
Though he admits the offense was a bit confusing at the outset, Neal Jr. felt the event somewhat simulated a high school football game. Once he took a couple of hits and broke off several productive runs, he felt right at home on the field.
"Some colleges needed the fall season," Garfield standout Leon Neal Jr. said.
Though many cited the potential exposure to college coaches as a reason for paying to play, the coaching instruction was also a draw. The teams, which were split up into Blue versus White, were coached by former Bellevue coach Butch Goncharoff, who won 11 state championships before a series of investigations led to him being let go in 2016, and Jason Gesser, once an All-American quarterback at Washington State who has high school and college coaching experience.
The coaches all participated on a volunteer basis, according to FSP CEO and founder Tracy Ford.
Goncharoff's "Blue" squad won, 42-12.
Both coaches had a lion's share of current and recently-retired professional football players helping out in one-on-one coaching and coordinator roles, such as former Seahawk Cliff Avril and former WSU standout Brandon Gibson.
"It's coaches that have been places in college and pros and they just have a lot of information for you that you don't get in other places," La Center senior Tom Lambert, who holds offers from Valparaiso and Graceland, said.
The night before the scrimmage, Seattle Prep QB Jake Sype watched highlights from when Vernon Adams Jr. was recently a standout quarterback at Eastern Washington and Oregon. Adams Jr. was Sype's quarterbacks coach and offensive coordinator, and Sype wanted to see for himself what Adams Jr., the same guy who had given him detailed instruction throughout the weekend, was capable of.
"Overall, I got so much better from him this weekend just hearing the things he's teaching me about how to be a better quarterback and leader," Sype said.
Sype, a 6-0, 190-pound QB, holds offers from Pacific Lutheran, Carroll College, Montana Tech among others. He's aiming for bigger schools to come knocking and has continued to "stay patient" while he reaches out to coaches.
Lambert, a quarterback and linebacker in the 1A ranks, set one main goal: don't be bossed around. As one of the only players coming from a 1A school, the 2019 Trico League MVP saw the event as an opportunity to prove himself playing among a level talent he's never before faced.
After the weekend, he felt like he did.
"My thing was (there's a) big difference in 1A and all the kids here," Lambert said. "Just the size and everything. I thought I competed and it was just cool to see that, because I've never had this level of competition before."
Shorecrest running back Gabe Nelson took the invite as an opportunity to network with college coaches.
Nelson has been a leading voice for the Student Athletes of Washington, a collection of mostly football players lobbying Gov. Inslee and the WIAA to resume the fall high school football season. He played Sunday simply for the opportunity to put on pads, meet players from other schools, as well as get coveted game film.
"I definitely got better over these three days, but definitely recruiting is one of the big things because I need film," Nelson said. "Our season is in the air and it could definitely really help."
Nelson has been contacted by coaches over email and via Twitter direct message. Columbia has been in contact recently, he said. But Nelson has been hesitant to send all the film he has from last season, because he knows he's capable of better. He doesn't want the door to close with coaches if they don't like what they see.
Now, after the FSP College ID Showcase, he sees an opportunity to play a little offense in the recruiting process. To Nelson, marketing himself is the easy part.
"Once I've got this film, which I think I've got and I'm confident in it, hopefully I can get these coaches to vouch for me because I've known them for so long, worked so hard for them and they're really great people," he said. "Hopefully that can, in tandem, help me get recruited."
____
Here are full rosters from the event:
Related content:
READ: 'Perfectionist' Butch Goncharoff returns to coach at FSP's weekend showcase
WATCH: Highlights from the FSP College ID padded scrimmage
PHOTO GALLERY: Top uncommitted high school football players in Washington compete at regional showcase