With Washington high school football postponed, Milton Hopkins Jr. sees success of 'COVID 7s' tournament rise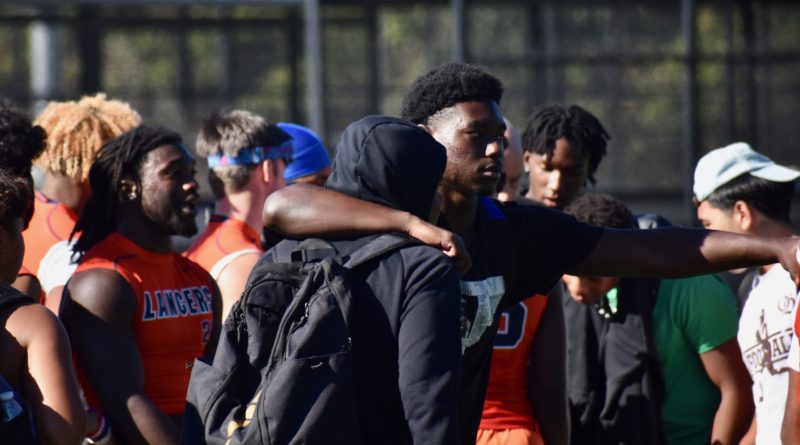 SEATAC — Milton Hopkins Jr. has worn many hats over the course of the now-three 7-on-7 touch football tournaments he's organized and overseen in the absence of a high school football season.
On Sunday, he added more responsibility: judge, jury — and peacekeeper. 
Players from more than 20 high schools from as far north as Monroe and as far south as Vancouver competed like the high school football season, which was postponed to spring due to the coronavirus, never left. Hopkins Jr.'s idea and execution of the "COVID7s" tournaments is the latest student-led activity geared at providing high school athletes a chance to play while education-based athletics are on pause in Washington.
Many felt like third week of the event was the most competitive to date, especially those who stayed for the tightly contested final, which ended in back-to-back controversial calls — both of which Hopkins Jr. had the final say.
"It's been fun seeing teams out here competing," Todd Beamer standout Malik Agbo, who officiated, said. "I think all of us are just a little bit on edge not being able to play this fall, but it's all love, it's all fun and games."
WEEK 3 'COVID 7S' PHOTO GALLERY
Led by 5-star QB Sam Huard and 4-star wideout Junior Alexander, Kennedy Catholic swept through to the finals, where they met Lakes, which edged out Eastlake, Puyallup and Graham-Kapowsin to get there.
Lakes QB Justin Brennan led his Lancers to a tournament title. (Andy Buhler photo)

The Lancers celebrate one of its four wins amid its sweep to the COVID 7s title. (Andy Buhler photo)

Lakes QB Justin Brennan evades Kennedy Catholic's coverage — and the sun. (Andy Buhler photo)

Things get chippy between Lakes and Puyallup. (Andy Buhler photo)

Things get chippy between Lakes and Puyallup at the end of their 7-on-7 game Sunday. (Andy Buhler photo)
The teams traded touchdowns into overtime, when Lakes quarterback Justin Brennan hit sophomore David Wells over the middle for the go-ahead score.
Kennedy Catholic responded with a quick touchdown, and decided to go for two. That's when Huard hit Junior Alexander over the middle, who dropped the ball when he was hit in coverage.
After Lakes prematurely celebrated, and both teams argued, Hopkins stepped in, watched a video review of the play from a bystander and called pass interference.
The next play, Huard hit Alexander in the corner of the endzone. He caught the ball in tight coverage, and Kennedy celebrated, but Hopkins Jr. saw inconclusive evidence from a photographer that his feet were out.
Lakes won.
"I always thought I'd have to make those calls, either making a close call or making one where we've got to separate teams from getting too wild," Hopkins Jr. said. "It's fun, good to go through those moments because they're memorable."
Both instances occurred on Sunday. Hopkins Jr. managed to remain level-headed through it all.
"That's impressive," O'Dea OL Owen Prentice said. "I don't know too many people, they'll be able to keep their cool with 15 dudes from each side screaming down their neck about some call just over a 7-on-7 game."
Said Agbo: "Hey, it's either call or no call at the end of the day."
The heightened attention and increased number of teams each week has required Hopkins Jr. to seek help with setup, organizing and officiating. Luckily, he said, his friends offered up their time.
Todd Beamer 4-star tackle Malik Agbo, Federal Way corner Ronald Davis, Kentlake QB Nate Beck, O'Dea 4-star OL Owen Prentice and Shorecrest's Gabe Nelson all pitched in officiating.
Some players whose schools did not field a team guest-played with other schools. Seattle Prep, for example, had several players from neighboring schools helping out Kendin Alexander and company.
Another such player was Fife senior linebacker Malakai Koke. He played with Kennedy Catholic, where his cousin, University of Washington commit Jabez Tinae plays (though he was absent this weekend).
"It's an honor just to play with them," Koke said. "I grew up with most of those guys, they're just like family, so being on the same field as them, running around, that's really what it's all about."
Koke snagged the game-sealing interception and returned it for touchdown to beat Seattle Prep in the tournament semifinals.
What began as a one-time experiment has grown in popularity and competition through each of its three weekends. Outside of the hours spent organizing, Hopkins says no expenses come out of his pocket to make it happen, although he did hop around on a pulled hamstring suffered during a game early in the day.
So, are more tournaments on the horizon?
Hopkins Jr. says another is in the works, this time geared toward JV and freshmen players, who have also been sidelined due to the ongoing pandemic.
"It's been an intense three weeks with the stars," Hopkins Jr. said. "I'm just trying to give the young guys a chance to prove themselves and get better as they go."