Roosevelt two-sport star Camille Duckett is SBLive's 3A Senior Athlete of the Year
Welcome to something that is the first of its kind at SBLive Washington – the WaFd Bank 2019-20 senior male and female athletes of the year for each classification.
Because the SBLive crew gets so immersed in specific sports seasons, it is nice to take a step back to pick a statewide honor on a broader scale.
The criteria isn't too expansive: The starting point is finding seniors who are all-league/all-state performers in two or more sports. Totality of career is also a factor. So is administrator/coach/fan recommendation.
Enjoy as we honor some of Washington's top multi-sport senior athletes over the next week!
4A ATHLETES OF THE YEAR: RILEY CISSNE, CHIAWANA | RAIGAN BARRETT, ROGERS
—–
If there's one thing you will always hear from a coach or teammate of Roosevelt High School's Camille Duckett, it has to do with her insatiable hunger for success.
She never lets up.
"She did everything for me that I asked," Roosevelt girls track coach Howard Collier said. "She is just an all-around hard worker. She gives you 100 percent in practice, and I can always count on her."
Duckett might know a little bit something about competing from her parents, too. Her father, Forey, played seven games in two NFL seasons (1993-94) with Cincinnati, Green Bay and Seattle. Her mother, Janie (Vermeere), was a standout track and field performer at the University of Washington.
"That has been the imprint left on me for the majority of my life," Duckett said. "I hate losing more than I like winning. I am always trying to get better, improve my times, or beat a team that we did not do well against the last time in volleyball."
Duckett, a UW track signee, is SBLive's Senior Girl Athlete of the Year in Class 3A.
Track is not only her best sport – she has won a pair of Class 3A titles in the 200 meters and long jump – it is also the one she has competed in the longest.
She started running track in kindergarten with a local community center at Green Lake. By the age of 10, she was competing nationally at the USATF Junior Olympics – with her mom as a coach.
"She's always been there, and walked me through things," Duckett said. "She taught me a lot about how to be disciplined."
In her junior season in high school, Duckett began branching out. Not only was she running both sprints, and competing in the long jump, she took up the 100 hurdles – which she planned on running a lot as a senior before the season was canceled.
Duckett said UW coaches have mentioned the possibility of her developing into a heptathlete, just like her mother was with the Huskies in the 1990s.
"I planned on letting the UW coaches teach me the other events, but they did say with my volleyball background, it would be beneficial in how to throw the javelin," Duckett said. "And I have done some high jump training as well."
What Roosevelt accomplished in her four seasons in volleyball was equally gratifying – four state berths, with a seventh-place showing in 2018, and a school-best fourth-place finish last fall.
"I am proud of that," Duckett said. "Me and my two close friends (Rosie Ogburn, Leandra Lortz) have been on the team together the whole time, and were a big part of it. It was definitely nice to build a strong team."
Even if Duckett had a spring track season, she admitted she likely would have been running less than fully healthy with a nagging shin injury.
"I am really happy with all I was able to do in my high school career," Duckett said. "It gave our school recognition, and helped me as a person to be closer to my teammates and my coaches."
CAMILLE DUCKETT BIO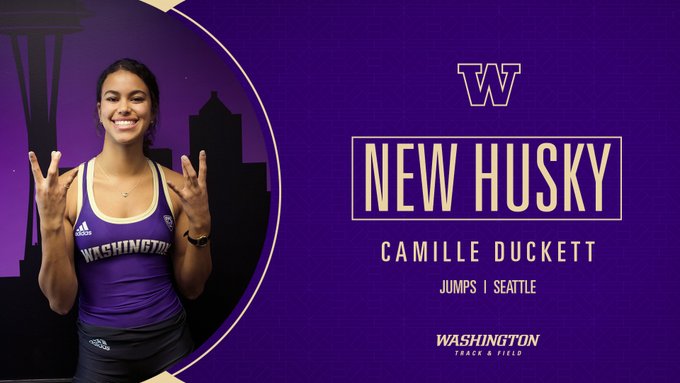 School: Roosevelt
Sports: Track and field, volleyball
Next step: Signed to compete in track and field at the University of Washington.
Senior-year highlights: Earned her third consecutive Metro League first team nod in volleyball, leading the Roughriders to their fourth consecutive 3A tournament – and best finish ever (fourth at state). She had 211 kills, 68 digs, 32 blocks and 21 aces in 85 sets played, and was named a second-team all-state middle blocker by the Washington State Volleyball Coaches Association. Duckett was also selected by SBLive as one of the top 20 players to watch entering the state championships. … Because of the COVID-19 outbreak, she was unable to defend her 3A track and field titles in the 200 meters and long jump.
Career accomplishments: Duckett had her best season in volleyball as a junior, being selected as the Metro League player of the year in 2018. She was also named to the Seattle Times' "Star Times" All-Area volleyball team, and made the 3A all-tournament first team. … In track and field, in addition to the 3A titles she captured as a junior in the 200 (24.91 seconds) and long jump (18-01/4), she posted three other career top-three finishes at the state meet, including a third-place showing in the long jump in her ninth grade and sophomore seasons.
School/community achievements: 3.53 GPA in honors' courses; 101 Club Foundation Scholar-Athlete Award winner; Rain City Flyers Foundation Scholarship winner; assisted with school's Unified Basketball program for two years, coaching special-needs students.