Mother's Day bombshell! Lincoln of Tacoma four-star recruit Julien Simon (2021) announces he will play football at USC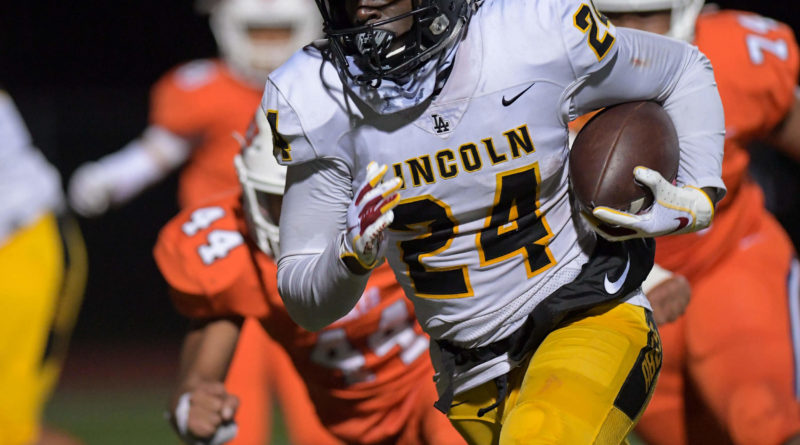 As the youngest of three boys, Julien Simon had always cooked and served breakfast to his mom, LaShonte, on Mother's Day, and brought her flowers and a greeting card.
But this Sunday was special to share for a different reason.
Simon was about to make a life-changing commitment.
And he did – in football. The two-way all-state standout from Lincoln High School in Tacoma announced during a live social-media interview that he was making a verbal pledge to USC.
With his family – brothers, Dionte and Jayden; dad, Nicholas; mom, LaShonte; and grandmother and girlfriend – surrounding him, as soon as he announced the school, he peeled off his sweatshirt and donned a Trojans hat and shirt – and big grin.
"The whole process was crazy," Simon said. "I am just glad I found the fit for me."
It is a big out-of-state recruiting victory for the Trojans, who reel in the No. 4 ranked recruit in the state of Washington's talent-loaded class of 2021, according to 247Sports.com and ESPN.com. He is also the first player from Lincoln to ever play at USC.
An attractive piece about the 6-foot-2, 215-pound Simon, who was ranked as the sixth-best player in Washington in Scorebook Live's top 100 postseason list, is his ability to play anywhere on the field.
In 13 games last season, Simon caught 83 passes for 1,033 yards and 12 touchdowns as an all-3A PCL first-team wide receiver. He also was the team's short-yardage running back/Wildcat quarterback, adding another seven rushing TDs.
But he was the league's defensive player of the year for a big reason – he consistently snuffed out plays as the Abes' hybrid defender in the back seven, recording a team-high 12 passes defended, including four interceptions.
And that is where he will likely start with the Trojans – on defense. Simon said new defensive coordinator Todd Orlando envisions him as a rover/outside linebacker in the team's new 3-4 scheme who can be a hammer against the run.
Another perk – Simon said he will get a shot at playing some running back, too.
Simon's first FBS offer two years ago came from USC. But things did not start getting serious until the Abes' standout announced his top eight schools April 1 (Arizona State, California, Michigan, Oregon, Stanford, Texas, USC and Washington).
He started bonding well with Orlando, who came over from Texas; cornerbacks' coach Donte Williams, who came over from Oregon; and ex-USC linebacker Michael Hutchings, who is a graduate assistant.
"Maintaining that relationship throughout these couple of months … I felt like I had no better bond with a coaching staff than them," Simon said.
Simon said Los Angeles is like a "second home." A great uncle lives near campus. And he wants to major in communication, and knows it is a good market to be in.
"He is an all-around person – athletics, academics and socially," said Lincoln coach Masaki Matsumoto, who knows the area well. He used to coach at Hollywood Benstein.
"So it is the perfect school. But really, he would do great anywhere."