Who are the best track and field throwers in Washington high school history? Ridgefield's Trey Knight is on the list
Like a host of other senior spring sports athletes, record-setting Ridgefield High School track and field thrower Trey Knight saw his prep career come to a premature end Monday after Washington Governor Jay Inslee announced that all extra-curricular school activities would be canceled after the coronavirus (COVID-19) outbreak.
Knight leaves for USC with the best hammer-throw mark in Washington high school history – 256 feet, 6 inches, set at a meet last July.
He is also a four-time state champion, winning the Class 2A boys shot put and discus titles in each of the past two seasons.
Here is a look at the six most accomplished track throwers state history, chosen by Scorebook Live (with expertise from three longtime throws' coaches around the state):
1. BEN LINDSEY (Lynnwood High School, class of 1996)
The greatest shot put/discus combination thrower in state history had it all – the Adonis build (6-foot-6, 250 pounds), the speed (ran 40 meters in 4.78 seconds), the athleticism (was also recruited to play D1 football) and the picture-perfect throwing technique. Both of his personal-best prep marks in the shot put (66-8) and discus (all-time best 203-6 at the time) came during his senior seasons (he even threw the javelin 181-0 in one meet). In fact, a few coaches have remarked over the years that arguably his best discus throw at a high-profile invitational went so far over a marker's head, they were certain it was mis-measured short, and would have smashed his personal record. As it stands, his 66-8 is No. 2 all-time in Washington; his 203-6 is No. 3. He was a three-time prep All-American in the discus, and won five Class 4A track titles in his career. He went on to throw for the Washington Huskies.
2. TREY KNIGHT (Ridgefield High School, class of 2020)
Combining his otherworldly mark in the hammer (256-6) and his quality marks in other events – Knight easily could have occupied the top spot on this list. Under the tutelage of his grandfather, John Gambill, starting at an early age, this teenager was an instant hit as soon as he hit the high school ranks. In 2017, he smashed Russ Vincent's 40-year-old freshman shot put mark by becoming the only ninth grader to clear 60 feet (60-9). But the hammer is his premier event – one he has set national age-group records in. And last July, Knight unloaded a 2019 national best 256-6, ranking him No. 5 all-time. He also threw the heavier 16-pound hammer an astonishing 213-9, which would have placed him seventh in the NCAA Division I men's championship. Oh yeah, he holds the top prep mark nationally in the 35-pound weight throw (67-113/4). The four-time 2A state champion's top shot put (64-53/4, No. 10 all-time) and discus (189-4, No. 19 all-time) marks are among the best ever in Washington – even without a senior season.
3. DEREK EAGER (Tahoma High School, class of 2010)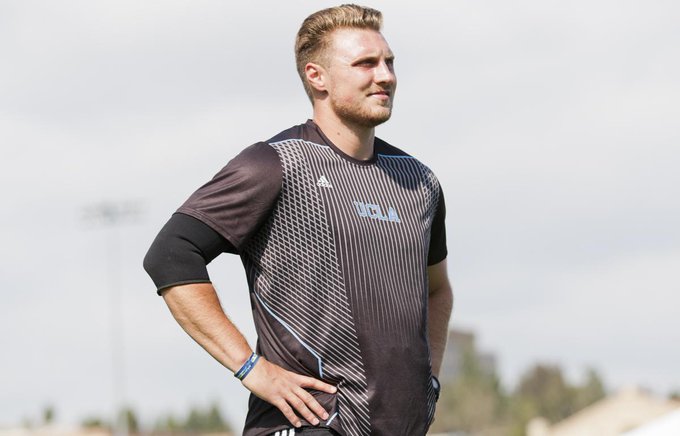 If you combine the state's top three sanctioned throwing events (shot put, discus, javelin), nobody has ever been better doing all of them than Eager. In fact, when he was a high school senior, he had a copy of the state's all-time combined list hanging at his house – and crossed off the names he passed weekly. And after he went 230-6 in the javelin (state all-time best at the time; No. 3 mark nationally in 2010), 197-1 in the discus (No. 13 mark all-time in state) and 58-6 in the shot put (top-130 mark all-time in state), he eclipsed Lindsey to take over the top spot. Eager was a tall (6-6, 230), explosive athlete who was also a standout baseball pitcher. And his best event easily was the javelin – he won three Junior Olympic national titles, and was an All-American as a senior.
4. VINCE GOLDSMITH (Mount Tahoma High School, class of 1977)
If you are a Washington track thrower, in any event, you certainly know of this guy: He is the clear king of the cast iron ball – the shot put. Goldsmith (5-11, 230) was a legend back in the 1970s, and saved some of his best efforts as a senior. He set the Pasco Invite record at 68-1. Then he made national headlines with his 69-41/2 at the hometown Daffodil Relays, moving him up to No. 7 all-time nationally. And after winning back-to-back 4A shot put titles, he set Washington's golden mark – 69-11 – at the summer Junior Olympics in Hawaii, which became the top national prep distance that year. He also threw 181-1 in the discus, which is No. 59 in Washington. In all, he is No. 2 behind Lindsey in the shot put-discus combined list. Goldsmith went on to become an All-American at Oregon in football, and enjoyed a 10-year career in the Canadian football League.
T-5. SEAN KELLER (Heritage High School, class of 2012)
As a boy, Keller dreamed of becoming the next great undersized quarterback – a la Drew Brees. Instead, he was on track to become the next Breaux Greer – America's all-time top javelin thrower. Once Keller started excelling in the javelin as a junior in 2011, he gave up football. And his marks exploded. He set the top mark all-time in Washington as a junior (232-1). And as a senior, he reset it at the Centennial (Ore.) Invitational – at 244-1. All that was left was to chase down Sam Crouser's national prep record of 255-4, set in 2010. Keller came close, going 253-0 during the 2012 U.S. Olympic Trials where he placed eighth in the finals. Later that summer, he won an international competition before giving up the sport to join the U.S. Marine Corps.
T-5. NATE ROLFE (Inglemoor High School, class of 2004)
While others were visiting friends or studying homework, Rolfe (6-2, 240) spent hours and hours in the ring. Under the watchful eye of his father, Bruce, who threw the discus at Oregon, this All-American got hundreds and hundreds of throws in on a weekly basis as part of his training. It paid of – the four-time state champion recorded the No. 2 mark all-time in Washington in the discus – at 206-2. He also went 60-1 in the shot put (No. 68 in-state mark all-time), and 237-5 in the hammer (No. 2 in-state mark all-time). Rolfe went on to compete at Cal and Georgia.