One of Washington's top perimeter shooters, Seattle Prep junior Tamia Stricklin gives verbal commitment to Fresno State
Seattle Prep's Tamia Stricklin knows she's developed into a proficient all-around basketball shooter.
She just sometimes doesn't like the look of it on video.
"It just doesn't look as clean," Stricklin said. "It looks a lot better when I don't watch it."
Now, Fresno State will get to look at it for the next few years.
Stricklin, the Panthers' two-time Metro League second-team wing player, gave the Bulldogs a verbal pledge in late March, announcing her decision on social media Sunday night.
She chose Fresno State over Columbia. Seattle University and Eastern Washington had also offered scholarships.
"I was actually not expecting myself to commit early, and was hoping to do it in June," Stricklin said. "I wanted to get a little April spring ball in. Unfortunately, that isn't going to happen (because of the coronavirus outbreak)."
Stricklin switched to the Northwest Blazers before last spring's AAU circuit got going. Steve Klees, one of their coaches, has a good relationship with the Fresno State coaching staff.
Stricklin took an unofficial visit to Fresno State last September where fellow Washington product Brooke Walling (Prairie) plays.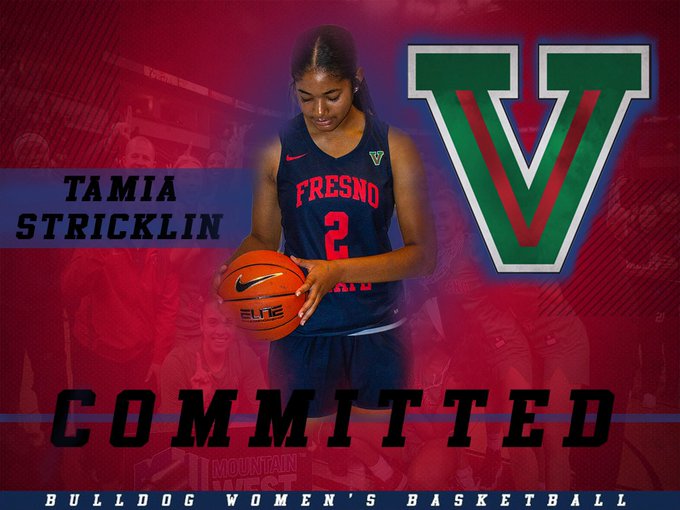 "Something that resonated with them … is my versatility," said Stricklin, who is 5-foot-11. "I can play a lot of positions."
Brian Elsner, her high school coach, thinks she is already a high-level shooter.
"She is an all-around really skilled basketball player … but she will make her mark at the college level with her ability to catch and shoot," Elsner said.
Many coaches agreed – Stricklin was named as one of the top 13 shooters in the state by Scorebook Live.
Stricklin gives a lot of credit to her first AAU coach – Jason Baskett, who is also the boys coach at Seattle Christian.
"He is one of the greatest shooters I know," Stricklin said. "He helped me have pretty decent form."
These days, she said she doesn't focus too much on mechanics, but just getting lots of shots up in morning and evening workouts.
This season, Stricklin not only was a reliable mid-range shooter, but showed great improvement in her 3-point shooting consistency.
"They have not seen I can shoot it fairly well," Stricklin said.