Junior stars: Top 12 Washington high school girls basketball players in class of 2021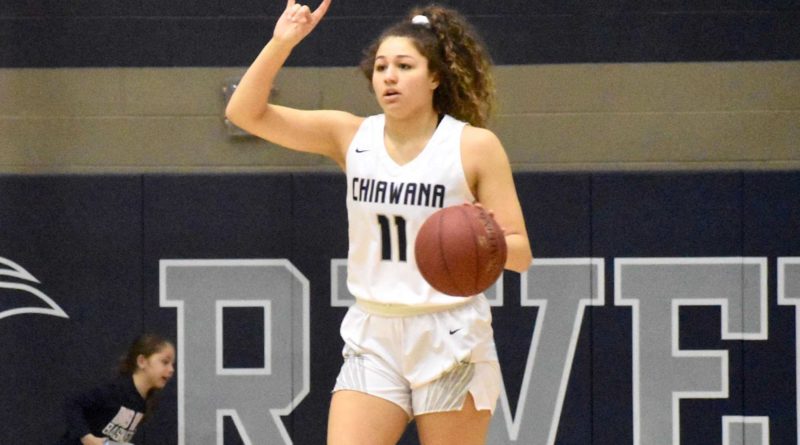 From Woodinville forward Mia Hughes to Chiawana point guard Talia Von Oelhoffen, the future of Washington high school girls basketball is in good hands.
Scorebook Live has ranked the top girls basketball players in Washington by class – 2021, 2022 and 2023 – based on a combination of this past season's performance on the high school stage, and projecting their impact going into the 2020-21 season.
Here are the top class of 2021 players in Washington:
TOP 12 JUNIORS
Talia Von Oelhoffen, PG, Chiawana
It's now her show. And based on talent (especially as a scorer, passer) and pedigree, she gets the nod to lead quality class as top national D1 recruit.
Mia Hughes, PF, Woodinville
Many would give Hughes the top billing – and rightfully so. She has been as consistent a performer as anybody in the state in work rate and production.
Aaliyah Collins, PG, Glacier Peak
A coaching favorite as a defensive disruptor and transition-game hound, Collins is a reliable jump shot away from joining the state's upper crust.
MJ Bruno, PF, Central Valley
For sure, Bruno has bravado – and now it is her turn to be Spokane's next shining star. She certainly has the energy, personality and game to do that.
Ashlyn Wallace, PG, Clarkston
Yes, she is back one more season to pick the pockets of other 2A guards, or motor past them in transition. When she gets to her left hand – good night.
Faith Bergstrom, C, Camas
If you're looking for one player to make that gigantic jump, here's your best bet. She's an ambidextrous post player whose game is rapidly expanding.
Esmeralda Morales, PG, Bethel
The Braves' dynamic duo is down to one solo act. And it is a good one with this Portland State commit, who's equally good at shooting and passing it.
Julianna Walker, PG, Annie Wright
One of next year's pressing questions – can she become the first girl to score 3,000 career points? There's not a more dangerous 3-point shooter around.
Trista Hull, PF, La Salle
Never mind Hull's ridiculous inside-outside offensive skill, her hands are glue to the basketball, both as a shot blocker and a pass hijacker.
Maya Erling, SF, Glacier Peak
Call her what you want – bold or unafraid – but one thing is for certain, Erling wants the ball in her hands in the game's defining moments. Clutch.
Katie Peneueta, PF, Heritage
This all-4A GSHL first-teamer does athletic things on the floor that sturdily-built 6-foot-2 girls aren't supposed to do. Her off-the-chart talent pops.
Hailey Hiatt, PG, Arlington
So many could have taken this final spot, but the nod goes to the Eagles' leader who might be 3A's best clutch and most consistent 3-point shooter.
Worth mentioning: Charlee Arthur, SF, Newport of Bellevue; Taliyah Clark, SF, Bishop Blanchet; Hailey Hiatt, PG, Arlington; Haley Huard, SF, Eastlake; Fatoumata Jaiteh, C, Meadowdale; Sharayah Johnson, C, Lincoln of Tacoma; Jaydia Martin, SF, Hudson's Bay; Emily Mellema, PG, Lynden Christian; Molly Moffitt, SG, Seattle Prep; Shaunice Reed, PG, Franklin; Alivia Stephens, SF, Issaquah; Tamia Stricklin, SF, Seattle Prep; Ashlynn Sylve, PG, East Valley of Yakima; Katie Thiers, C, Roosevelt; Joclyen Wyatt, PG, Wilson.