Scorebook Live's All-Decade Washington high school boys basketball team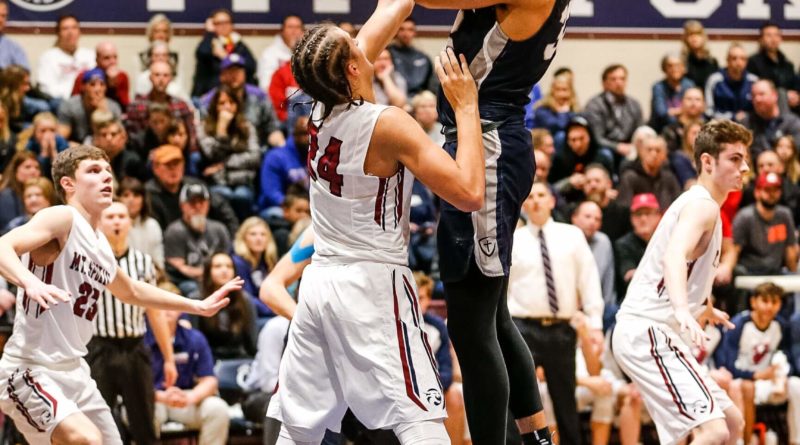 BY TJ COTTERILL
What a decade for Washington high school boys basketball.
It started with Joe Harris out of Chelan High School earning the state's Mr. Basketball from the coaching association in 2010, and now he's in his sixth NBA season, playing for the Brooklyn Nets.
And since then we've witnessed Dejounte Murray's rise from Rainier Beach to the University of Washington to the San Antonio Spurs; Michael Porter Jr.'s one-year onslaught wearing a Nathan Hale jersey; the state's career scoring record handed off; and Zach LaVine go from hooping at Bothell to wowing the world in the NBA Slam Dunk Contest (twice).
So we decided to try to commemorate all that's transpired and compile the All-Decade boys basketball team, consisting of players who either ended their high school careers or began them at some point between 2010 and 2019.
It's a roster of 13 players, with five starters and eight on the bench. Players were selected solely based on what they did when they were walking the halls of their high schools, not what they went on to do afterward.
Some continued onto stardom, some didn't, but all certainly left an impression.
We'll also let you decide who we snubbed, and who you think should be the All-Decade team's starting five. Just submit your votes at the bottom of the page.
SCOREBOOK LIVE'S ALL-DECADE BOYS BASKETBALL TEAM
STARTING FIVE
Chelan (2007-10)
What a start to the decade – with Josh Smith dominating in Western Washington and Harris on the other side of the mountains, where he scored 2,399 career points (sixth-most in state history) before heading with Tony Bennett to Virginia (Harris won the NBA 3-point contest last year). As a senior Harris averaged 26.6 points, 8 rebounds, 4.6 assists, 4.4 steals, 1.6 blocks and shot 59.2 percent from the floor playing for his father. Coaches said he could have scored far more had he not been so unselfish.
So with Chelan having such a dynamic player, how was its best finish in the state tournament fifth, when Harris was a senior? The Goats were 26-1 entering a matchup against reigning champion Vashon Island, which was led by Stanford-bound John Gage, when Harris picked up three fouls in the first quarter and Chelan quickly fell into a 32-10 hole. So Harris returned in the second quarter, put the team on his back, helped cut the lead to 40-36 before he eventually fouled out and Chelan lost. Said Vashon coach Andy Sears at the time: "Neither one of these teams deserved to lose."
Harris was a three-time league MVP, earned Gatorade state player of the year as a senior, WIBCA's Mr. Basketball and he also played three years of football and two years of baseball.
—
G DEJOUNTE MURRAY
Rainier Beach (2012-15)
So athletic, so smooth and such a tenacious rebounder and deft passer. Murray once scored 52 points with 20 rebounds against Franklin, he had 12 triple-doubles his senior year and as a junior he had 33 points, 30 rebounds in a win over West Seattle. He was trying to help Beach win its fourth state title in four years when the Vikings were thwarted by Garfield in the 3A title game his senior season.
Murray averaged 25 points, 12.4 rebounds, 8 assists, 3.2 steals as a senior, and he almost averaged a triple-double as a junior, too. He went on to do similar things in one standout season at UW before being drafted by the San Antonio Spurs, where he currently starts. And he did all that coming from a home where he lived with his grandma and 12 other kids for much of his childhood. Murray earned state player of the year from every state publication that hands out the award his senior year.
—
F MICHAEL PORTER JR.
Nathan Hale (2016-17)
Granted, MPJ isn't even from Washington. He lived here one year and attended Nathan Hale, where he was coached by Brandon Roy and was awaiting a trip to UW to play there before Lorenzo Romar left – so Porter instead played at Missouri for an injury-shortened season.
But there's no way you can look back on the decade's top players and not immediately remember Porter's incredible season. He looked bound to be a No. 1 NBA draft pick (instead he slid to 14th and now plays for the Nuggets) on his way to earning National Gatorade Player of the Year. Averaged 36.2 points, 13.6 rebounds, 5 assists, 3.2 steals and 2.7 blocks. Yes – those are averages. Nathan Hale went 29-0 that season, and MPJ saved some jaw-dropping plays for his final, a 68-51 win over a loaded Garfield squad in the 3A state title. Scored 3,427 career points (which would easily be a Washington state record) when you include his time spent in Missouri.
—
C JOSH SMITH
Kentwood (2007-10)
He'll best be remembered for how gigantic, yet talented and agile he was for a high school player. But Smith's career didn't pan out like everyone and their mothers expected when Smith dominated over four years at Kentwood, ending his prep career with a 4A state title win over Jackson. The 6-foot-10, 305-pound center scored 22 points with 16 rebounds in that championship win, despite missing some of his senior season with a knee injury, and he had more assists over the course of the tournament than any other player.
He averaged 21 points, 14 rebounds, five blocks per game as a senior, earned his fourth all-state selection in four years, won his third league MVP and played in the McDonald's All-American Game.
Kentwood went 75-37 his four years there and here's what Smith's first college coach, UCLA's Ben Howland had to say about seeing him for the first time: "I was like, 'Wow.' I fell in love with him the first time I saw him play. Josh is really special in terms of his talent because he has great hands – unbelievable hands – and wonderful feet for a guy his size."
—
Gonzaga Prep (2016-19)
Winner. That's Anton Watson, AKA, The Twonster. Helped Gonzaga Prep win 4A state titles over Federal Way as a junior and Mt. Si this past year before heading down the road to Gonzaga University. With Watson starting all four years, G-Prep won 102 games, and his freshman and sophomore years both were derailed by close losses in state to the eventual champions. The beauty of Watson was that he could fill up a box score with G-Prep never even having to run any plays for him, that's just how physical, tenacious and talented he was, averaging 21.6 points, 7.1 rebounds, 2.8 assists his senior year to earn WIBCA's Mr. Basketball award.
But maybe his best moment came his junior season, playing Richland in the state semifinals. Not only did he have an emphatic dunk over 7-foot-4 Riley Sorn, the 4A state player of the year who now is at UW, but he also hit the game-winning 3-pointer in overtime to send the Bullpups to the championship, where they won their first of two state meetings in two years against Jaden McDaniels' Federal Way.
—
BENCH
O'Dea (2018-present)
Look out for Banchero on the next all-decade team, too. By the time he's graduated from O'Dea in 2021 many expect Banchero to be considered one of the greatest to ever come out of Washington – and it's hard to argue with that trajectory. He's a complete player, with maybe his best work coming on the defensive end. He missed some games with a concussion last year, but came back and averaged 18.2 points, 10.3 rebounds, 4.3 assists in leading O'Dea to the 3A state title – and he looks even better this season. As a freshman he helped O'Dea get to the quarterfinals before losing to eventual-champion Garfield.
The 6-foot-9 Banchero is the No. 4 2021 recruit in the country, as ranked by 247Sports. His mother, Rhonda Smith, starred at UW in the early 1990s and left as the school's all-time scoring leader.
—
Kentridge (2008-11)
His 47-point outburst in a loser-out district-tournament win over Bellarmine Prep remains in South Sound lore. The most apt description Bellarmine coach Bernie Salazar had in an interview afterward was, "Wow." Kentridge would fall in the 4A state quarterfinals Bell's senior season, but not before he had that district doozy before scoring 31 points and 27 in back-to-back games to get the Chargers that far.
Bell scored more than 2,000 career points as a four-year starter, averaging 28 points, 8 rebounds, 3 assists, 2 steals and shot 42.4 percent from the 3-point line his senior year before heading to Gonzaga. He put up 55 points against Auburn Riverside in a game. Earned WIBCA's Mr. Basketball and Gatorade state player of the year in 2011.
—
G ZACH LAVINE
Bothell (2010-13)
LaVine is still putting on a show, just now for the Chicago Bulls as a potential All-Star candidate after winning back-to-back dunk contests in 2015 and 2016 with the Timberwolves. And at Bothell, LaVine was the state's preeminent scorer his final three seasons, averaging 28.5 points, 3.4 rebounds, 2.5 assists his senior season after averaging 23 points as a junior and 25.9 as a sophomore. LaVine earned WIBCA's Mr. basketball in 2013 and was The News Tribune's state player of the year before heading to UCLA.
But he never did quite figure out the Tacoma Dome, going 0-2 there in two trips. In fairness, LaVine ran into Garfield his senior year in what could have been a state-title matchup (LaVine had 16 points in the loss), and Bothell lost to eventual-champion Davis in the quarterfinals the year before.
—
Federal Way (2016-19)
A 6-foot-10 frame, a wingspan that's seemingly 10 feet, guard ball-handling skills and NBA 3-point range? McDaniels was a matchup nightmare as a three-year starter for Federal Way (the only year he came off the bench was as a freshman when his brother, Jalen, starred on the Eagles' second consecutive state-championship team).
But a competitive switch flipped after his sophomore season. McDaniels averaged 21 points, 10 rebounds, 4.6 assists and 3.3 blocks as a junior in leading Federal Way to the 4A title game, losing to Gonzaga Prep when the Eagles' last-second shot landed short. He got a rematch against Anton Watson and G-Prep his senior year, when McDaniels averaged 23.3 points, 10.3 rebounds, 3.2 assists 2 blocks and 2 steals per game, but he got in foul trouble early and Federal Way lost the semifinals showdown. He was the No. 8-ranked recruit in the nation by 247Sports and was a McDonald's All-American before committing to UW.
—
Garfield (2014-17)
Nowell went to three state-championship games in four seasons at Garfield, and he reached the semifinals all four years. The sky seemed the limit for Nowell when as a sophomore he averaged 23.3 points, 6 rebounds, 2 assists and 2 steals and led Garfield to a state-title win over Dejounte Murray's Rainier Beach (Nowell had 23 points, 10 rebounds in the championship game). But just a few months later he lost his father, Mike, after a long, heartbreaking battle with cancer.
Nowell never did quite seem like the same player (who would?), but he got Garfield back to the state title as a senior, averaging more than 20 points and three assists alongside Daejon Davis before losing to Michael Porter Jr.'s Nathan Hale. Nowell bounced back at UW, earning Pac-12 player of the year before heading to the Timberwolves in this past year's NBA draft.
—
Rainier Beach (2015-18)
Few others in state history have possessed the jaw-dropping skills and athleticism Porter could show. The season opener his senior season he had 40 points, 17 rebounds, five assists and three steals, including a dunk where he dribbled between his legs twice, swiveled the ball behind his back and then jumped through another defender for what was dubbed by some national outlets as the dunk of the year. The only question was whether Porter could consistently put all that talent together.
He reached the state-title game three of his four seasons at Beach, including playing alongside Dejounte Murray as a freshman, then started the next year on a team that stunned a talented Garfield squad in the semifinals before beating O'Dea for the championship. He would lose to Garfield in state each of his final two seasons, but earned WIBCA's Mr. Basketball and TNT state player of the year as a senior. He averaged 28 points, 14 rebounds, 6 assists his senior year and 24 points, 11 rebounds, 5 assists as a junior.
—
Kittitas (2016-19)
So what that Kittitas is in the state's second-smallest classification? If you were to see one of the decade's elite players playing 2B ball, you'd expect him to basically average a triple-double, set the state career scoring record and win a ton of state titles. Check, check and check with Ravet, who scored 3,100 career points and won three consecutive 2B state titles. His senior year he averaged 28.7 points, 9.7 assists, 9 rebounds per game after a junior year when he averaged 31 points, 8.8 rebounds, 9 assists. In the 2019 state title against St. George's, Ravet had 27 points, 10 assists and 9 rebounds.
So you can't look back at the decade and not mention Ravet's scoring and winning bonanza. Many were looking forward to seeing how his game would transcend to Gonzaga, where he was set to play alongside other state standouts such as Gonzaga Prep's Anton Watson and King's Corey Kispert. But Ravet mysteriously left the team, with Gonzaga saying in a statement, "Brock has made a personal decision to no longer be with the program." It's unknown if Ravet will eventually return.
—
G TONY WROTEN
Garfield (2008-11)
A five-star recruit out of Garfield in 2011 – ranked the No. 19 player in his class behind No. 1 Anthony Davis – with seemingly unlimited quickness, aggressiveness and athleticism as a 6-foot-4 point guard. He was actually once ranked above Davis as the top player in the nation, garner way too much hype way too early. His father was a former UW football player, his mother a WSU track star, and cousin is former Rainier Beach, UW and NBA standout Nate Robinson.
Wroten was temporarily ineligible in 2008 because of a residency debacle, then missed his junior year with an ACL tear suffered during football, but his senior year Wroten went off, averaging 25 points, 8 rebounds, 6 assists and 2.5 steals. He led Garfield to the state semifinals in 2011, losing to Gonzaga-bound Chris Sarbaugh (who eventually went to San Diego, then Idaho) and Gonzaga Prep, after Wroten starred on a team that lost to Cole Dickerson's Federal Way in the 4A title in 2009. 
---
PICK YOUR STARTING FIVE