Seattle Prep junior Tamia Stricklin voted Scorebook Live's girls basketball player of the week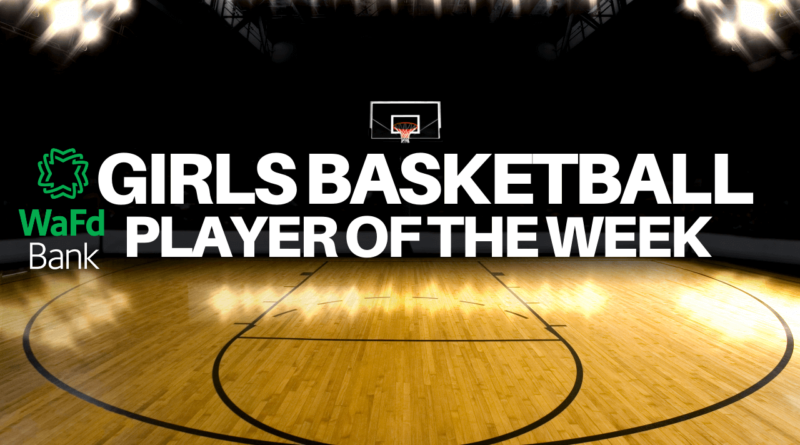 Congratulations to Seattle Prep junior Tamia Stricklin for being voted Scorebook Live's WaFd Bank girls basketball player of the week!
Stricklin put up 20 points and snagged 9 boards for Seattle Prep as they defeated Holy Names Academy 57-34.
Stricklin received 53.01% of the vote, beating out Rainier Beach's Jaliyah Sampson, who finished with 32.13%.
We are currently accepting girls basketball player nominations for games played Feb. 10-16. If you would like to nominate an athlete, please email regan@scorebooklive.com or tag us on Twitter or Instagram at @sblivewa.
Here are the other girls basketball players who were nominated for the week of Feb. 3-9:
Devynn Warns, Liberty: Warns led Liberty to a 64-53 win against Bellevue, scoring 24 points with 16 of those coming in the 3rd quarter.
Mia Hughes, Woodinville: Hughes netted 20 points for Woodinville in their 81-59 win over Eastlake.
Ella Koebelin, Klahowya: Koebelin averaged 23 ppg, 5 rpg, 4.3 rpg, and 1.7 spg over the course of three games for Klahowya.
Jaliyah Sampson, Rainier Beach: Sampson finished with a 20 point, 19 rebound double-double for Rainier Beach in their 70-64 victory over Franklin.
Keeli Burton-Oliver, Eastlake: Burton-Oliver put up a double-double of 21 points and 16 rebounds in Eastlake's 55-38 win over Newport-Bellevue.
Skylar Bea, Washougal: Bea helped Washougal to a 44-38 win over Columbia River with 15 points, 14 rebounds, 2 assists, 2 steals, and 4 blocks.
Lakin Gardner, Gonzaga Prep: Gardner averaged 19 ppg for Gonzaga Prep over three games.
Julia Bordeaux, Bellarmine Prep: Bordeaux's 23 points helped Bellarmine to a 64-37 victory over Emerald Ridge.
Isabel Sullivan, Eastside Catholic: Sullivan scored 22 points to go along with 5 rebounds, 2 assists, and 1 steal in Eastside Catholic's matchup with Holy Names Academy.
Piper Bauer, Peninsula: Bauer led the way for Peninsula with 25 points in their 50-33 win over Gig Harbor.