Annie Wright junior Julianna Walker voted Scorebook Live's girls basketball player of the week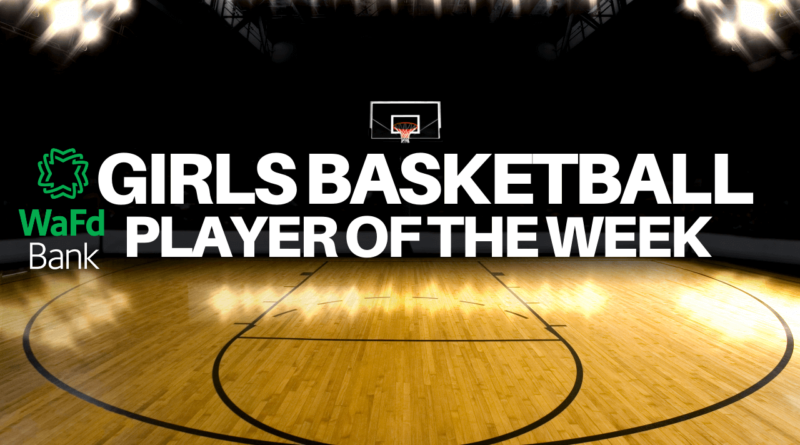 Congratulations to Annie Wright junior Julianna Walker for being voted Scorebook Live's WaFd Bank girls basketball player of the week!
Walker grabbed a triple-double with 30 points, 13 assists, 10 steals, and 6 rebounds against Charles Wright.
Walker received 51.5% of the vote, beating out Peninsula's Piper Bauer, who finished with 24.78%.
We are currently accepting girls basketball player nominations for games played Jan. 13-19. If you would like to nominate an athlete, please email regan@scorebooklive.com or tag us on Twitter or Instagram at @sblivewa.
Here are the other girls basketball players who were nominated for the week of Jan. 6-12:
Nakia Boston, Lynnwood: Boston drained 32 points to go along with 11 dimes, 6 boards, and 5 steals against Oak Harbor in a 72-45 win.
Hailey Hiatt, Arlington: Hiatt scored 29 points and tied the school record for 3 pointers made in a game with 9 total against Mountlake Terrace.
Joy Haltom, Juanita: Haltom had a double-double with 20 points, 13 rebounds, 2 assists, 2 steals, and 7 blocked shots. She also nailed two free throws with 1.5 seconds to send the game into OT against Bothell.
Mason Oberg, Union: Oberg netted 30 points to go along with 7 rebounds and 5 assists in a 72-39 win over Wilson.
Callie Stevens, Bellarmine Prep: Stevens had three straight 20+ point games this week against Olympia, Emerald Ridge, and Puyallup.
Macy Huard, Bear Creek: Huard averaged 42 points in two games for Bear Creek last week.
Piper Bauer, Peninsula: Bauer scored a game high 34 points and added 9 rebounds as well as 4 assists in a 80-73 win over Timberline.
Kyra Gardner, Raymond: Gardner averaged 30.6 points and 12 rebounds through three games this week.
Hailey Van Lith, Cashmere: Van Lith dropped 35 points in a 63-27 win against Medical Lake.
Veronica Sheffey, Woodinville: Sheffey had a triple-double with 14 points, 11 assists, and 11 rebounds in Woodinville's 67-43 win against North Creek.