Monroe freshman Adria Lincoln voted Scorebook Live's girls basketball player of the week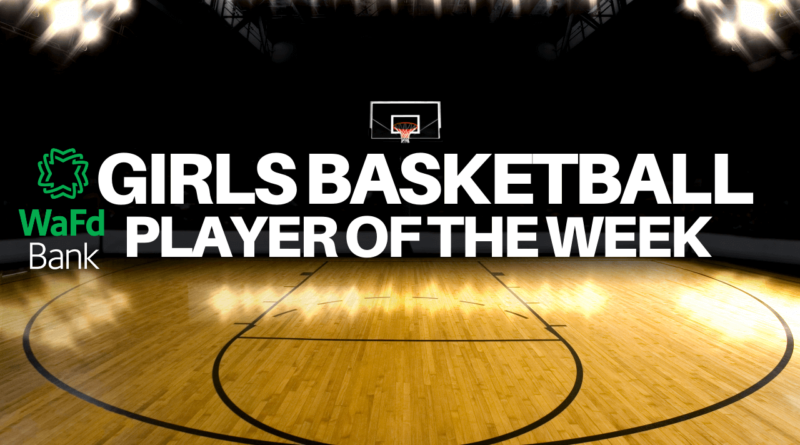 Congratulations to Monroe freshman Adria Lincoln for being voted Scorebook Live's WAFD Bank girls basketball player of the week!
Lincoln grabbed a double-double of 18 points and 14 rebounds in the Bearcats' loss to Mount Vernon.
Lincoln received 53.26% of the vote, beating out Deer Park's Taylor Lyons who finished with 25%.
We are currently accepting girls basketball player nominations for games played Jan. 6-12. If you would like to nominate an athlete, please email regan@scorebooklive.com or tag us on Twitter or Instagram at @sblivewa.
Here are the other girls basketball players who were nominated for the week of Dec. 30 – Jan. 5:
Lucy Young, Inglemoor: Young scored 20 points on 6 3-pointers to lead Inglemoor in their 66-55 win against Lake Stevens.
Sophia Liesse, Lake Washington: Liesse racked up 23 points, 5 boards, 4 dimes, 3 steals, and 3 blocks for Lake Washington against Riverside (BC).
Jayda Clark, Richland: Clark scored an impressive 37 points for Richland in their 74-63 victory over Walla Walla.
Hailey Van Lith, Cashmere: Van Lith put up 33 points for Cashmere in the Bulldog's 64-24 win over Chelan.
Julia Bordeaux, Bellarmine Prep: Bordeaux had a double-double with 31 points and 11 rebounds in the Lions' 62-55 win against Rogers.
Nakia Boston, Lynnwood: Boston scored 35 points, including 11/11 from the free-throw line, in Lynnwood's 51-45 win over Stanwood.
Maya Erling, Glacier Peak: Erling led the way for Glacier Peak with 22 points in the Grizzlies' 66-52 win against Lake Stevens.
Talia Von Oelhoffen, Chiawana: Von Oelhoffen netted 24 points for Chiawana in the Riverhawk's 49-34 win over Lewis & Clark.
Taylor Lyons, Deer Park: Lyons scored 27 points (8 for 10 from 3 point range) helping Deer Park to a 58-42 win against Colville.
Kylie Sherman, Selah: Sherman had an impressive double-double of 31 points and 18 boards for Selah in their game against Wapato.
Ariel Winslow, West Valley: Winslow poured in 26 points in WV's 60-41 victory over Auburn Mountainview.
Marie Hauck, Seattle Prep: Hauck scored 10 points and pulled down 11 boards in Prep's 55-31 win against Ballard.