Over the next two weeks, all the WIAA state high school volleyball tournaments will take place in Eastern Washington.
This week, all Class 1B-2A volleyball is in action — followed by the 3A and 4A tournaments Nov. 22-23 in Yakima.
Here's a look at the top 20 players expected to be competing in the 4A, 3A, 2A and 1A tournaments:
CLASS 4A
OH Hailey Brockway, Graham-Kapowsin, freshman
Pure power, Brockway was the unanimous MVP choice (nearly 6.0 kills per set) in one of the state's best leagues (4A SPSL) as a ninth grader. Notched 42 kills in leading the Eagles past Emerald Ridge for league crown.
OH Sage Brustad, Richland, junior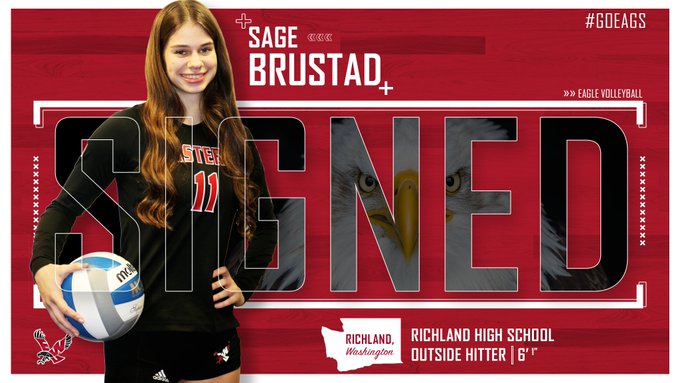 The Bombers' lone returning all-state first teamer, Brustad flashed the most consistent all-around game in the Mid-Columbia Conference (4.2 kills per set, nearly 40 aces). Just signed with Eastern Washington University.
OH Rachel Davis, Tahoma, junior
For a teenager who plans on being a pre-med major someday in college, she sure knows how to dissect a defense. Energetic team captain was 4A NPSL first-teamer in back-to-back seasons.
OH Kyleene Fillmaua, North Creek, freshman
She loves the beach, and before she even took the court at North Creek, this ninth-grade standout gave a verbal commitment to play indoor and beach volleyball at Florida State.
MB Chelsey Harmon, Rogers of Puyallup, senior
It's not difficult to see how the Rams clinched the 4A SPSL regular-season title. They were tough to hit over in the middle, led by this University of Portland signee (147 kills, 64 blocks in 2019).
OH Chey Jones, Tahoma, senior
As dynamic a hitter as there is in the state, the Boise State signee reeled in 4A NPSL Cascade player of the year honors with a league-high 170 kills, 80 digs and 19 digs during the regular season.
OH Ella Litterell, Emerald Ridge, senior
As good as this Texas A&M-Corpus Christi signee is on her own, she has no problem admitting she avidly watches other players to learn tricks of the trade. Reigning all-state hitter (339 kills) is as steady as standouts come.
OH Samaya Morin, Lake Stevens, junior
There isn't much this all-state standout cannot hasn't done for the repeat 4A Wesco champions, leading the team with 237 kills (3.9 kills per set) with a .437 hitting percentage. Also a high-level basketball player.
CLASS 3A
OH Tia Allen, Mount Spokane, junior
Part of a sister duo (Tiela, who is team's setter), Allen was the team's most consistent (and hardest) hitter, even ahead of teammate Malina Ama, in garnering 3A GSL MVP honors for the defending state champions.
OH Malina Ama, Mount Spokane, senior
OK, so this powerful hitter was a little up and down during the regular season. But the reigning Class 3A state player of the year usually turns it up a notch in important matches – like last year's 3A championship (16 kills).
MB/RS Camille Duckett, Roosevelt, senior
As long as she's been on the floor, the Roughriders are, shall we say, perfect (37-0 in Metro League Sound play). The all-state performer is also a two-time state champion in track and field (200 meters, long jump).
MB Mia Hall, Stadium, senior
All that is left for this all-state middle anchor to do is lead the 3A PCL champions to a state trophy (two-and-out in past two years). She had a league MVP type senior year (155 kills, .355 hitting percentage).
OH Sophia Meyers, Eastside Catholic, senior
She is fiery – and the Metro League's top attacker (and player of the year) is dangerous, too (418 kills, .330 hitting percentage). The University of Montana signee spent her first three seasons at Tahoma High School.
OH Maia Nichols, Capital, senior
What a career this Arizona State indoor/beach volleyball signee. The two-time all-state performer (and 2017 MVP) led the Cougars to the 3A crown in 2017, and has notched a team-high 220 kills this season.
CLASS 2A
MB Allie Andrew, Ridgefield, junior
She is the state's next "giant" of an NCAA Division I volleyball recruit (6-foot-4), with Notre Dame, Northwestern, Hawaii and Baylor in the Spudders gym to see her smash. Thing is, she has an underrated all-around game, too.
MB Eliana "Puka" Luteru, Washington, senior
You might want to know where this two-time 2A SPSL East MVP is at all times. She combines power with smarts (2.3 kills, 2.3 digs, 1.0 blocks per set), and has led the Patriots back to the state tournament.
OH Delaney Nicoll, Ridgefield, senior
How many players can be an all-state setter one year (2017), switch positions and become the 2A player of the year the next season? The Idaho signee is the steadiest producer along a massive Ridgefield front line.
MB Casonndrah Polo, Fife, senior
As an undersized blocker, this two-time 2A SPSL West MVP's game is all about speed (3.1 kills, 0.5 blocks per set). She garnered an all-state nod in 2017 by leading the Trojans to a seventh-place showing at state.
CLASS 1A
OH Alli Hansen, King's, senior
The 2017 1A state player of the year is over her nagging back injury from last year to grab 1A North Sound MVP honors (3.8 kills per set, .321 hitting percentage). She will sign with Grand Canyon University next week.
OH Liv King, Lynden Christian, junior
She's only 5-foot-7, but her hops make her play tall for the defending state champions. King had a monster junior season (335 kills, 322 digs) in which she has accounted for roughly 27 percent of the team's points.