Clarkston goes to bag of tricks to stir up 2A Great Northern League race: Central and Eastern Washington football notebook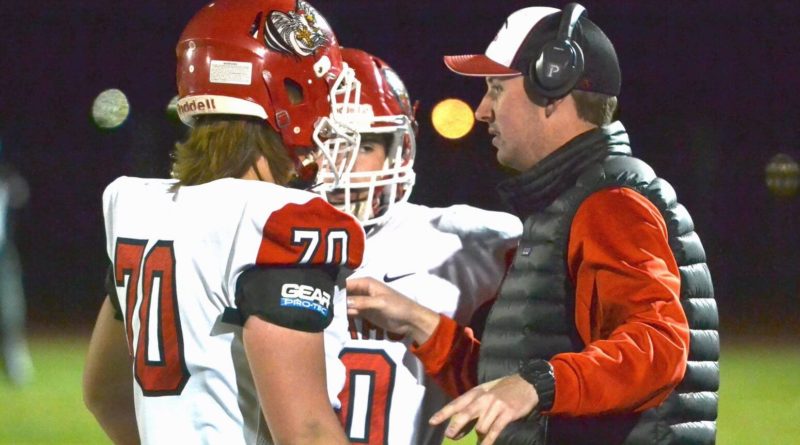 Clarkson High School football coach Brycen Bye admitted it was that kind of game.
An important one.
One that took a little creativity to beat the reigning 2A Great Northern League champions.
"Because every play mattered," Bye said.
When it came to adding it all up, the Bantams upended host West Valley of Spokane, 50-49, in three overtimes Friday night.
Clarkston's victory sets up an upcoming important showdown with Pullman at home this weekend.
But this one was special, especially in the way the Bantams continued to answer every West Valley score.
The highlights at the end of regulation were wild: Quarterback Kaedin Frazier completed a fourth-down touchdown pass to Nate Hoffman with four minutes to go; tailback Eddie Berglund scored on a 24-yard run in the final minute.
But in the second overtime, Bye called for a gadget play he had never run in a game before: Statue of Liberty.
Legendary coach Amos Alonzo Stagg is widely regarded as the first to call the play in a game in 1908 where the quarterback drops back as if he was going to throw a pass, then hides the ball behind his back.
Usually a running back or wide receiver will come across the formation and take it from the quarterback as a run play.
In Clarkston's case, wide receiver Tru Allen (also the school's best basketball player) came across to take the football from Frazier. But instead of running it, he lofted it to Steve Baiye for a 25-yard touchdown.
"We went to a coaching clinic this summer that had a session on trick plays, and saw it," Bye said. "But we had not repped the play in practice.
"It was fourth-and-10, and in the timeout, I told Tru, 'Go around the corner and if it is not there, throw it to Steve.'"
After Frazier connected with Austin Armstrong on a 10-yard touchdown pass in the third overtime, Bye decided to go for the win. And Frazier took off to his right and rumbled over a West Valley defender at the goal-line for the decisive two-point conversion.
"Kaeden has been wanting to run the ball more as the year has gone on, and they were coming down hard on our run game," Bye said. "He was one-on-one with the safety, and got it."
The Bantams won 2A GNL titles in Bye's first two seasons – 2014 and 2015. Since then, they have been the chasers.
"This was a huge game for us," Bye said. "Everyone was basking in the glow of it."
Frazier's run was one of our plays of the week:
OH, DEER (PARK) – WHAT HAVE YOU DONE?
This season, only one school in Washington can boast it has defeated both reigning state finalists.
It is Deer Park.
In Week 3, the Stags walloped 1A runner-up Newport, 34-7. And last week, they produced the shocker – a 21-20 victory at state champion Colville.
"We've had a heck of a 15 days around here," Deer Park coach Keith Stamps said.
This has been a solid program for years: The Stags were in the 1A semifinals in 2016, losing to Royal. And they have posted winning seasons the past two years.
But Stamps saw something in his players during the offseason that made him believe they were ready for another big run.
"Without a doubt … we had best June and July we have ever had – in summer camp, to the weight room, to speed training four days a week," Stamps said. "We could tell early on their were all-in."
Deer Park has a legitimate 1A Northwest player of the year candidate in tailback Matthew Jorgensen, who has been clocked in the 4.4-second range in the 40-yard dash.
On defense, senior Bennet Lim, junior Sam Riebold and Chaz Bird – an eighth grader – make up the best linebacking crew Stamps has had in his 16 seasons.
TWO MCKENNAS – FATHER AND SON – IN CHARGE AT GONZAGA PREP
Dave McKenna still looms large as Gonzaga Prep's sideline boss. After all, he is the coach with a 4A title under his belt.
But in the huddle, it is sophomore Ryan McKenna – Dave's son – who is leading the offense.
And last week, Ryan McKenna started the entire game at quarterback, leading the Bullpups to a 31-7 victory over Mead in a key 4A Greater Spokane League showdown.
McKenna threw for a touchdown, and ran for scores of 76 and 22 yards (and 147 yards total) in the Bullpups' triple option attack.
"I have coached two (sons) prior … and it is enjoyable," Dave McKenna said. "We try to separate being a dad and being a coach."