Camas Papermakers: 2019 Washington high school 4A football preview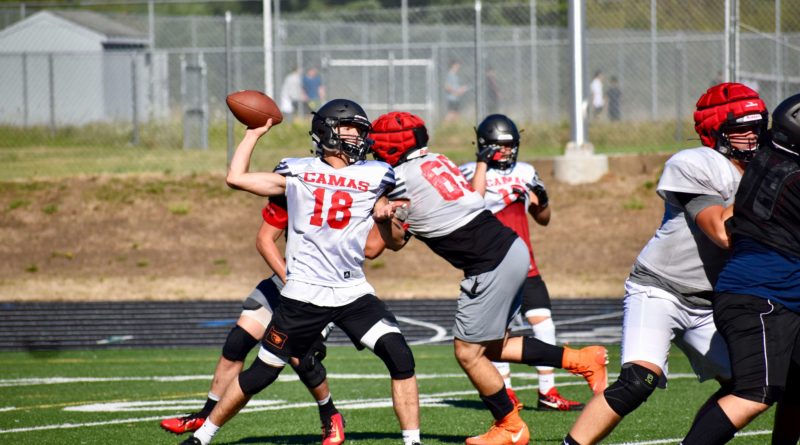 Here is an inside look at the 2019 Camas Papermakers football team.
Links: Camas team page | 2019 schedule | Roster
2018 IN REVIEW
5-5 overall, 3-1 in the 4A Greater St. Helens League (second place); lost to Bothell in the week 10 district crossover, 36-35.

COACHING RESUME
Jon Eagle, 12th season
Overall record: 212-70 (previously at Evergreen High School)

TOP OFFENSIVE RETURNERS
QB Jake Blair 6-2, 180, jr.
WR Jackson Clemmer, 6-7, 195, Sr.
OT Caadyn Stephen, 6-6, 295, Sr.
OL Rush Reimer, 6-6, 295, Sr.
OL Tristan Souza, 6-2, 280, Sr.
TE Titan Phillips, 6-3, 185

TOP DEFENSIVE RETURNERS
DB Tyler Forner 5-10, 185, sr.
DE Titan Phillips, 6-3, 185
DT Tristan Souza, 6-2, 280, Sr.
K Bryce Leighton 6-3, 180, Sr.
DB Blake Deringer 5-11, 160, Sr.

THREE TO SEE
Caadyn Stephen, offensive tackle
The most decorated of the Papermakers' stout O-line. The three-star OT (per 247 Sports) holds offers from USC, Arizona, Cal among others.

Jackson Clemmer, receiver
The tall wideout has grown since his junior season, and will be the top target in the Papermakers' pass-heavy offense.

Tristan Souza, offensive lineman
Stalwart offensive guard. Souza holds an offer from Northern Colorado.

OUTLOOK
Camas could be one of the few teams across the state that can lose seven all-league selections and return a much more sound team in 2019.
The Papermakers return quarterback Jake Blair, who started on and off as a sophomore last season, and Jackson Clemmer, a tall, athletic receiver who coach Jon Eagle anticipates will have a breakout year.
But what separates Camas, and makes it a state contender, is its offensive line. Caadyn Stephen, who has fielded multiple Pac-12 offers, headlines a line that mirrors the size and strength of a college line.
That will give Blair ample time to operate, but will it be enough to separate the Papermakers in a league that contains defending 4A state champion Union and Skyview, which returns the vast majority of its starting lineup?

2019 SCHEDULE
Sept 6: Lincoln (Tacoma), 7:30 p.m.
Sept. 13: at Hazen, 7 p.m.
Sept. 20: West Valley (Yakima), 7 p.m.
Sept. 27: at Bellevue, 7 p.m.
Oct. 4: Heritage, 7 p.m.
Oct. 11: Sumner, 7 p.m.
Oct. 17: at Battle Ground, 7 p.m.
Oct. 25: at Skyview, 7 p.m.
Nov. 1: Union, 8 p.m.
*home games in bold