North Creek Jaguars: 2019 Washington high school 4A football preview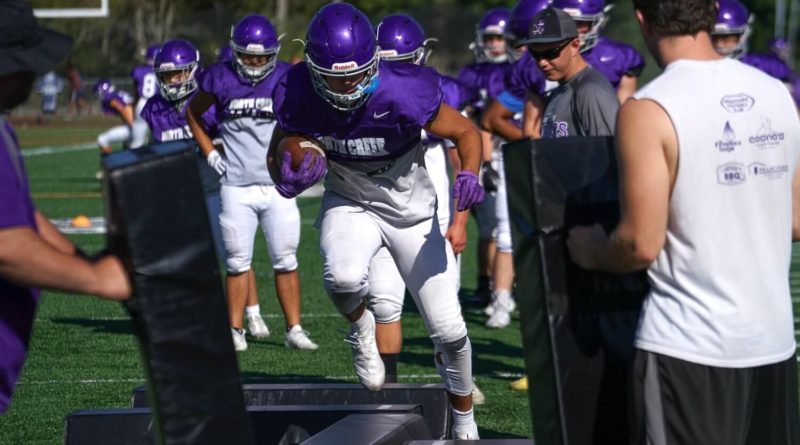 Here is an inside look at the 2019 North Creek football team.
Links: North Creek team page | 2019 schedule | Roster
2018 IN REVIEW
5-4 in 4A KingCo Crown (fourth place)
COACHING RESUME
Torrey Myers, third season
6-13 record
RETURNING STARTERS
Offense – 7. Defense – 9.
TOP OFFENSIVE PLAYERS
RB Izayah Boss, 5-6. 165, sr.
QB Jack Charlton, 6-1, 195, jr.
OL Koli Filau, 6-3, 325, jr.
OL Hithesh Gopal, 5-11, 220, sr.
TE Abe Woodward, 6-1, 185, jr.
TOP DEFENSIVE PLAYERS
LB Dominic Clayton, 6-0, 215, sr.
DB Nathan Craig, 6-1, 185, sr.
LB Antony Lu, 5-9, 175, sr.
DL Nick Mitchell, 6-0, 180, sr.
DL Ty Pumma, 5-11, 245, jr.
THREE TO SEE
Izayah Boss, running back
Transfer from Texas missed much of last season (ankle); plan now is to dodge tacklers
Jack Charlton, quarterback
Trigger man also a starter in basketball, and placed sixth in state decathlon meet
Nick Mitchell, defensive lineman
All-4A KingCo Crown pass rusher has already survived two full seasons undersized
OUTLOOK
Don't look now, but the new kid on the block is growing up.
Two years ago, the Jaguars went 1-9 in their first season of football. Last season, they finished with a winning mark of 5-4.
The next step? Finding a way to hang with the league powerhouses.
Charlton could end up being one of the better quarterbacks in the league. He has worked on his arm slot and passing mechanics in the offseason, and looks poised to have a better second season leading the way.
And with an influx of offensive linemen transfers from Archbishop Murphy, Charlton's protection should be vastly improved. It should also allow Mitchell — who has been a full-time two-way starter on both lines — to concentrate his efforts more on rushing the passer at defensive end.
2019 SCHEDULE
Sept. 7: Mount Rainier, 7 p.m.
Sept. 13: Mount Tahoma, 7 p.m.
Sept. 27: at Bothell, 7 p.m.
Oct. 3: Inglemoor, 7 p.m.
Oct. 11: at Redmond, 7 p.m.
Oct. 18: Issaquah, 7 p.m.
Oct. 25: Woodinville, 7 p.m.