Lakeside Lions: 2019 Washington high school 3A football preview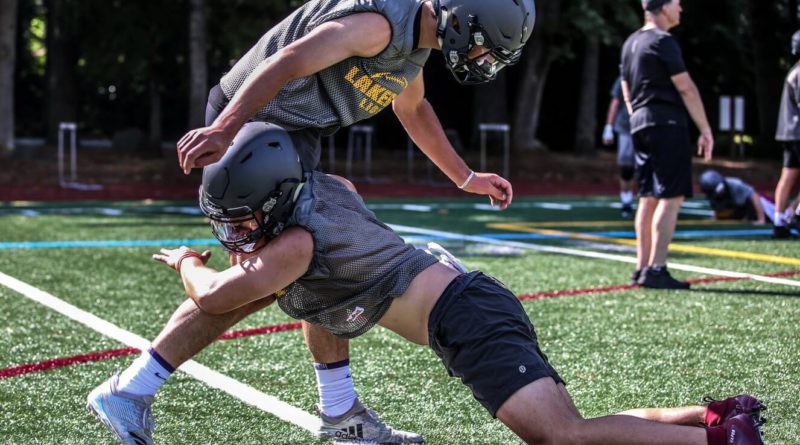 By WILL HOLLAND
Links: Lakeside team page | 2019 schedule | Roster
2018 IN REVIEW
5-5 overall, 3-2 in 2A/3A Metro League – Sound (fourth place).
COACHING RESUME
Mike Lengel, 3rd season
13-7 record

RETURNING STARTERS
Offense – 6. Defense – 6.

TOP OFFENSIVE PLAYERS
QB Jack Dickinson, 6-1, 215, Sr.
WR Jake Johnson, 6-1, 190, Sr.
WR Max Danenhower, 5-11, 185, Jr.
WR Eli Trop, 6-3, 210, Sr.
OL Declan Schwab, 6-4, 245, Jr.

TOP DEFENSIVE PLAYERS
DB Jake Johnson, 6-1, 190, Sr.
DB Max Danenhower, 5-11, 185, Jr.
LB Leo Homar, 5-11, 185, Jr.

THREE TO SEE
Jack Dickinson, quarterback
Reigning first team all-league QB with a big arm and quick feet in and out of the pocket. 
Jake Johnson, wide receiver / defensive back
Two-way all-league playmaker with great football speed.
Eli Trop, wide receiver
Great frame at 6-3; big red zone threat for Dickinson.

OUTLOOK
The Lions finished fourth in league last year with a 5-5 record coming off of a division title in 2017.
Head coach Mike Lengel steps into his third year for Lakeside, and he's excited for what this year's crew brings to the table.
They return some talented skill position players on offense, headlined by incoming senior quarterback Jack Dickinson, who has the potential to be a Division 1 quarterback.
The passing game will be the biggest threat for an offense that also boasts a "run game [that] will be bolstered by a young and aggressive offensive line," says coach Lengel.
Defensively, the Lions return several starters in the secondary, including senior DB Jake Johnson.
There's no reason that this crew can't come up with a division title in 2019. 

2019 SCHEDULE
Sept 6: at Selah 7 p.m.
Sept. 13: Kings 7 p.m.
Sept. 19: at Auburn Riverside 7 p.m.
Sept. 27: at Ballard 7:45 p.m.
Oct. 4: at Bainbridge, 7 p.m.
Oct. 11: at Chief Sealth, 7 p.m.
Oct. 18: Roosevelt, 7:45 p.m.
Oct. 25: Ingraham, 7 p.m.