Flashback Friday: Former MLB All-Star Richie Sexson was a 3-sport star at Prairie High School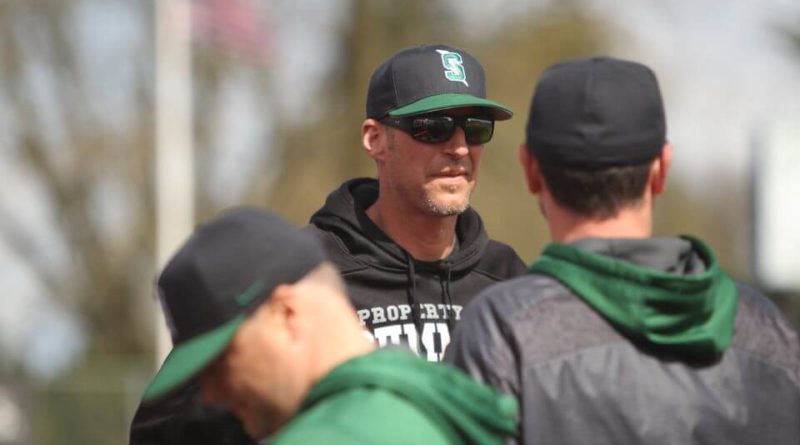 Before Richie Sexson was a household name in Major League Baseball, the 6-foot-7 power-hitting first baseman was a three-sport star athlete at Prairie High School in Vancouver, Washington.
Sexson, 44, earned all-state honors in baseball, basketball and football at Prairie. He was such a good athlete that he earned a scholarship to play both baseball and basketball at the University of Portland. But after being selected by the Cleveland Indians in the 24th round of the 1993 MLB draft, Sexson chose to embark on a pro baseball career.
He went on to make two MLB All-Star teams, hit 306 home runs and drive in 943 runs over a 12-year career in the majors. Sexson is now living in Central Oregon and giving back to his community by coaching high school baseball. I recently caught up with Sexson to ask him about his favorite high school sports memories.
What do you miss about high school sports?
Looking back on high school now I realize just how much fun it was to compete with your buddies in its purest form. Take away the money, take away the fame, take away the pressure, take away personal gain, take away the media and what you have is a bunch of close friends pushing for one thing and that's a WIN!
What was it like signing a pro baseball contract out of high school?
One of my regrets was not getting to experience the college life. I had signed my letter of intent to play basketball and baseball at The University of Portland. None of the Pac-10 schools would let me do both which made my decision to sign with Portland very simple. Leaving high school I wasn't sure exactly which sport I wanted to play so playing both at the Division 1 level would have been perfect. After signing my letter of intent to Portland I was drafted by the Cleveland Indians. I chose to give baseball a shot and if it didn't work I would know pretty quick and go back to school and play college basketball. As I said before, I regret missing out on the college life but if you think about it, being in the minor leagues was in a way living like a college kid. I lived with five other guys making peanuts watching TV on the box it came in. The only difference for us was we didn't have a backpack full of books.
What is your best high school basketball memory?
Beating Brian Coombs' Prairie HS scoring record of 41 points in basketball with 44 of my own. It was later beat by some guy named Dan Dickau which I just happened to see live while I was home in the off-season from baseball. I wonder whatever happened to that guy? (FYI, I didn't play the last 5 minutes of that game.)
What impact did your high school coach have on you?
I think all the coaches I ever had in all the sports I played had such a positive role in not only how you play your respective sport but also how you live your life and the decisions you make moving forward. They all brought something different to the table. Coach Butch Hill (football) was a constant exercise in patience and calmness. Coach Phil Spiesman (basketball) was always open to trying things and taught us to think freely and be inventive in our sports. Coach Don Freeman (baseball) taught us hard work and dedication is the only way to achieve things in life. Coach Dan Spencer (summer baseball) taught us how to be tough and to get back up when you've been knocked on your butt.
What are you doing now?
I'm currently trying to be the best husband and father I can be to my wife and our three children. I'm also the head varsity baseball coach at Summit High School in Central Oregon. I feel coaching high school baseball is a great way to give back to the community. Sometimes it's more valuable to give your time, knowledge and experiences to young people than it is to just give money.
Do you have any advice for today's high school players?
I believe kids are giving up on playing all sports and specializing in one sport to soon in life. I tell kids to play all the sports you can and stay moving as you're growing and maturing. Each sport brings a little something to the table that creates a better total athlete. Personally I got my aggressiveness from football, my footwork and agility from basketball and my hand-eye coordination from baseball. Also, dedicate yourself to improving your craft to the best of your ability. Get the max out of yourself and know when it's all done that you gave it your all. No regrets. And most importantly have fun!
What is your opinion about AAU and high school sports (recruiting process in general)?
The recruiting process has changed so much with the creation of the internet and the information highway. It is watered down with athletes claiming to be the next star. It doesn't seem coaches are going to the field or the gym anymore to have an athlete pass the eye test. You need to put yourself out there as an athlete and put yourself in front of the right eyes. Simply playing 15-20 games in high school is not enough anymore. If you wanna play baseball for Oregon State then put yourself in front of the right people from Oregon State. Let them see how good you are.
What was your favorite high school gym and rivalry?
It had to be Battle Ground High School. Not for its looks but for its atmosphere! They didn't like us Prairie boys, did they Dan?
(File photo from The Oregonian/OregonLive)