DeSoto's dominant defense holds off Rockwall in 6A DI area round win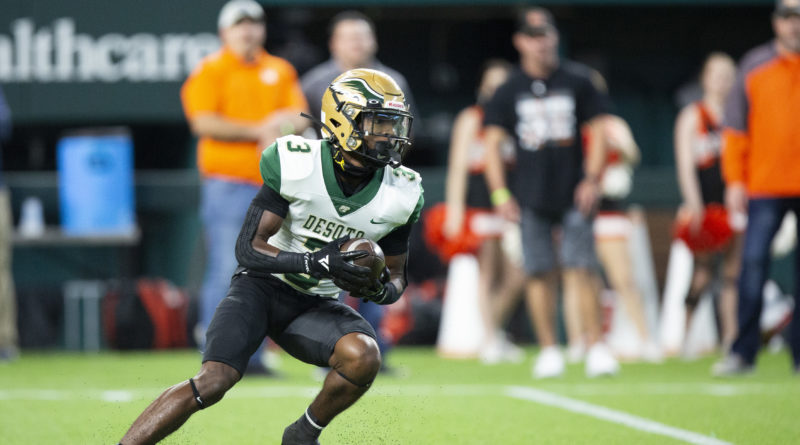 ARLINGTON, Texas — After a first half filled with twists, turns, momentum swings and lead changes, DeSoto just needed to hold on for a few more minutes.
But rather than simply maintaining their slim lead against Rockwall, the Eagles doubled down defensively.
With the Yellowjackets desperately trying to claw their way back into the contest, senior safety Devyn Bobby made a diving catch to secure his second interception of the game.
Bobby, a Baylor commit, led a lockdown performance for DeSoto's secondary against one of the state's highest-flying offenses to help the Eagles soar past Rockwall for a 49-28 win in the area round of the Class 6A Division I playoffs Saturday evening at Globe Life Field.
"It was a great win. We game planned for today very well. We knew they were going to try to trick us with some stuff, so we tried to limit that but we only gave up 14 points (during the first half)," Bobby said.
"We went to the bench, talked about it, adjusted well and came out to finish the second half. … (The halftime message was) keep your composure, don't stop fighting and hold them until there's 4 minutes left."
Bobby headlined a banner game for DeSoto's secondary, which played airtight defense against a talented Rockwall receiving corps.
The Eagles wrestled away four turnovers, all interceptions, throughout the contest beginning with a pick on the first drive of the game courtesy of senior cornerback Elijah Shaw.
The team added three more interceptions during the fourth quarter, including both of Bobby's picks and a third by junior defensive back Caimon Mathis.
All three of the Eagles' fourth-quarter interceptions came off deflected passes that halted promising Yellowjackets' drives.
DeSoto also held Rockwall to its lowest completion rate (41.7%) of the season as a team and joined Mesquite as the only squads to limit the Jackets to 30 points or less this year.
"With those two high safeties, we wanted to make sure we made a wall on their slot (receivers)," Bobby said. "They liked running RPOs, so we had to make sure we walled those slots off and the safeties stayed deep. Our defensive line and LBs got some play too, and that helped us get our picks."
On the offensive side of the ball, DeSoto senior running back Chris Henley Jr. stole the show entirely.
Henley gashed Rockwall's defense with his power running en route to a gargantuan game on the ground. He ran 36 times for 232 yards and four rushing touchdowns, all of which were game highs.
The Eagles' workhorse back grew stronger as the game progressed.
He got DeSoto on the board initially with a 12-yard touchdown run about 9 minutes into the first quarter to tie the game at 7, and found the end zone again midway through the second quarter on a 5-yard rushing score to give his team its first lead.
Henley, however, really let loose during the fourth quarter.
He raced to the goal line for 52- and 22-yard touchdown runs during the final 6 minutes of game time to cement the Eagles' victory.
"They were awesome tonight. The O-line is the heart of this team, especially with Chris Henley running behind them" Bobby said. "A lot of people are sleeping on Chris, but he's a dawg and today he really helped us out."
Rockwall was able to consistently move the ball downfield, but the Yellowjackets were stung by turnovers that stymied a late comeback attempt.
The Jackets faced a 17-14 halftime deficit that quickly ballooned to a 13-point DeSoto advantage following a pair of Eagles' scores.
Junior quarterback Lake Bennett's 6-yard touchdown run on the final play of the third quarter, however, placed the Yellowjackets just six points behind the Eagles.
Rockwall even recovered a fumble to start its next drive defensively, but three of the Jackets' last four possessions on offense ended in tipped ball interceptions.
Senior quarterback Braedyn Locke — the all-time leader in career passing yards (11,173) and touchdowns (128) in Class 6A Texas high school football history — finished with 252 yards and a touchdown pass while completing 20 of 48 pass attempts.
Bennett tallied 15 yards and three rushing scores on four carries for the Yellowjackets, while senior wide receivers Caden Marshall, Aiden Meeks and Brennan Ray caught five passes apiece for a combined 227 receiving yards and a touchdown.
Senior quarterback Matt Allen was sharp for DeSoto behind center too.
He finished with 217 yards and a pair of touchdowns through the air on 17-of-25 passing in addition to 48 rushing yards on six carries, while senior wideout Jaylan Bean led all receivers with seven catches for 91 yards and a receiving score.
The season-ending loss concluded Rockwall's 2021 campaign at 9-3 overall, as the Yellowjackets were eliminated from the postseason by DeSoto in the area round of the 6A DI playoffs for the second straight season.
The Eagles improved to 10-2 this fall with the second-round playoff victory and advanced to the third round for the 16th straight season.
DeSoto will face Spring Westfield (12-0) in the Region II semifinals of the 6A DI playoffs at 4 p.m. Saturday at the Alamodome in San Antonio.
"We just need to play DeSoto football," Bobby said. "We'll watch film and everything else will take care of itself."