SBLive's Top 10 running backs in 6A Texas high school football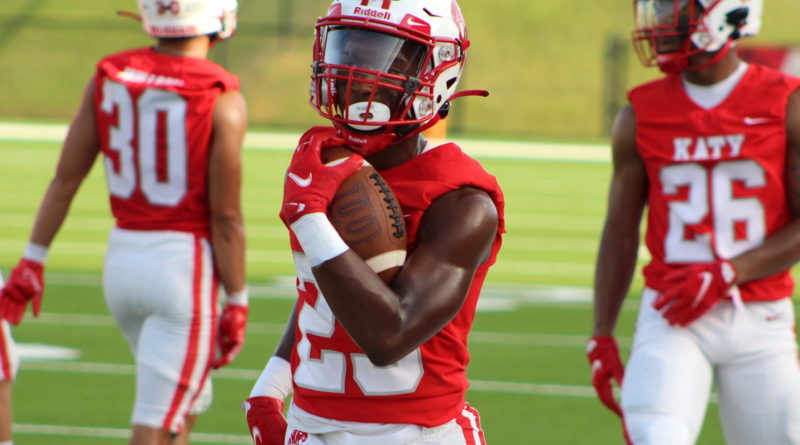 Who's the top running back in Texas high school football? Which backs are headed for breakout seasons, and who will lead the state in rushing yards this year?
SBLive is breaking down the top 10 players at every position in Class 6A, 5A and 1A-4A/Private Schools throughout Texas high school football.
We continue in the backfield by taking a look at the top 10 running backs in 6A across Texas this high school football season:
MORE: TOP 10 6A QUARTERBACKS | TOP 10 5A QUARTERBACKS | TOP 10 1A-4A/PRIVATE SCHOOL QUARTERBACKS
—
We want your opinion!
VOTE NOW: WHO'S THE BEST RUNNING BACK IN 6A TEXAS FOOTBALL?
—
TOP 10 CLASS 6A RUNNING BACKS
1. Jamarion Miller, Tyler Legacy
Miller makes a compelling case as the best and most experienced running back throughout Texas high school football this year and owns the top spot on this list. He's entering his fourth season as a varsity letterman after starting each of the past two years for Tyler Legacy and emerging as a key contributor in limited action as a freshman. In his first taste of varsity football, Miller ran for 617 yards and four touchdowns on 105 carries and eclipsed the 100-yard mark on the ground four times in eight games in 2018. He followed that up with back-to-back seasons with more than 1,000 rushing yards. Miller ran for 1,031 yards and 10 touchdowns during a breakout sophomore campaign in his first full season as a starter and elevated his game in a major way as a junior to earn Texas Sports Writers Association honorable mention all-state recognition in 2020. He upped his yards per carry average from 7.4 to 9.8 and ran for 100 yards or more in seven of 11 contests during a 2020 season that also featured 2,095 total yards, 28 TDs and career-long runs and receptions of 92 and 78 yards, respectively. Miller has continued that trend into his senior season too. He's run for 451 yards and four touchdowns on 44 carries so far in 2021 and surpassed 130 yards on the ground in each of the Raiders' first three games this fall. He's received scholarship offers from more than two dozen DI programs and committed to Texas in late June after taking official visits to Austin as well as Florida and Texas A&M. Miller, who's been evaluated as a four-star prospect according to 247 Sports, is also regarded as one of the state's top 20 overall Class of 2022 recruits. He's one of two four-star running backs in the Longhorns' 2022 recruiting class along with Klein Cain's Jaydon Blue, who opted out of his senior season this fall.
2. Ollie Gordon, Euless Trinity
Gordon captivated the Texas high school football universe with one of the most jaw-dropping performances of the year as a junior during Euless Trinity's 2020 postseason run. The Trojans' star rusher ran 49 times for 455 yards and six touchdowns in Trinity's shootout win over Allen in the regional semifinals at Globe Life Park in Arlington. Gordon's sensational playoff performance was merely a microcosm of an outstanding season out of the backfield that featured 2,035 yards and 29 touchdowns on 199 carries, making him one of the only returning players at any classification level across the state to average 10 yards or more per carry last year. Gordon was recognized as District 3-6A's Offensive Newcomer of the Year as a sophomore in addition to the district's Co-Offensive MVP and the Fort Worth Star Telegram's Male Athlete of the Year as a junior. He was one of three running backs to receive a spot on the TSWA's all-state first team in 2020 and his huge junior season soon triggered a tsunami of incoming offers and interest on the recruiting trail. After his six-touchdown performance against Allen in the postseason, Gordon hauled in nine of his 17 DI offers to date and committed to Oklahoma State in February. Despite sliding over to quarterback for Euless Trinity this fall, Gordon has still managed to put up gaudy numbers on the ground with 544 rushing yards and seven touchdowns on 62 carries through three games. He has also thrown for 154 yards and two touchdowns on 8-of-14 passing.
3. Owen Allen, Southlake Carroll
Allen becomes the first junior to make an appearance on this list as an integral part of the offenses of one of the top teams in the state. He's entering his third year as Southlake Carroll's starting running back and might be the most reliable offensive weapon throughout Texas high school football. Allen was named a MaxPreps Freshman All-American after he ran for 1,266 yards and 23 touchdowns on 215 carries for the Dragons. His game took another major step forward in 2020 when he tallied 2,063 yards and 28 touchdowns on the ground during Carroll's 12-2 season that ended in the 6A DI state championship game. Allen shows no signs of slowing down during his junior campaign either with 638 totals yards and six touchdowns under his belt already through three games. He showed his value as a pass-catching option with an explosive burst in open space during Southlake Carroll's 36-35 comeback win over Rockwall Heath earlier this fall when he surpassed 4,000 career total yards. He's run for at least 100 yards and two touchdowns in all of the Dragons' first three contests and should keep it up as the focal point of the team's balanced offensive attack.
4. Jerrell Wimbley, Houston C.E. King
Wimbley becomes the first Houston area standout to clock in on this list. He was a solid contributor for C.E. King out of the backfield during his first varsity season in 2019 that featured 396 rushing yards and three touchdowns on 69 carries. Wimbley, however, broke onto the scene in a major way as a junior when he racked up 1,774 yards and 20 touchdowns on 205 carries. He ran for more than 100 yards in 10 of the Panthers' 11 games in 2020 and also found the end zone in all but one contest during a breakout season. Wimbley holds five offers from Nevada, two Ivy League teams and Texas-based FCS programs Houston Baptist and Lamar. He's off to a tremendous start to his senior campaign leading King to three consecutive victories to open the season. Wimbley has already tallied 627 yards and seven touchdowns on the ground off 59 carries and rushed for at least 150 yards in the Panthers' wins over Cy Falls, Fort Bend Ridge Point and Houston Strake Jesuit. His acceleration and elusiveness make him one of the state's premier big-play threats in the backfield with runs of 50 yards or more in seven of 14 games as a junior and senior. Look for Wimbley to help make King a district title contender in 2021 with aspirations of a deep postseason run.
5. Damien Martinez, Lewisville
Martinez has been on an absolute tear for Lewisville through the opening weeks of the 2021 Texas high school football season. He's recorded 477 yards and eight rushing touchdowns on 47 carries thus far in three Farmers' wins to start the year. Martinez is entering his third year as a major contributor in Lewisville's offense. He ran for 619 yards and eight touchdowns in 10 games as a sophomore, but really established himself after a junior season that included 2,012 yards, 30 touchdowns and eight games with more than 100 rushing yards. He's averaging 8.4 yards per carry for his 22-game high school career as one of the most dependable workhorse backs throughout the state. Martinez was named District 6-6A's Offensive Newcomer of the Year as a sophomore before taking home the district's Co-Offensive Player of the Year honors last year. He received his first DI offers in the midst of his junior season from Georgia Tech and Kansas. Martinez garnered three more offers from Oregon State, San Diego State and Texas State before committing to the Beavers in mid-April and officially shut down his recruitment in mid-August. He rushed for 255 yards and five touchdowns during the first half of Lewisville's Week 2 win over Keller Timber Creek and ran for another 206 yards and a TD in a Week 3 victory against Arlington Lamar.
6. Makhilyn Young, Midland Legacy
Young becomes the first West Texas back to check in on this list after three seasons of tearing up turf in Midland Legacy's potent rushing attack. He made his varsity debut in 2019 with 758 yards and six touchdowns off 84 carries as a sophomore in 13 games. Young moved up to another level with a tremendous junior year that saw him run for 1,542 yards and 21 touchdowns on 151 carries. He exceeded 100 yards on the ground in eight of the Rebels' 10 contests in 2020 and tallied three or more rushing TDs four times, highlighted by a 301-yard, three-touchdown night against Midland. Young has brought it for his senior season as Legacy's bellcow back too. He's taken at least 30 handoffs and run for at least 180 yards in each of the Rebels' first three matchups. He has rushed for 686 yards and 11 touchdowns on 111 carries so far with his peak performances coming in a season-opening win over Amarillo (252 yards, four TDs) and a Week 3 loss to Arlington Martin (250 yards, 4 TDs). Young still has room to bulk up at 5-foot-10 and 180 pounds to become more of a power back that can run effectively between the tackles and maintain explosiveness in the open field. Young has been recruited by several DI programs in and out of state and currently holds offers from Houston Baptist, Jackson State and UT-Permian Basin, but remains uncommitted. Expect his recruitment to take off with another big season out of the backfield for the Rebels this fall.
7. Seth Davis, Katy
Davis made quite the impression as a sophomore in 2020 despite sharing a loaded Katy backfield with his older brother, Jalen. Both Davis brothers earned spots on the TSWA all-state second team after helping lead the Tigers to a 14-1 record and a 6A DII state championship. Seth Davis rushed for 1,625 yards and 17 touchdowns on 183 carries in Katy's split backfield throughout 13 games last year. He's poised to take a big step up this season as the Tigers' featured back in the team's run-first offense. Through three games, Davis has run for 445 yards and four touchdowns on 52 carries and tacked on an additional 223 rushing yards and scores in Katy's win over The Woodlands on Thursday. His field vision and elusiveness have made him a scoring threat from anywhere on the field and a consistent focal point of the Tigers' offense. He's a physical runner, but his 5-foot-8 frame allows him to be an elusive runner with breakaway speed in the open field. Davis still has his best days of high school football ahead of him with two years to go, but he's already receiving interest on the recruiting trail from college programs like Baylor, Clemson, Georgia, LSU and TCU among others
8. Zach Evans, Rockwall Heath
Evans is a four-year varsity letterman and one of several elite playmakers dotting Rockwall Heath's offense. He's one of four seniors on the Hawks' extra explosive offense committed to Power Five programs in addition to quarterback Josh Hoover (Indiana) and wide receivers Jay Fair (Auburn) and Jordan Nabors (Baylor). Evans committed to Minnesota on an official visit in mid-June after also receiving offers from Arizona State, Iowa, Notre Dame, Texas and Utah among others. He's tabbed by 247 Sports as a three-star recruit and one of the top 100 Class of 2022 recruits throughout the state of Texas. Evans has been a major contributor offensively for Heath in each of the last three seasons. He broke out as a sophomore with 794 rushing yards and seven touchdowns, but really stepped it up as a junior when he ran for 1,223 yards and 14 TDs on 196 carries. Evans has topped 100 yards on the ground in 12 of 22 games since his sophomore year and provides the Hawks' high-scoring offense a dynamic rushing element. He's off to the hottest start of his school career as a senior after running for 322 yards and five touchdowns on 47 carries in three games for Heath.
9. Malachi Medlock, Duncanville
Medlock has been a force in Duncanville's backfield for the better part of two seasons now, but he initially emerged in Odessa Permian's offense when he rushed for 763 yards and six touchdowns on 111 carries as a sophomore and was named the District 2-6A Offensive Newcomer of the Year. Medlock stepped into a starting role at Duncanville for the first time last year and thrived to the tune of 1,114 rushing yards and 22 touchdowns on 165 carries. He's been even better at the beginning of his senior season with the Panthers. Medlock ran for 360 yards and two scores in Duncanville's first two games including 237 yards and a pair of touchdowns in the team's Week 2 win over South Oak Cliff. Medlock is on track for the biggest year of his high school career as the featured back in a Panthers' offense with a first-year quarterback. He'll also benefit from running behind Duncanville's veteran offensive line, which includes Florida State commit Jaylen Early and Oregon commit Cameron Williams. Medlock announced last weekend that he was reopening his recruitment after originally committing to Colorado State in May. He earned offers from Toledo and Wyoming over the summer to give him seven DI offers so far with more likely soon to follow given his status as the focal point of a talented Duncanville offense.
10. Re'shaun Sanford, Killeen Harker Heights
Sanford becomes the only Central Texas running back to earn a spot on this list as one of the most exciting junior backs across the state. His debut season as Harker Heights' starter in the backfield as a sophomore ended with 1,444 rushing yards and seven touchdowns on 192 carries. Sanford hasn't missed a beat so far in his junior year either, running for 524 yards and six touchdowns through three games in 2021. He's rushed for at least 125 yards and a pair of scores in every game so far this season while averaging a whopping 10.9 yards per carry. Sanford's greatest improvement, however, might be his evolution as an explosive pass-catching back. He's caught seven passes for 122 yards and two touchdowns so far, boosting his yards per catch average from 10.1 to 17.4 and more than doubling his receiving yardage per game. He has also topped the 100-yard mark on the ground 10 times already in a 14-game varsity career. Sanford was initially offered by Illinois State in June 2020 and received another pair of DI offers from Central Arkansas and Louisiana Monroe this summer. He also attended a summer recruiting camp at Oklahoma State in late July. Anticipate Sanford to continue to make waves as a speedy back that provides key contributions in the passing and rushing game. He should start collecting more offers as the Knights' keep winning and the season progresses.

Other 6A running backs receiving consideration: Jaydon Blue, Klein Cain; BJ Phillips, Denton Guyer; Richard Rodriguez, Tomball Memorial; Travion McCoy-Gay, Round Rock;Ky Woods, League City Clear Springs; PJ Rivera, Edinburg Vela; Hymond Drinkard, Richmond George Ranch; Jayshon Powers, Garland; Qualon Farrar, Dallas Skyline; Chris Henley, DeSoto; Ismail Mahdi, Plano East; Jaylen Jenkins, Allen; Ezell Jolly, Fort Bend Ridge Point; Isaac Gonzalez, PSJA North; Sergio Snider, Arlington Martin; Noelle Whitehead, Lake Highlands; Harold Perkins, Cy Park; Elijah Uribe, El Paso Eastlake; Xadrian Huerta, San Antonio John Jay; Jonathan McCoy, Houston Bellaire; Zach Hernandez, Rockwall.