SBLive Texas Top 50: Rockwall, Humble Atascocita surge into top five of statewide football rankings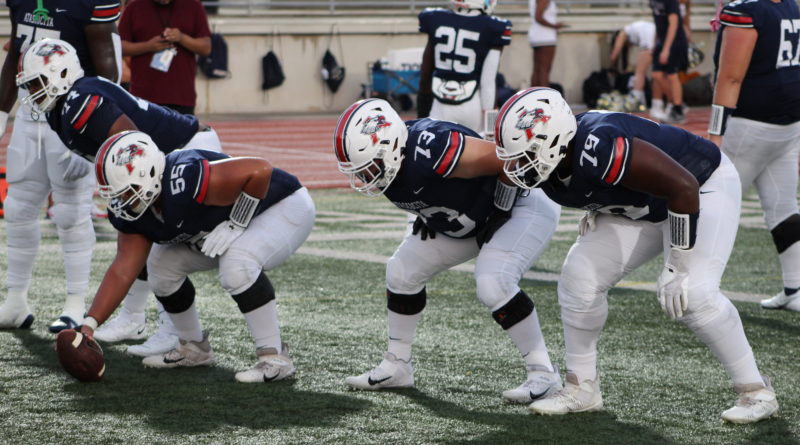 The 2021 Texas high school football season heads into Week 4 after several upset victories defined the second weekend of regular-season action and shook up the SBLive Texas Top 50 rankings. Four new teams entered the statewide rankings for this week, while two schools surged into the state's top 10 for the first time this season.
Below are SBLive's latest Texas Top 50 rankings. The rankings are compiled by reporter Andrew McCulloch and will be released every week throughout the fall.
SBLIVE TEXAS TOP 50: WEEK 1 » WEEK 2
SBLIVE TEXAS TOP 50 – WEEK 3
Sept. 15, 2021
50. Amarillo Tascosa (2-1)
Last week: NR
49. Garland (3-0)
Last week: NR
48. Edinburg Vela (3-0)
Last week: 50
47. College Station A&M Consolidated (3-0)
Last week: NR
46. Houston C.E. King (3-0)
Last week: NR
45. Argyle (3-0)
Last week: 49
44. Katy Paetow (3-0)
Last week: 46
43. Frisco Lone Star (2-1)
Last week: 45
42. Carthage (2-0)
Last week: 41
41. Corpus Christi Veterans (3-0)
Last week: 42
Amarillo Tascosa, College Station A&M Consolidated, Garland and Houston C.E. King each earned their first appearances in SBLive's Texas Top 50 this fall. Tascosa earned a marquee Week 3 victory by knocking off Odessa Permian, which was ranked No. 43 in last week's rankings, in a resounding 40-21 road win Friday. The Rebels own the top-ranked sub-6A squad in West Texas led by senior running back Major Everhart, a three-star recruit, and junior defensive lineman Avion Carter, a four-star prospect. Garland busted into SBLive's statewide rankings on the heels of a third straight lopsided victory in a 49-21 win against Plano Prestonwood. The Owls are averaging 53.0 points per contest through three games led by senior quarterback and South Dakota commit Cergio Perez (45-of-62, 524 passing yards, 10 TDs) and wide receiver and SMU commit Jordan Hudson (23 receptions, 395 yards, seven TDs). Class 5A Division II A&M Consolidated earned the top signature win of the bunch this past weekend with a 28-14 home win over 6A power Converse Judson. The victory pushed the Tigers to 3-0 after the team outscored Waco University and Aldine MacArthur by a combined 116 points to start the season thanks in large part to the play of senior quarterback Brodie Daniel (31-of-47, 630 yards, 10 TDs). C.E. King also scored a major victory in a narrow 28-26 upset win over Fort Bend Ridge Point, which was ranked No. 28 in SBLive's Texas Top 50 entering that game. The Panthers sport one of the top rushing tandems throughout the state with senior running back D'koreion Hammond (30 carries, 327 rushing yards, five TDs) and fellow senior and FBS prospect Jerrell Wimbley (59 carries, 627 yards, seven TDs).
40. Lucas Lovejoy (3-0)
Last week: 44
39. The Woodlands (2-1)
Last week: 37
38. Lewisville (3-0)
Last week: 39
37. Round Rock (3-0)
Last week: 38
36. Highland Park (2-1)
Last week: 36
35. Alvin Shadow Creek (1-2)
Last week: 33
34. Manvel (2-1)
Last week: 32
33. Dickinson (1-2)
Last week: 30
32. Austin Vandegrift (3-0)
Last week: 35
31. Fort Bend Ridge Point (2-1)
Last week: 28
Lucas Lovejoy and Austin Vandegrift continued their upward climbs in the Top 50 this week with a pair of convincing wins. Lovejoy moved up four spots after making its debut in the rankings last week, as the Leopards clobbered Princeton in a 69-21 road victory to start their District 7-5A DII schedule. Loevjoy has scored 140 combined points in its last two contests and more than 40 points in each of its first three games. Vandegrift, meanwhile, rose three spots in this week's Top 50 after collecting an impressive 45-13 win at San Angelo Central in Week 3. The Vipers are unbeaten through three games against playoff teams from 2020 and have outscored their opponents 118-34 so far. Alvin Shadow Creek fell two spots this week despite the Sharks securing their first win of the season in a 28-11 victory over Cy Woods after back-to-back season-opening losses to Bridgeland and North Shore derailed the start of their 2021 campaign. The Woodlands, however, suffered its first loss of the season in Week 3 after falling to Bridgeland at home 39-35. The Highlanders are led by a pair of three-star senior recruits in linebacker and Texas A&M commit Martrell Harris and offensive lineman and Baylor commit Kaden Sieracki. Manvel dropped two spots after picking up a 2-0 win via a COVID-19 related forfeit against Houston Wisdom this weekend.
30. Midland Legacy (2-1)
Last week: 26
29. Cedar Hill (1-2)
Last week: 24
28. Converse Judson (1-2)
Last week: 19
27. Smithson Valley (3-0)
Last week: 34
26. League City Clear Falls (3-0)
Last week: 31
25. Cibolo Steele (3-0)
Last week: 29
24. Cy Park (3-0)
Last week: 27
23. College Station (3-0)
Last week: 23
22. Fort Bend Marshall (3-0)
Last week: 22
21. Katy Tompkins (3-0)
Last week: 21
Cedar Hill, Dickinson, Fort Bend Ridge Point, Judson and Midland Legacy were just a handful of several of the state's top-ranked teams that took a tumble in the Top 50 after Week 3 losses. That enabled several squads to make big gains in SBLive's statewide rankings this week as Cy Park and Cibolo Steele moved inside the top 25, while League City Clear Falls and Smithson Valley cracked the top 30. Cy Park climbed three spots after crushing Lamar Consolidated for a 59-20 win behind a big game from senior running back and linebacker Harold Perkins, an Oklahoma commit. Steele earned a 21-7 home victory over Killeen Ellison to move up four spots, as the Knights have now held their opponents to 9.0 points per game defensively in three consecutive wins to start the season. Clear Falls ascended five spots this week following a 45-21 home win over Deer Park to stay unbeaten after picking up back-to-back wins over Pearland Dawson and Pasadena Memorial to start the regular season. Smithson Valley became one of this week's biggest climbers within the rankings after the Rangers forced three several turnovers to beat El Paso Eastwood 42-14 in Week 3 and move up seven spots. Smithson Valley also became the third District 27-6A team to move into the top 30 in SBLive's Texas Top 50, joining district rivals Steele and Judson. College Station, Fort Bend Marshall and Katy Tompkins retained their rankings from last week after each won in convincing fashion during Week 3.
20. DeSoto (2-1)
Last week: 19
19. Spring (3-0)
Last week: 20
18. San Antonio Brennan (3-0)
Last week: 17
17. Aledo (3-0)
Last week: 16
16. Spring Westfield (3-0)
Last week: 25
15. Euless Trinity (2-1)
Last week: 14
14. Arlington Martin (2-1)
Last week: 15
13. Rockwall Heath (2-1)
Last week: 13
12. Duncanville (1-1)
Last week: 12
11. Lake Travis (2-1)
Last week: 5
Spring and Spring Westfield represent the two teams with the most noteworthy Week 3 performances in this part of the Top 50. Westfield knocked off North Shore, which was ranked No. 8 in SBLive's Power 25 national rankings entering the game, in a 27-21 upset victory Friday that vaulted the team up to No. 16, a nine-spot increase from last week. The Mustangs have thrived offensively this year thanks in large part to the leadership of senior quarterback and Tulsa commit Cardell Williams (48-of-83, 773 passing yards, five TDs; 22 carries, 36 rushing yards, two TDs) through three games picking up wins over Fort Bend Hightower, Houston Strake Jesuit and North Shore. Spring, meanwhile, notched a blowout 69-21 home win over Tomball Memorial to highlight Thursday's Week 3 action. The Lions moved up a spot in this week's Top 50 after senior quarterback and Utah State commit Bishop Davenport went off for 502 total yards and seven touchdowns against the Wildcats. Davenport has already accounted for 986 passing yards and 12 touchdowns on 56-of-81 passing through three games this season and added 280 rushing yards and five ground scores on 26 carries. A pair of DFW powers in Class 6A — Euless Trinity and Rockwall Heath — both picked up rebound wins in Week 3 after suffering their first losses of the season, while Arlington Martin and DeSoto each moved up one spot after earning their second straight wins after season-opening defeat in high-profile games. Duncanville stayed steady at 12th after the Panthers were unable to find a replacement opponent for their canceled Week 3 game against Bishop Sycamore, while San Antonio Brennan remained the highest-ranked San Antonio area squad following a 44-10 victory over San Antonio Harlan on Friday.
10. Allen (2-1)
Last week: 11
9. Denton Ryan (2-1)
Last week: 10
8. Galena Park North Shore (2-1)
Last week: 4
7. Cypress Bridgeland (3-0)
Last week: 8
6. Denton Guyer (3-0)
Last week: 7
5. Humble Atascocita (3-0)
Last week: 6
4. Rockwall (3-0)
Last week: 10
3. Southlake Carroll (3-0)
Last week: 3
2. Katy (3-0)
Last week: 2
1. Austin Westlake (3-0)
Last week: 1
Rockwall stormed into the top five this week, climbing six spots up to No. 4 in SBLive's Texas Top 50 after the team's dominant 59-35 win over Lake Travis on Friday. The Yellowjackets were also named the 17th-ranked team nationally in SBLive's Power 25 poll this week. Rockwall can now claim three of the most impressive victories of any Texas high school football team this season after beating the Cavaliers, who dropped out of the top 10 this week following their loss, in addition to Cedar Hill and Dallas Jesuit. The YellowJackets own one of the most explosive offenses in the country led by senior quarterback and Mississippi State commit Braedyn Locke (65-of-99, 1,071 passing yards, 10 TDs) and junior wide receiver and FBS-caliber recruit Noble Johnson (19 receptions, 435 receiving yards, six TDs). Atascocita joined Rockwall as the other team to break into the top five after the Eagles beat Klein Oak 43-21 on the road to remain unbeaten. The Eagles have earned signature wins over Klein Oak, Klein Collins and Allen and scored more than 40 points in each of those victories. Atascocita's high-flying offense is anchored by four-star offensive tackle Kam Dewberry, three-star wide receiver Keith Wheeler and quarterback Gavin Session, a trio of seniors that have emerged as the team's emotional leaders offensively. North Shore fell four spots and dropped out of the top five after suffering its first defeat of the season to Spring Westfield, while Lake Travis' loss to Rockwall dropped the Cavaliers from fifth to 11th in this week's rankings. Austin Westlake held onto the top spot in the Top 50 after taking down Mansfield Summit in a 59-21 victory in which senior quarterback and Clemson commit Cade Klubnik threw for 375 yards and six touchdowns on 23-of-30 passing. Katy and Southlake Carroll remain second and third, respectively, after the Tigers eked out a 28-21 victory over Dickinson and the Dragons claimed a 31-0 shutout win on the road against Prosper.

Dropped Out: Prosper (40), Odessa Permian (43), Port Arthur Memorial (47), Lubbock Cooper (48).