Marshfield RB Miguel Velazquez voted the WaFd Bank Oregon High School Athlete of the Week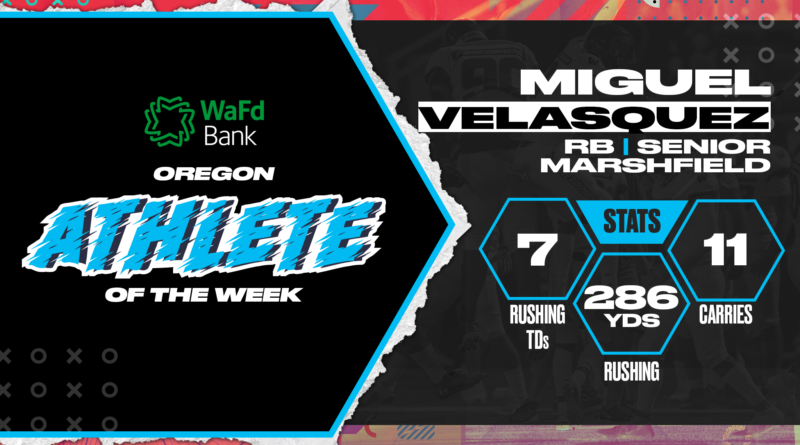 Congratulations to Marshfield running back Miguel Velazquez for being voted SBLive's WaFd Bank Oregon High School Athlete of the Week for Oct. 18-24!
The senior carried 11 times for 286 yards and seven touchdowns to highlight the offensive showing by the Pirates in their 57-15 win over North Eugene.
Velazquez received 45.66% of the vote, beating out Sherwood's Seth Glenn who finished second with 17.89%. Estacada's Cory James finished third with 11.26% and Eagle Point's Isaiah Hill finished fourth with 10.03%. There were over 30,000 votes tallied this week!
We are currently accepting WaFd Bank Player of the Week nominations. If you would like to nominate an athlete, please email regan@scorebooklive.com or message us on Twitter or Instagram at @sbliveor.
—
Here are the other athletes who were nominated for the week of Oct. 18-24:
Zane Aicher, McNary: In the Celtics' 35-0 shutout of Mountain View, Aicher caught a touchdown pass, made two interceptions and recorded five tackles.
Brayden Burton, Lebanon: Burton carried 28 times for 190 yards and two touchdowns, powering Lebanon to a 24-7 victory against Crescent Valley.
Hudson Davis, Newberg: Davis' second consecutive three-touchdown game helped the Tigers beat McMinnville, 36-22. He has run for multiple touchdowns in six of eight games this season.
Josiah Davis, North Salem: Davis rushed for five touchdowns and gained 330 yards — the most in a Class 5A game in the past three seasons — as the Vikings stunned No. 9 Scappoose with a 35-34 victory in Scappoose.
Jake Fay, Barlow: Fay ran for four touchdowns — a season high — and 154 yards on 17 carries to help lead the Bruins to a 48-21 win over Grant.
Elijah Ford, Roosevelt: Coaches said Ford's blocking was instrumental to the Roughriders' offense as the team rolled to a 40-8 win over McDaniel.
Kyrin Fuimaono, McKay: The sophomore quarterback passed for about 250 yards and three touchdowns to lead the Royal Scots to a 35-6 victory at St. Helens.
Seth Glenn, Sherwood: Glenn ran for two long touchdowns — covering 80 and 82 yards — and more than 200 yards in the Bowmen's 49-23 win over Glencoe.
Zach Grisham, Central Catholic: Grisham returned a punt 71 yards for a touchdown and caught two touchdown passes for the Rams in their 71-0 rout of Gresham.
Isaiah Hill, Eagle Point: Hill carried 20 times for 155 yards and four touchdowns in the Eagles' 41-6 win over North Bend. He has rushed for 11 touchdowns in the past two games.
Trenton Hughes, Hood River Valley: Hughes passed for three touchdowns and rushed for two more to fuel the Eagles' 41-0 rout of Putnam.
Earl Ingle, West Linn: Ingle passed for a touchdown, rushed for a touchdown and had a game-high eight tackles in the Lions' 31-14 win over No. 1 Lake Oswego. (story, photos)
Cory James, Estacada: James ran for three touchdowns, passed for two and returned a punt for another as the Rangers collected a 50-6 home-field victory over North Marion.
Sam Leavitt, Westview: Leavitt passed for 408 yards and four touchdowns, leading the way for the Wildcats in their 42-7 win over South Medford.
Hunter MacDonald, Barlow: MacDonald carried 18 times for 224 yards and two touchdowns for the Bruins in their 48-21 victory against Grant.
Brody MacMillan, La Grande: MacMillan had four rushing touchdowns in the Tigers' 34-24 win over Ontario.
Tess Masingale, Jesuit: Masingale notched a match-high 14 kills and three blocks as the Crusaders defeated Westview 3-0 to lock up another Metro League title. (story, photos)
Logan McAllister, Willamette: McAllister ran for 190 yards and three touchdowns in the Wolverines' 39-7 win over La Salle Prep.
Jordan McCarty, Silverton: McCarty, a quarterback, made a game-saving tackle in the Foxes' 28-21 win over West Albany. He passed for 227 yards with a touchdown and rushed for 37 yards. (story, photos)
Jaden Poulshock, David Douglas: Poulshock had 19 carries for 158 yards and two touchdowns for the Scots in their 28-7 win over Nelson.
Ty Pugliano, North Medford: Pugliano racked up 180 yards and two touchdowns rushing and returned an interception for a score to lead the Black Tornado to a 51-7 win against Grants Pass.
Jake Reichle, Lakeridge: Reichle rushed for 207 yards and all three touchdowns for the Pacers in their 21-19 win at Tigard.
Braden Rohde, Churchill: Rohde had four sacks and recovered a fumble, spearheading the defense for the Lancers in their 22-10 victory against Springfield.
Malik Ross, Tualatin: Ross carried 15 times for 208 yards and four touchdowns — all in the first half — as the Timberwolves cruised to a 47-8 victory over Oregon City.
Shaw Stork, Henley: Stork ran for 194 yards and four touchdowns in the Hornets' 41-12 win over Klamath Union.
Brock Thomas, Sheldon: In the Irish's wild 49-47 win over Roseburg, Thomas passed for 346 yards and three touchdowns and rushed for 202 yards and another score, but the play of the game was his blocked field goal that sealed the victory in the closing seconds. (story, photos)
Daevon Vereen, Banks: Vereen had 3½ sacks and forced a fumble as Banks held Milwaukie to minus-6 yards rushing in a 27-0 victory.
Tom White, Wells: White scored touchdowns on both of his receptions and had a two-point conversion, helping the Guardians notch their first win, 22-6 over Lincoln.