What we learned in Week 5 of Oregon high school football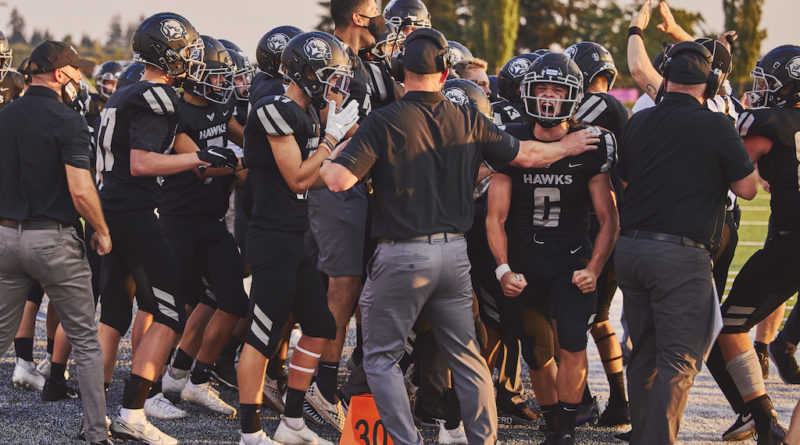 By René Ferrán | Photo by Fletcher Wold
The Oregon high school football season continued last week with Week 5 action around the state.
Here's what stood out during the fifth weekend of action.
—
'Validation that we belong.' Nelson earns first victory in program history by beating Centennial
Nelson coach Aaron Hazel knows not everyone associated with the Happy Valley school and the football program agreed with the decision to forego a transition year and go straight into a varsity schedule in its first year.
The decision wasn't without its risks. The Hawks are a young and inexperienced team expected to take its lumps in its first season. Weekly beatdowns could damage the psyche of the players and hamstring the program's long-term prospects.
The first four weeks certainly didn't look promising. After getting outscored 67-6 in losses to Barlow and Gresham, the Hawks had to forfeit their Week 3 game to Central Catholic because of a COVID outbreak that left them unable to field a team.
Week 4 marked the first matchup between Nelson and Clackamas, the school from which the Hawks broke off and drew most of their students. The Cavaliers rolled to a 52-0 victory.
All this prelude made what happened Friday night so much sweeter. The Hawks jumped out to an early lead against Centennial and pulled away for a 27-12 victory — the first win in program history.
Quarterback Avirey Durdahl connected on three touchdown passes to Max Kirsch, and Nelson scored two quick touchdowns after halftime to build upon a 13-6 halftime advantage.
Avirey Durdahl (Nelson) photo by Taylor Balkom
The Eagles are dealing with COVID issues of their own — 11 players were in quarantine for Friday's game, and they already forfeited their Week 6 game with Clackamas due to lack of numbers. That doesn't diminish what the Hawks accomplished in the least.
"I am so happy for our players, our school and our community," Hazel said. "There are a lot of people out there who have their opinion about how the school should have opened. We are playing varsity football right out of the gate … and this victory provides our players with validation that we belong."
Next on the schedule for the Hawks is a matchup with winless Reynolds, which also has battled COVID issues during the season — the Raiders didn't take the field until Week 3 and have been outscored 138-20 in their three games.
The Hawks likely wouldn't be favored in any of their final four games — against Reynolds, Sandy, David Douglas or a season finale against Skyview (4-1) of Vancouver. However, a 2-2 finish also isn't outside the realm of possibility, which would exceed most observers' expectations coming into the season.
"Our goal from Day 1 was to have momentum at the end of the season," Hazel said. "Getting a Friday night victory (against Reynolds) will be part of that momentum as we continue to build our football culture, which we hope is a direct reflection of the culture of our school as a whole."
McMinnville 'starting to get' first-year coach Tomlin's concepts during 3-2 start
Another first-year coach finding success right away is McMinnville's Ty Tomlin, whose team improved to 3-2 on Friday by pulling out a 37-36 victory over Century in both teams' Pacific Conference opener.
The Grizzlies already have improved upon their two wins from the spring season and have matched their three wins from 2019 entering a matchup with Sherwood this week.
While McMinnville's record might be a surprise to onlookers, it didn't match Tomlin's expectations coming into the season.
"When I looked at our early schedule, I thought we could be 4-1," Tomlin said. "But we're right where I thought we could be before we get into the gauntlet of league play."
Tomlin likes how his team has begun to pick up the concepts he installed upon arriving from Lebanon over the summer to take over for Ryan McIrvin. He said the kids — especially senior quarterback Ky Hoskinson, who sat out the spring season while focusing on his baseball career — are now starting to understand what's expected of them on offense and defense.
"The last couple of weeks, Ky has started watching more film and understanding how I see things," Tomlin said of Hoskinson, who's committed to Cal State Bakersfield as a shortstop and right-handed pitcher. "And now, our receivers, our linemen are starting to get it as well."
Ky Hoskinson (McMinnville) photo by Taylor Balkom
Two others who have stepped up this season are junior Mickey Johnson, a running back Tomlin has increasingly worked into the offensive game plan, and senior Bryan Blank, who has kicked three field goals while also contributing as a wide receiver and defensive back.
"Bryan was a soccer player before two years ago, and he's just starting to gain confidence in himself and believe that he can do a lot of things on the football field," Tomlin said.
Tomlin saw how the Bowmen rallied from an early deficit to defeat rival Newberg 23-17 and earn their first victory of the season. Sherwood is 4-0 all-time against McMinnville, including wins in each of the past three seasons in conference play.
"They look a bit different, spread you out more, but they still do the Sherwood thing," Tomlin said. "They still come at you with the wing-T and are big and physical up front. It's up to us to get after them on the line of scrimmage and to continue to make plays and compete for four quarters."
Lakeridge flies under the radar during first 5-0 start since 2011, faces TRL gauntlet ahead
Six teams remain undefeated in Class 6A through five weeks of the season.
Three of them — Central Catholic, Clackamas and Lake Oswego — come as no surprise. The winner of Saturday's Tualatin-West Linn matchup — which the Timberwolves won in convincing fashion, 49-14 — figured to be another.
A fifth, Roseburg, is a complete surprise to anyone outside of the players and coaches in the program. Roseburg had not started 5-0 since 2013 and was coming off seven consecutive losing seasons.
Then there's Lakeridge, which hadn't started a season 5-0 in the past decade until knocking off Oregon City 41-8 on Friday. The Pacers have flown completely under the radar, something second-year coach Spencer Phillips doesn't mind one bit.
"I love being the underdog," he said. "But to be quite honest, I couldn't tell you if we're ranked first or last (for the record, they sit No. 7 in the latest SBLive Oregon media rankings). I don't check those polls or stay up with them."
The Pacers feature one of the state's top junior quarterbacks in Ryan Oliver, who came back after missing Week 4 with a shoulder injury to toss two touchdown passes against the Pioneers. They also have one of the state's most potent running attacks thanks to senior Jake Reichle, who added backfield duties this season to his role as a standout safety. Reichle is averaging more than 168 yards per game and has run for 12 touchdowns.
"Having Jake at running back was something that had been in the works for a long time," Phillips said. "He truly is a special player and athlete. When it comes down to it, we needed to put the ball in our best players' hands the most. He is a violent runner, and watching him run the ball or tackle people is a scary thing."
Jake Reichle (Lakeridge) photo by Howard Lao, for The Oregonian/OregonLive
The Pacers now enter the meat of their schedule, starting with Friday night when they play host to an angry West Linn team looking to rebound from its worst loss in the past seven years. The Lions have won the past eight meetings and 15 of the past 16 against Lakeridge, including a 41-2 victory during the spring season.
Phillips, however, isn't concerned with what has been, but instead with pushing through the gauntlet that is the Three Rivers League and leading the Pacers to their first double-digit win season since 1994.
"The focus for us is the kids in our locker room and the kids who are on this team," Phillips said. "Yes, we play a rigorous schedule, but that is what makes it fun. The most important game in the TRL is the one you are playing that week, because it's the only guaranteed one."
Improved offensive line play helps Pendleton run out to lead in NWOC East
Pendleton finds itself back in the catbird seat heading to the second half of its NWOC East schedule.
The Buckaroos followed a significant 35-21 win over Hood River Valley in Week 4 by cruising past The Dalles, 70-6. With La Salle Prep having dropped its varsity schedule to play a JV-only slate the rest of the season because of dwindling numbers, the Buckaroos pick up a forfeit win this week to improve to 4-0 in division play.
Pendleton added a nonleague game against McDaniel on Friday to prepare for a critical two-game stretch against the Redmond schools. A Week 7 home game against Redmond and a Week 8 game at Ridgeview should decide whether Pendleton wins a third consecutive full-season NWOC East title.
"The pickup of McDaniel is a great test for us on the road against a 6A school," said Buckaroos coach Erik Davis. "We are preparing hard for this game but understand that Redmond and Ridgeview loom. We lost to Redmond in the spring and understand they post a huge threat to a conference title."
Erik Davis (Pendleton) photo by Adam Lapierre
Davis held out standout running back Payton Lambert (10 touchdowns, including seven rushing) from last week's game with an ankle injury, but backup tailback Brock Mackey stepped up with 111 yards and four touchdowns against the Riverhawks.
"It's great to have such great depth at the running back position," Davis said.
That depth would be severely tested, though, if not for the improvement of an offensive line group that Davis called "the unknown" entering the season.
"They were an untested group, and I feel that our offensive and defensive lines have really jelled over the last few weeks," Davis said. "We have established a solid run game behind these kids."
It's been only three years since the Buckaroos reached the Class 5A semifinals. They got bounced in Round 1 a year later, but Davis thinks they have a shot at making another deep run this fall.
"One thing that separates this year's players is how they play for four quarters," he said. "We are undersized, but we are tireless in our pursuit."
Cascade fulfilling potential coach saw in his senior class two years ago
Two years ago, Cascade coach Brandon Bennett looked ahead at what he thought his current senior class could accomplish and scheduled accordingly.
He started with Baker in Week 1, then added Mazama in Week 3. For his open week, he matched up with Marist Catholic. All three games were on the road to further test his team.
"We wanted to play on the road with this senior class," Bennett said. "If you can win on the road against great opponents, you have a chance (at a title). All three of these teams have been what I call the blue bloods of 4A football. Baker is a good team. Mazama is always tough, and Marist always seems to reload with good athletes."
Bennett also installed offensive and defensive schemes he felt better suited this class' talents. The first year in 2019, Bennett saw success with the new system, but the confidence was lacking, which showed in a 38-21 first-round Class 4A playoff loss to Baker.
The five-game spring season allowed for further refinement in preparation for what Bennett hoped would be the culmination of his plans this fall.
So far, the Cougars have lived up to his expectations. They blasted Baker 35-0 in their opener, and two weeks later they pulled out a hard-fought 31-28 victory over the Vikings in Klamath Falls.
After opening Oregon West Conference play last week by trouncing Woodburn 64-0, Cascade now gets its biggest test yet against a Marist Catholic team that is also 5-0 and coming off a spring season in which it lost to Mazama in the 4A Showcase final.
Jacob Hage (Cascade) photo by Leon Neuschwander
"In the spring season, we made mistakes that cost us ballgames," Bennett said. "It will take discipline to beat a team like Marist on the road. My boys are ready and up for the challenge."
This year's Cougars are loaded with good athletes, starting with seniors Jacob Hage and Blake Lewis, two-way standouts who have led them not only to 4A's top-scoring offense (53.2 points per game) but also a defense that has posted three shutouts.
"Our defense is built on confidence," Bennett said. "We line all 11 guys up five yards from the ball and challenge people. Our kids have taken on that attitude."
Four solid players have backed up Cascade's core group to propel the Cougars to their first 5-0 start in the past 22 years. Senior center Caymus Roache and tight end Isaac Schnepp anchor an offensive line that spearheads a running attack that averages nearly 300 yards per game, while junior Jacob Bell is a converted tailback who moved to wingback this season and has become a key blocker.
Finally, there's junior linebacker Trenton Wymore, whom Bennett called "the brains of the operation" on defense.
"He makes sure every defensive guy knows their assignment," Bennett said. "What makes that even more impressive is he is pretty darn good at linebacker — tough, quick and loves to hit."
It all adds up to the makings of what might be the game of the year in Class 4A until we reach the postseason.
This and that …
Summit and West Salem tuned up for what's shaping up to be a Week 6 matchup for the Mountain Valley championship with convincing home wins. The Storm knocked off South Salem 38-6, while the Titans beat Mountain View 55-20. … Jefferson has rebounded from an 0-2 start with three consecutive PIL victories heading to a Week 6 home game with fellow PIL unbeaten Roosevelt. The Roughriders are 4-1 for the first time in the past eight seasons. … Heppner earned its 23rd consecutive win with a 39-0 victory over Weston-McEwen in a Blue Mountain Conference matchup. The Mustangs' streak started with a 13-0 season and Class 2A state title in 2019. … Class 1A's matchup of unstoppable force (Powder Valley's No. 1 scoring offense) and immovable object (Adrian's No. 1 scoring defense) went to the defending eight-man champion Antelopes, who held the Badgers out of the end zone in a 38-0 victory. Adrian has shut out its past four opponents and has given up one touchdown this season.
—
Our complete high school football preview:
Our Week 5 predictions: