Kate Peters of Lake Oswego, Jeffery Rogers of Sherwood among Oregon standouts at Nike Portland XC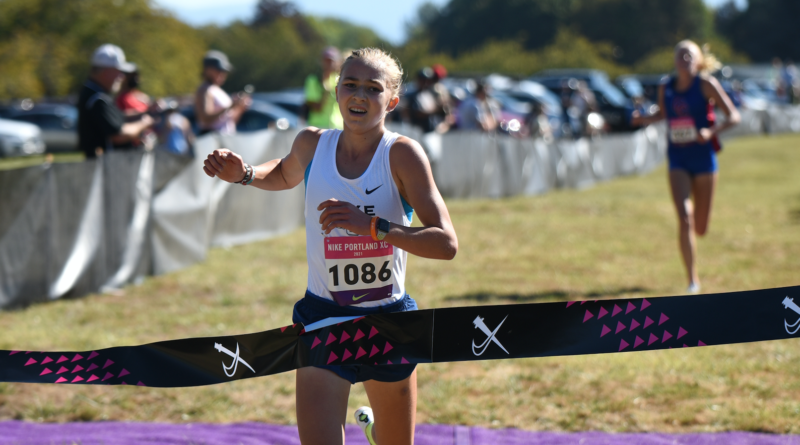 By René Ferrán | Photos by Taylor Balkom
Lake Oswego junior Kate Peters continued her dominant ways Saturday in the Jim Danner Championships girls race at the Nike Portland XC meet held at Blue Lake Regional Park in Fairview.
Peters held off two-time Colorado 5A state champion Riley Stewart of Cherry Creek in 16 minutes, 40.9 seconds, to win the featured race at one of the Northwest's premier cross country meets.
"It means a lot to win such a big meet," Peters said. "I was very excited for the opportunity to race some of the best girls in the country. It was a battle. Riley put up a good fight, and it wasn't easy to beat her."
Peters, ranked No. 6 in the most recent DyeStat national rankings (the highest-ranked nonsenior), didn't get off to the start she wanted in her duel with Stewart, the fourth-ranked runner, and senior Dalia Frias of Mira Costa (Manhattan Beach, Calif.), the No. 2 runner in the nation.
Peters sat around 50th place about one-tenth of the way into the 5-kilometer race, but she slowly worked her way up to the lead pack at the 1,000-meter mark.
The three nationally ranked runners separated from the pack, but at the 1.5-mile mark, Peters and Stewart dropped Frias, leaving them to duel for the final half of the course.
"It's so much easier to follow instead of lead races, so I just hung right behind Riley until there were 800 meters to go," Peters said. "I could hear Riley breathing hard, and that's when I knew she was struggling. So, I made a move 800 out and was able to keep my lead all the way to the finish."
Peters finished second at the Class 6A state meet as a freshman at Lincoln before she transferred to Lake Oswego that winter. She sat out the 2021 spring cross country and track seasons as a precaution because of the COVID-19 pandemic but returned to the Lakers this season, and she's won all three races she's run, shaving more than 20 seconds off her winning time from the Meriwether XC Classic a week ago.
"Now that I'm vaccinated, my parents have let me free, and I'm very happy to be running for LO this year," Peters said. "It's been a lot of fun getting to know my teammates and being able to train with the team again."
A couple of Summit seniors, Teaghan Knox (fourth, 17:35.3) and Magdalene Williams (ninth, 17:49.5), posted top-10 finishes to lead the Storm to a second-place finish behind Cherry Creek in a battle between the second- and third-ranked teams in the nation.
Boys
Sherwood senior Jeffery Rogers knew he was better than the results he'd posted earlier in the season.
An eighth-place finish at the Meriwether CC Classic on Sept. 17 was the nadir, the result of overtraining and fatigue that he could see coming.
He went into Saturday's Danner Championships feeling refreshed and ready to show — along with classmate James Crabtree — what he was truly capable of doing.
They certainly did with an impressive performance, finishing 2-3 behind Jamar Distel of Riverside High School in Chattaroy, Wash., with Rogers breaking 15 minutes for the first time this season, posting a 14:59.1 with Crabtree just 2.4 seconds back.
"We both felt a little underrated," Rogers said. "Our goal was to show we're better than people think we are, and I think we showed them that."
Rogers credited Crabtree with helping him overcome an awful start that left him well back of the lead pack before he caught up around the mile mark.
"James set the pace well and led most of the race," Rogers said. "I felt comfortable and finished strong, reeling him in the last 200 meters."
Tualatin senior Caleb Lakeman, who entered the Danner race undefeated in four races this season, finished fifth Saturday in 15:07.6. Sunset senior Benjamin Balazs finished ninth to lead the Apollos to a second-place finish behind Mira Costa.
—
Earlier: