Oregon high school football: Meet each 6A team's most indispensable player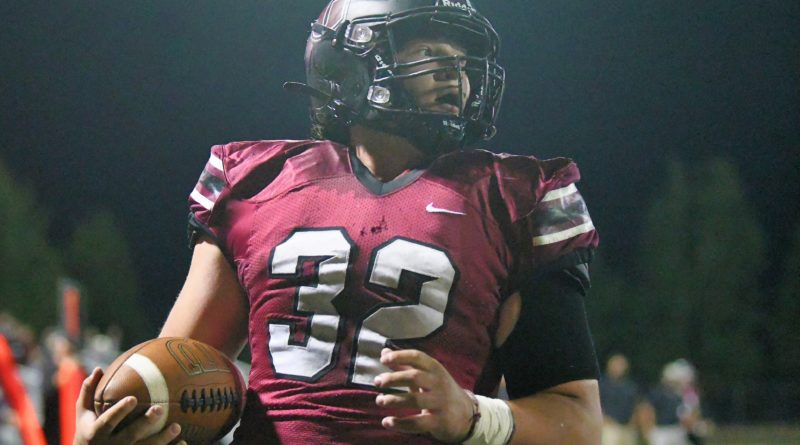 By René Ferrán, Mike Wilson and Bob Lundeberg
The Oregon high school football season kicks off this week, and SBLive has rolled out a comprehensive statewide preview.
Here, we examine each 6A team's most irreplaceable player. Who is one player that if he were to miss a game, his team's chances would take a massive hit? We answer below.
Royce Fasel (Glencoe) photo by Leon Neuschwander
—
PIL
Cleveland: QB Thomas Oh, Sr.
Oh is a multisport athlete who got some time at varsity quarterback last season. He has been among the most consistent Cleveland players during the offseason showing up to workouts and activities, and first-year coach Trevor Smith is excited to see how he performs as a senior.
Franklin: QB Zander Garner, Sr.
Garner enters his second season as the Lightning's starter after completing 58 percent of his passes for 1,148 yards with nine touchdowns and nine interceptions as a junior. Coach Jesse Thompson said Garner has a far greater understanding of the offense after an offseason of work, praising his improved timing and pre- and post-snap reads.
Grant: WR/CB JaeSean Pete, Sr.
A third-year varsity starter, Pete could end up starting on both sides of the ball this season — at slot receiver and cornerback — after splitting time at running back and starting on defense in the spring.
Jefferson: WR/DB Trejon Williams, Sr.
The Oregon commit's top-level versatility was on display in Jefferson's win over Roosevelt last season, when he scored on a 72-yard punt return and a 37-yard reception and registered two sacks, a forced fumble, a fumble recovery and an interception.
Lincoln: RB/LB Brady Kopetz, Sr.
Kopetz, who tied for the team lead in tackles for loss last season, has one FCS offer and is expecting more from Division I schools. He also led the Cardinals in rushing (82 carries, 578 yards, seven touchdowns) in his junior season.
McDaniel: WR/FS Hank Kern, Sr.
Kern plays center field for the Mountain Lions on both the baseball field and the gridiron, covering a lot of ground in the secondary while bringing a surprising physical streak to the defense.
Roosevelt: QB/FB Imarion Kelly, Sr.
Kelly began his junior season by throwing six touchdowns passes in the Roughriders' season opener. He suffered a shoulder injury in Week 3 against Jefferson, though, and although he played sparingly at quarterback after that, he still received an offer from Southern Oregon.
Wells: QB/OLB Tom White, Sr.
White is among the Guardians' leading returning tacklers and brings elite mental strengths to the team. If he doesn't start at quarterback, he will be used at tight end or running back.
METRO LEAGUE
Aloha: OL/DE Tomas Salcedo Hernandez, Sr.
Salcedo Hernandez last season was a disrupter on the perimeter of the Warriors defense, finishing third on the team with 27 tackles (six for loss). The anchor of the line on both sides of the ball is starting to receive interest from local colleges.
Beaverton: WR/FS Cristian Gonzalez, Sr.
The three-year starter led the Beavers with 30 catches for 411 yards and three touchdowns last season and finished among the team leaders in tackles with 35. He should garner all-state attention as a senior.
Jesuit: RB/LB Tyree Blake, Sr.
Blake entered the starting lineup on defense last season and flashed the skills that should take him to the next level. He also backed up starting tailback Michael Rincon and ran for 111 yards and a team-high four touchdowns on 21 carries.
Mountainside: QB Brian Mannion, Sr.
Mannion has been a student of the game since he was a toddler, tagging along to his father's practices, meetings and games throughout coach John Mannion's career. As a sophomore, he joined the varsity in midseason and led the Mavericks to the Class 6A quarterfinals, and during the spring season, he completed more than 62 percent of his passes (87 of 140) for 1,102 yards and 12 touchdowns (three interceptions).
Southridge: WR/DB Nathan Aviles, Sr.
Aviles is a three-year starter at cornerback who made 37 tackles (most among Skyhawks returners) and broke up eight passes as a junior. He also became a dependable possession receiver during the spring, catching 12 passes for 97 yards.
Sunset: WR/DB Chase Limbocker, Sr.
Limbocker emerged in the spring as one of the Metro League's most explosive athletes, becoming a favored target in the passing game with a team-high five touchdowns among his 11 catches for 239 yards (21.7 per catch). He also was a physical player in the secondary, ranking among the team leaders with 27 tackles (12 solo).
Westview: RB/CB Aaron Jones, Sr.
One of Westview's top players who went to Pleasant Grove, Utah, last fall after the OSAA postponed the season, Jones boosted his stock with a solid season with the Vikings, showing off his versatility by finishing second on the team in rushing (209 yards on 52 carries) and receiving (24 catches for 251 yards). He has drawn interest from BYU, Air Force and Colorado State.
Brian Mannion (Mountainside) photo by Leon Neuschwander
PACIFIC CONFERENCE
Century: WR/SS Preston Springer, Sr.
Springer was one of the team's top contributors as a junior, leading the Jaguars with 14 catches for 220 yards and two touchdowns and earning second-team all-conference honors at safety, intercepting three passes and making 23 tackles (two for loss).
Glencoe: QB/LB Royce Fasel, Sr.
The superlatives flow from Crimson Tide coach Ian Reynoso's lips when he discusses Fasel, who has 255 career tackles, was a first-team all-Pacific selection on both sides of the ball as a junior and made the SBLive Oregon all-state second team at linebacker.
Liberty: QB Hiro Diamond, Sr.
Diamond is back for his third season starting under center after a junior campaign for which he received second-team all-Pacific recognition, completing 57.9 percent of his passes (44 of 76) for 526 yards and four touchdowns with five interceptions. He rushed for 284 yards and five scores.
McMinnville: WR/DB Braden Woods, Sr.
Woods has drawn interest from several colleges for baseball, but he returns to the gridiron this season as a two-way all-conference selection from the spring, having earned second-team honors at cornerback and honorable mention at receiver.
Newberg: QB Levi Durrell, Sr.
With defenses loading up to stop Newberg's power running game last season, Durrell took advantage to complete 44 of 94 passes for 754 yards and 11 touchdowns with five interceptions, earning first-team all-Pacific honors. New coach Jeremy Johnson runs a more wide-open offense, which should highlight Durrell's arm and athleticism.
Sherwood: QB/FS Bjorn Bergstrom, Sr.
Bergstrom brings one of the few things the Bowmen lack this season — experience. A three-year starter at quarterback in their wing-T attack that should see only minor tweaks with Kevin Hastin taking over from longtime coach Greg Lawrence, Bergstrom received all-Pacific honorable mention in the spring.
MT. HOOD CONFERENCE
Barlow: RB/LB Jake Fay, Sr.
Fay was the Bruins' leading rusher last season, posting team highs of 85 carries, 537 yards (6.3 yards per rush) and four touchdowns. First-year coach Tracy Jackson said Fay stands out for his leadership abilities as well as his physical skills.
Centennial: LB Jacques Poirier, Jr.
At the end of the spring season, teammates voted Poirier a team captain. Eagles coach Butch Self called Poirier the team's emotional leader, and his selflessness is demonstrated by his willingness to switch positions in the spring, from fullback to guard, because of a shortage of linemen.
Central Catholic: WR/DB Jordan King, Sr.
King brings size, a physical element and dependable hands to the Rams' passing game. In the six-game spring season, he had 28 receptions for 452 yards and seven touchdowns — the team leader (by far) in all three categories — and was named to the SBLive Oregon all-state first team.
Clackamas: OL/DL Logan Chastain, Sr.
Chastain started both ways as a junior and turned in what coach James Holan called an all-state-caliber season on the defensive line. He packs considerable power into his 6-0, 250-pound frame.
David Douglas: RB/DB Jaden Poulshock, Sr.
Poulshock will be a third-year starter on both sides of the ball who brings speed and strength to bear. As a sophomore in 2019, he was the second-leading rusher for the Scots, averaging 9.3 yards per carry en route to totaling 411 yards and rushing for three scores.
Gresham: OL/DL Colton Gaffney, Jr.
Gaffney (6-4, 230 pounds) is among the Gophers' leading returning tacklers and is a team captain as a junior. First-year coach James Allen likes what Gaffney has done with his physical preparation for the upcoming season.
Nelson: WR/DB Reid Gray, Jr.
Gray is projected to play as a slot receiver and a cornerback after coming over from Clackamas, where he played on the varsity basketball team as a sophomore. Even in no-pad workouts, Gray produced the impression that he'll be physical, as well.
Reynolds: WR/LB Miles Baldwin, Sr.
Baldwin returns after leading the then-run-heavy Raiders with two touchdown catches in the spring. He should have increased production in first-year coach Kelly Murphy's system.
Sandy: QB Teague Clemmer, Sr.
In an already shortened junior season, Clemmer's availability was truncated further by an injury, but what he showed in the two games he did play was tantalizing. He completed 26 of 47 passes (55 percent) with four touchdowns and no interceptions. He should be among the Mt. Hood Conference's top quarterbacks this fall.
Jake Fay (Barlow) photo by Taylor Balkom
THREE RIVERS LEAGUE
Lake Oswego: RB/CB Gabe Olvera, Sr.
Olvera got his chance to start toward the end of his sophomore season, when the Lakers moved two-time state player of the year Casey Filkins to a single-wing quarterback. He ran for 157 yards in a first-round playoff win over Grants Pass and helped Lake Oswego reach the final, and he started all four games in the spring, earning first-team all-TRL honors.
Lakeridge: TE/DE Nui Tovey, Sr.
Tovey was one of the most dominant linemen in Class 6A during the spring season, finishing with 51 tackles (nine for loss), two sacks, nine hurries and six pass breakups. He was named to the all-TRL first team and the SBLive Oregon all-state third team. With the graduation of Oregon State-bound tight end Bryce Caufield, he will get more time on offense this season.
Oregon City: WR/DB Joey Shaw, Sr.
Shaw might be the most accomplished player returning for the Pioneers. He made the all-Three Rivers first team at receiver last season after catching 26 passes (second on the team to Jahleel Heath's 30) for 277 yards and a touchdown, and he was a second-team selection at safety.
Tigard: G/DL Leif Beers, Sr.
John Kemper was the offensive line coach before taking over head coaching duties three years ago, and he takes pride in how every year, the Tigers seem to churn out another standout lineman who goes on to play in college. Beers looks to claim that role after receiving all-TRL first-team recognition on offense and second-team honors on defense as a junior.
Tualatin: RB/S Malik Ross, Sr.
Ross is an electrifying talent who makes plays in all three phases of the game, earning first-team all-TRL honors on offense (406 yards and five touchdowns on 27 carries) and as a kick returner (23.3 yards per kickoff return, 11.3 per punt return) and garnering second-team recognition on defense.
West Linn: QB/LB Earl Ingle, Jr.
Ingle was the rare freshman to crack the rotation at West Linn, playing in four games in 2019 and making eight tackles. As a sophomore, he became a fixture in the starting lineup and dominated from the get-go, recording 36 tackles (six for loss), making three sacks and forcing two fumbles in earning first-team all-Three Rivers and second-team SBLive Oregon all-state honors at outside linebacker.
MOUNTAIN VALLEY CONFERENCE
Bend: RB/LB Ben Martin, Sr.
Martin was a second-team all-city running back during the spring season, moving to fullback because of injuries around him and making coach Matt Craven regret not having him play in the backfield sooner. He also will play linebacker as a senior.
McNary: WR/DB Zane Aicher, Sr.
Aicher is a versatile senior who will play running back and slot on offense and get time at free safety, strong safety, corner and rover on defense. Celtics coach Jeff Auvinen called Aicher one of the team's main playmakers.
Mountain View: QB/DB Jakoby Moss, Sr.
Moss, an all-city quarterback last season, is entering his third season as a starter. Cougars coach Brian Crum said Moss might be the best quarterback he's had in 25 years of coaching.
South Salem: WR/DB Tinitali Tinitali III, Jr.
Tinitali III led South Salem in receptions and touchdowns last season. He has good size (6-0, 180 pounds) and runs well, helping him become the Saxons' go-to player as a sophomore.
Sprague: WR/DB Drew Rodriguez, Jr.
Rodriguez has two years of starting experience, and Olympians coach Jay Minyard said he has the potential to be a Division I defensive back. He is rated a three-star prospect by 247Sports.
Summit: RB/DB Ryan Powell, Sr.
Powell was Summit's offensive most valuable player in the spring and an all-city pick at cornerback. He will be a key player in the Storm's push to return to the playoffs after a five-year absence.
West Salem: QB/DB Brooks Ferguson, Sr.
The son of Western Oregon University head coach Arne Ferguson is a 6-foot-6 senior with tremendous potential. The quarterback job is all his after he sat behind Jackson Lowery (Linfield) in the spring.
Tinitali Tinitali III (South Salem) photo by Rockne Andrew Roll
SOUTHWEST CONFERENCE
Grants Pass: OL/LB Braeden Lesina, Sr.
Lesina finished second on the team with 33 tackles during the spring season. He had five pass breakups and an interception, and Cavemen coach John Musser said he was built to be a run-stuffing middle linebacker.
North Medford: WR/DB Bryce Dyer, Sr.
A first-team all-conference wide receiver as a junior, Dyer is a giant 6-4, 180-pound target who can run — someone first-year coach Nathan Chin will rely on as the Black Tornado seek a first conference title since 2013.
Roseburg: WR/DB Landyn Dupper, Sr.
One of the fastest players in the state, Dupper ran a 10.85 in the 100 meters during the 2021 track season. He also is a standout wide receiver and defensive back who should be a focal point of Roseburg's offense this fall.
Sheldon: QB Brock Thomas, Jr.
Thomas, a first-team all-conference pick as a sophomore, is the complete package at quarterback. Irish coach Josh Line said Thomas reminds him of former Sheldon star and current assistant coach Jordy Johnson.
South Medford: RB/LB Carson Joe, Sr.
A tireless worker and team leader, Joe made first-team all-Southwest Conference at running back a season ago. Panthers coach Bill Singler said Joe also will be starting at linebacker this fall.
—