PIL football preview: 10 questions, projected order of finish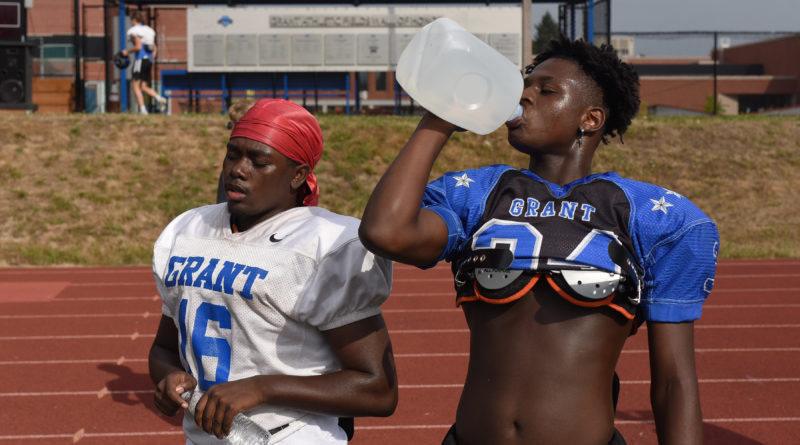 By Mike Wilson
Here are 10 questions for the Class 6A Portland Interscholastic League entering the fall 2021 high school football season. At the bottom is Mike Wilson's predicted order of finish.
Grant photo by Rockne Andrew Roll
—
1. Can anyone challenge Grant?
The Generals tied for the Portland Interscholastic League title in 2018, won it outright in 2019 and won both of their spring PIL games — against Roosevelt and Jefferson — in runaways. The Generals lost plenty of key components, but they return proven players around the field. Roosevelt, Jefferson and Lincoln would appear to be Grant's toughest PIL challengers, but a healthy Generals team probably would be regarded by most as favorites against all three of those opponents.
2. What can Roosevelt's offense accomplish with both quarterback Imarion Kelly and running back Lindell Betts healthy?
A shoulder injury in Week 3 derailed Kelly's junior season — one that started with six touchdown passes in the season opener. In the first quarter of that game, Betts was lost with a season-ending injury. With those two players, the Roughriders scored 38 points in Week 1; they didn't exceed 20 points in any game the rest of the season.
Kelly and Betts are healthy and, coach Ryan McCants said, drawing the attention of college recruiters. Look for Roosevelt, which also boasts attractive receiving targets for Kelly, to put more pressure on defenses this season.
3. What can a partly retooled offensive approach do for Lincoln?
First-year coach Matt Caruso, whose hire wasn't complete until mid-July, knew he wanted to revamp the Cardinals' defense, and to keep the amount of new material players needed to learn manageable given the short window of time until the season, he opted to limit the changes he introduced on offense. Caruso said the Cardinals' offense takes some principles of what the line has been doing the past three years and that he's "modifying it to make it more successful for the skill positions, and not modifying it up front, where our strength is, where they already know it, where they're comfortable." Operating from a pistol set, the Cardinals are likely to throw more than they did last season, when they passed fewer than 11 times per game and averaged fewer than 75 yards passing per game.
4. Does the rehiring of Anthony Stoudamire mean the Jefferson coaching job will stop being a one-season way station?
Stoudamire was 44-27 from 2006 to 2011 in his first stint as the Democrats' coach. He took Jefferson to the OSAA Class 5A championship game in 2009. After four seasons as Roosevelt's offensive coordinator, he returned to Jefferson this summer to succeed Houston Lillard, who coached one season after succeeding Don Johnson, who coached one season after succeeding Ritchie Martin, who coached one season after succeeding Anthony Jordan, the most recent Jefferson coach to hold the job for more than one season (2016 and 2017).
In the nine seasons since Stoudamire's contract to coach Jefferson football was not renewed, the school went through six coaches. One was a former Oregon player (Aaron Gipson, who coached one season after succeeding Stoudamire), and another left the North Portland school to become director of high school relations at Oregon (Johnson).
Stoudamire said he doesn't think there is anything about the job that inherently lends itself to such high turnover.
"For one, you're always going to have athletes at Jefferson High School," he said. "I think that's very enticing to coaches."
Some coaches, Stoudamire allowed, might not understand what it means to coach at Jefferson.
"Coaching at an inner-city school is a lot different than coaching in the suburbs," he said, adding that he understands why Johnson would leave for a job at Oregon. "The other coaches, I can't speak for them. I don't know what caused them to be there for one year."
5. Who will be the PIL's offensive player of the year?
Based on college potential, Jefferson wide receiver Trejon Williams (who has committed to Oregon) looks like a solid choice. Roosevelt quarterback Imarion Kelly, who is drawing attention from smaller colleges, has a strong arm, speed and smarts. Lincoln running back Brady Kopetz rushed for seven touchdowns in the spring season. Grant running back Donald "Chili" Stephens and wide receivers JaeSean Pete and Max von Arx seem capable of monster seasons. An under-the-radar possibility is Franklin quarterback Zander Garner.
Trejon Williams (Jefferson) photo by Taylor Balkom
6. What effect will the new physical plant and facilities have for the McDaniel football program?
Madison High School (the former name of McDaniel) was rebuilt, and the athletic facilities fronting NE 82nd Avenue in Portland are widely regarded as comparable to the best of any high school's in Oregon. Coach Joe Salvador said more incoming freshmen turned out for football than has been the recent norm.
"Usually they don't come out until the beginning of school," he said, referring to freshmen and sophomores.
Whether the increased turnout reflects curiosity about the new environment or more foundational interest in football, having brand new conditions can't hurt the Mountain Lions.  
7. Will any opponent dare to pass or kick the ball near Jefferson's Trejon Williams?
Williams, who has committed to Oregon, might be the most dynamic player in the PIL. In one game last season, he scored on a punt return and a pass reception and had an interception and a sack on defense. Opponents who put the ball near Williams should understand the risk of their actions. On offense, the Democrats will trust Dondrae Fair Jr., a third-year varsity quarterback with what his coach called a great arm, to exploit Williams to the fullest.
8. What can Franklin accomplish outside of the PIL?
The Lightning open at home against Class 5A South Albany (0-6 in the spring) and play at Oregon City (0-5) in Week 2. In the spring season, there was a thick line between Franklin's league and nonleague results. The Lightning were 3-0 in PIL games (by a cumulative score of 90-21) and 1-2 against nonleague opponents (cumulative score: 33-88). Both of Franklin's nonleague opponents had coaching transitions in the offseason, something from which the Lightning are one season removed.
9. Does Wells have replacements for Jayden Brannan and Cole Thomas?
Brannan rushed for six touchdowns and Thomas had four scoring catches in the spring, both leading the team by a considerable amount in those categories. There don't appear any ready-made successors, but the Guardians should be solid at quarterback, whether junior Parker Feld-Gore wins the job again or senior Tom White — described as like a coach on the field — takes over.
10. What will Cleveland's schedule and season look like?
With a roster that had three seniors and a large percentage of freshmen as practice started, Cleveland wouldn't have been well-served playing a traditional PIL varsity schedule. First-year coach Trevor Smith said player safety was a genuine concern. The Warriors are scheduled to play junior varsity teams except for Week 2, when they are scheduled to play host to the varsity team from Parkrose of Northeast Portland.
—
Predicted order of finish
1. Grant
2. Roosevelt
3. Jefferson
4. Lincoln
5. Franklin
6. Wells
7. McDaniel
N/A. Cleveland
—
More PIL football
Find each team's complete season preview at the following links: