Sprague football enters fall season with newfound confidence: 'We will be expecting to contend for a league title'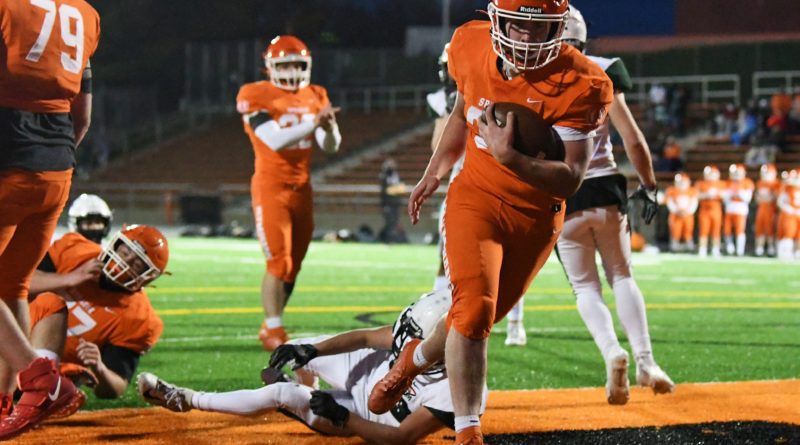 By Bob Lundeberg
SBLive Oregon will break down every 6A, 5A and 4A team in the state leading up to the 2021 fall football season. Here's our look at the Sprague Olympians of the Class 6A Mountain Valley Conference.
Photo by Leon Neuschwander
HEAD COACH
Jay Minyard, 10th season (58-31)
PAST 3 SEASONS
2021 (spring): 5-1 overall, 2-1 in MVC
2019: 2-7 overall, 2-2 in MVC
2018: 2-7 overall, 2-2 in MVC
KEY DEPARTURES
OL/DL Bryson Kievit
WR/DB Carson VanKempen
RB/LB Ethan Bullock
OL/DL Brett Hassoun
PLAYERS TO WATCH
Logan Smith, sr., QB
At 6-foot-4 and 180 pounds, Smith has ideal size to play quarterback. He had a strong spring in his first season as a starter and should be even better as a senior. "Logan is very athletic and has a strong arm," Minyard said. "He will play on Saturdays at some level."
Riley Davis, jr., RB/LB
Davis is a bit undersized at 5-foot-7 and 165 pounds, but the junior was arguably Sprague's top defender a season ago. "He will also be playing a lot on offense this season, and he's very explosive," Minyard said.
Drew Rodriguez, jr., WR/DB
Rodriguez has two years of starting experience and has the potential to be a Division I defensive back, Minyard said. He is rated a three-star prospect by 247Sports. "Drew should be one of the most explosive players in our conference as a wide receiver as well," Minyard said.
David Sherman, sr., OL/DL
Sherman is the headliner of the Olympians' small group of returning defensive linemen. In the spring, he won the 220-pound state wrestling title. "David will also be playing offensive tackle and will be one of the more athletic linemen in the area on both sides of the ball," Minyard said.
Colton Herring, sr., WR/DB
A returning starter on offense and defense, Herring is a steady player who is set up for a big senior season. "Colton was very quietly one of the better wide receivers in the league last year as a junior," Minyard said.
OUTLOOK
After consecutive two-win seasons, the Olympians surged to a 5-1 spring record that included a competitive loss to West Salem. Many of the players who spearheaded the turnaround are back to build upon last season's success.
"We had a terrific spring season," Minyard said. "We did graduate a great group of seniors, especially up front, but we have a lot of kids coming back that played significant minutes as well."
Minyard is particularly excited about the quarterback position. Smith is one of the top returning starters in 6A, and backup Will Hassoun, a junior, also has impressed the coaching staff.
"They both are great leaders and have great work ethics," Minyard said. "Logan has a good amount of experience at the varsity level, and Will is a natural athlete and a very good runner. Either of these young men could lead us to a strong season. Having great depth at that position is always nice."
As a whole, the Olympians possess excellent team speed.
"That usually translates into being a great tackling team and also a team that is very good in the kicking game," Minyard said.
Sprague isn't as deep or experienced up front, but the team's returning linemen are athletic and talented.
"I also really like our linebackers and secondary," Minyard said. "Again, a lot of kids who saw significant time in those positions are coming back, and it may be one of the most talented groups we've had defensively in a while."
If all the pieces come together, the Olympians could have a chance to win their first league title since 2016.
COACH SAID
"We have not set team goals yet; however, I can confidently say that we will be expecting to contend for a league title. We will certainly have issues with depth like a lot of teams, but if we can stay healthy, especially up front, then I think we could be very good." — Jay Minyard
—