Grants Pass football counting on fast development by youngsters to keep playoff streak alive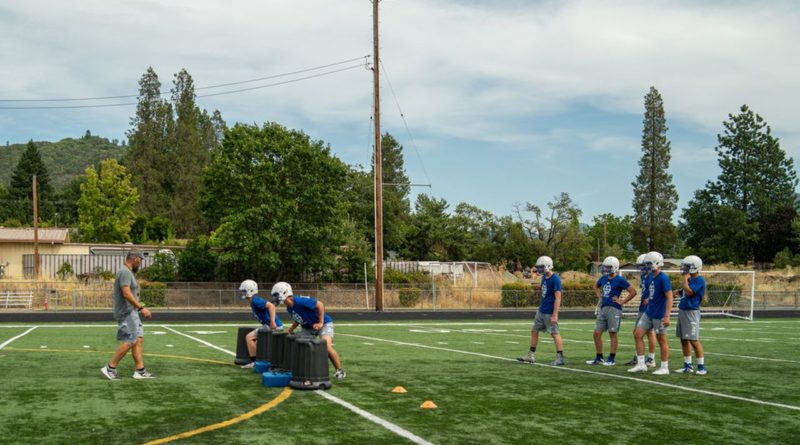 By Bob Lundeberg
SBLive Oregon will break down every 6A, 5A and 4A team in the state leading up to the 2021 fall football season. Here's our look at the Grants Pass Cavemen of the Class 6A Southwest Conference.
Photo by Chase Allgood
HEAD COACH
John Musser, 14th season (72-60)
PAST 3 SEASONS
2021 (spring): 4-2 overall, 1-2 in SWC
2019: 4-6 overall, 1-3 in SWC (lost in first round)
2018: 6-4 overall, 2-2 in SWC (lost in first round)
ALL-LEAGUE PLAYERS DEPARTED
TE/LB Dante Haven, defensive player of the year, second team offense
OL/DL Kai Perez, first team offense, second team defense
RB/DB Jayden Brown, first team offense
OL/DL David Ruiz, first team defense
WR/DB Jett Hood, first team defense, second team offense
OL/DL Andrew Prulhiere, second team offense
WR/DB Devik Chiang, second team offense
K Miles Anderson, second team
OL/DL Logan Vinyard, honorable mention offense
OL/DL Wyatt Mooney, honorable mention offense
QB Hunter Gonzales, honorable mention offense
WR/CB Noah Martinez, honorable mention defense
PLAYERS TO WATCH
Asher Yriarte, sr., RB/DB
A starting slot receiver last season, Yriarte will transition to running back in Grants Pass' high-flying offense. "We moved him to tailback to take advantage of his toughness, physicality and versatility," Musser said.
Kain Robinson, jr., OL/DL
Robinson entered the starting lineup as a sophomore and will be the anchor of the Cavemen's offensive line. "Kain is a very aggressive player who is effective as a pass and run blocker, but he's at his best pulling and playing in space on screens and wide run plays," Musser said.
Braeden Lesina, sr., OL/LB
Lesina finished second on the team with 33 tackles during the spring season. He had five pass breakups and an interception. "With powerful legs and a strong upper body, Braeden is built to be a run-stuffer as the Mike linebacker in the middle of our 4-3," Musser said. "He has been an effective pass defender, too."
Taholo Vainuku-Johnson, sr., OL/DL
Vainuku-Johnson's 29 tackles ranked fourth on the team in the spring. Six of the tackles were for loss. "Taholo is the emotional leader of our defense," Musser said. "He is a relentless, physical player on the edge of our defense."
Parker Jarvis, jr., OL/DL
The 6-foot-3, 305-pound Jarvis is a rock in the middle of Grants Pass' defensive line. "Parker is a massive, strong, athletic big man," Musser said. "He will demand double teams to free up linebackers, and he still has the capability to make plays with two opponents blocking him."
Jackson Tunick, jr., WR/DB
A standout during summer workouts and passing league, Tunick could be the top wide receiver and defensive back for the Cavemen. "He is a very athletic, fast player," Musser said. "He catches the ball very well and loves to compete."
Troy Osborne, so., WR/LB
A sophomore, Osborne has ideal size at 6-foot-3 and 180 pounds. He projects to be an impact player on both sides of the ball. "Troy is a big, physical, athletic player," Musser said. "He is a big target on underneath routes with speed to stretch the field vertically and strength to break tackles for touchdowns in our screen game. He is also a smart linebacker who is physical at the point of attack and athletic enough to play in space."
OUTLOOK
Grants Pass returns just five starters from a team that finished 4-2 with heartbreaking losses to Southern Oregon rivals North Medford (27-20) and South Medford (56-55, 3OT).
The Cavemen do have solid depth across the board and 20 seniors on the roster, but Musser knows the team could experience some growing pains the first month of the season.
"We may be still feeling our way through things early on in the season, but look for a quick learning curve as most of these players have been running our systems since youth football," Musser said.
Musser likes his small group of returning starters, and several players are ready for expanded roles.
Junior Jace Blanchard is a smart, athletic quarterback with a strong arm and great accuracy. Musser is excited about senior wide receiver/safety Jayce Jordan, junior slot receiver/cornerback Malachi Kinyon and the team's tight end group of Josh Hart (senior), Gabe Calabro (senior) and JT Davis (junior).
"We feel we have a very strong group of tight ends and may even have packages where all three are on the field at the same time," Musser said. "Each has a different skill set but all of them can catch the ball well, are physical in the blocking scheme and are athletic enough to do something with the ball after the catch."
Strong-legged kicker Miles Anderson also will be a weapon for the Cavemen, who haven't missed the playoffs since 2009.
Grants Pass has several key players to replace, including Southwest defensive player of the year Dante Haven, but enough talent remains for the Cavemen to stay competitive in the five-team conference.
"We did have a great July of preparation, but we are still inexperienced at most positions," Musser said.
COACH SAID
"With the lack of experience, we have a lot of competition at almost every position." — John Musser
—