Jesuit boys basketball will be Jesuit boys basketball — a deep roster playing an attacking style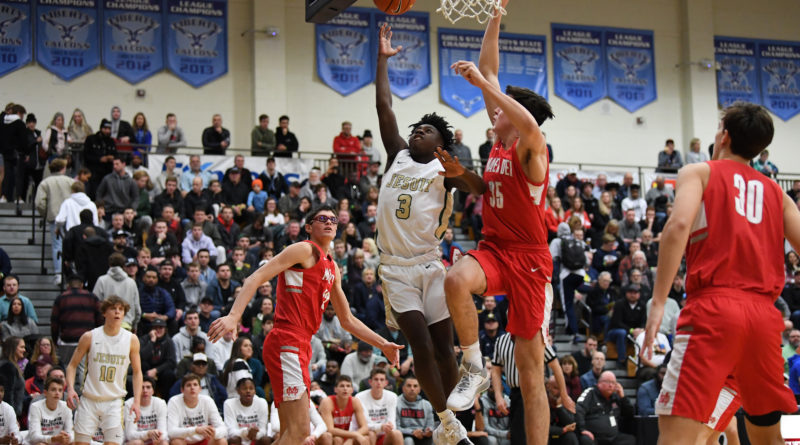 By René Ferrán
Over the next two weeks, SBLive Oregon will break down more than 100 Oregon high school basketball teams. Here's our look at the Jesuit Crusaders boys of the Class 6A Metro League.
Roy Bunn photo by Leon Neuschwander
HEAD COACH
Gene Potter, 29th season (589-177)
2019-20 AT A GLANCE
Overall record: 22-4
League record: 11-1, first in Metro
Playoffs: Beat Century 76-43 in first round; beat Summit 61-55 in second round
ALL-LEAGUE PLAYERS DEPARTED
G Matt Levis, player of the year
PLAYERS TO WATCH
G Roy Bunn, Sr., 5-9
Bunn earned second-team all-Metro honors at point guard last season, dishing out a team-high 4.1 assists per game while averaging 9.9 points and making 33 steals. "A leader and a great defender," Potter said.
G James Lang, Sr., 5-11
Lang led the Crusaders in scoring as a junior, averaging 13.5 points while shooting 39 percent from three-point range and a team-best 80 percent from the free throw line. He grabbed 3.1 rebounds per game with 32 steals and just 15 turnovers in 26 games. Potter described him as "a shooter and crafty finisher."
W Liam Ruttledge, Sr., 6-3
Ruttledge finished just behind Lang on the Crusaders' scoring list, averaging 13.4 points per game while shooting 48 percent from the field and 38 percent from beyond the arc, making a team-high 54 three-pointers.
G Mike Brittingham, Sr., 5-11
Brittingham was an athletic wing coming off the bench last season, averaging 4.6 points and leading the team in three-point shooting at 42 percent.
P Spencer McKelligon, Jr., 6-2
McKelligon brings physicality and a strong rebounding presence to the court. Coming off the bench last season, he averaged 2.1 points and 2.3 rebounds per game.
OUTLOOK
The Crusaders were peaking at the right time last season, winning 17 of their final 18 games and holding off Summit in the Round of 16 to earn the chance to defend their 6A state championship at the Chiles Center — and then the tournament was canceled.
They graduated seven seniors from that squad, none more important than Levis, who stuffed the stat sheet (10.4 points, six rebounds, 3.9 assists per game; team-high 46 steals) in winning Metro player of the year and second-team all-state honors and signing with Seattle University.
They'll miss Levis' leadership on and off the court, but with three all-league players returning for their senior season, Jesuit should be able to play the attacking style that Potter has favored during his almost three decades leading the program.
COACH SAID
"Our goal is to improve throughout the 'season' and be playing our best basketball in June, to get to participate in all of our scheduled games and everyone staying healthy." — Gene Potter