5 things we learned in Week 4 of Oregon high school football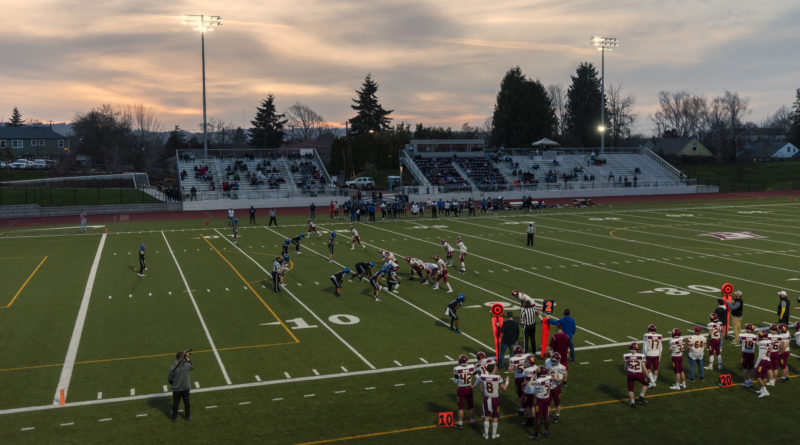 By René Ferrán 
The Oregon high school football season continued last week with Week 4 action around the state.
Here are five things that stood out during the fourth weekend of action.
Grant vs. Central Catholic photo by Taylor Balkom
—
Lakeridge rounding into form after emotional start to season
It had been an interesting past few weeks for Lakeridge. After opening the season with an emotional victory over Oregon City, the Pacers were outclassed by SBLive Oregon Class 6A No. 1 West Linn 41-2 in Week 2.
No shame in that defeat, and for three quarters the following week, the Pacers looked as if they'd put the loss behind them, building a 20-point lead on Tualatin at home.
Then, with a fourth-quarter flurry, the Timberwolves blew past them on the way to an improbable 42-33 victory.
That's why first-year Pacers coach Spencer Phillips was so proud of how his team responded last week against No. 7 Tigard, taking down the Tigers 34-17 for only their second victory over their Three Rivers rival in the past seven seasons.
"This team has no quit in them," Phillips said. "They play every play hard, and that is all you can ask for as a coach."
With each week, sophomore quarterback Ryan Oliver becomes more comfortable running Phillips' offense. Against Tigard, he was 24 of 38 for 334 yards and four touchdowns (QB rating of 126.4), and his top two receivers will return with him in the fall — sophomore Baylor Corbin (seven catches, 74 yards) and freshman Joey Olsen (five catches, 75 yards).
Ryan Oliver (Lakeridge) photo by Rockne Andrew Roll
"We had new everything across the board," Phillips said. "The players have done a great job learning the system, and it's starting to show in how much fun they are having. I think every day is a learning process, but of course, as you get more reps, the system becomes easier."
The Pacers close the regular portion of their schedule this week against crosstown rival Lake Oswego, looking to snap a seven-game losing streak to the Lakers. They have not scheduled a culminating-week opponent, but Phillips sounded like he'd be happy taking on any and all comers in Week 6.
"Every opportunity we have together on the field is instrumental in building the kind of program and culture we want at Lakeridge," he said. "That doesn't just include games — that goes for practice as well. Our kids have 100 percent bought into what we have asked them to do."
Clackamas back on track under Holan after rare losing season
A season removed from their first losing campaign since 2012, Clackamas has rebounded quite nicely under first-year coach James Holan, as Friday's 35-0 victory over Sandy further demonstrates.
Following their only loss of the season in Week 2 against Jesuit, the Cavaliers fought off Grant 19-12 the next week before shutting out Sandy, holding the Pioneers to 165 yards of total offense.
"We are a process-oriented program, and while we have goals, we are more focused on the process of how we achieve those goals than the actual outcome," Holan said. "The seniors have done a great job buying into what we are building, even though they may not reap the long-term benefits. They have taken tremendous pride in laying the foundation of this house we're building."
Among those seniors who've led the comeback from the 4-5 season in 2019 are quarterback Jack Artman, receiver Nick Kennewell and running back Jake Spitulski, all of whom had key contributions against the Pioneers.
Holan, though, also loves what he's seeing from the next wave of Cavaliers. He singled out the Gibson brothers, junior KJ and sophomore Keontae, who have locked down the starting cornerback spots, and sophomore two-way starter Luke Ash (running back and safety) as players who have joined ballyhooed juniors Kaden Ludwick and Miles Williams as foundational pieces going forward.
"Obviously, Kaden and Miles are studs, and people know about them," Holan said. "But KJ is the real deal, and Keontae is making a ton of plays opposite him, allowing us to do a lot with our defense.
"Luke is also the real deal. We trust him a lot. He runs with amazing vision and power for his age and size (5-9, 165 pounds) — don't be fooled by the size, either, because he is a strong kid, and you see it with how he finishes runs."
Saturday's matchup between the Cavaliers and defending Class 6A champion Central Catholic won't have Mt. Hood Conference title repercussions as it has the past two seasons, but it should foreshadow what the conference race will look like six months from now when the fall season is in full swing.
"I am very pleased with their progress," Holan said. "They have done a great job of learning a new offense and getting used to my style of coaching and management. It is a group that is hungry to be the best football players they possibly can be. All these dudes make me a great coach. I'm very lucky to have this crew."
Jack Artman (Clackamas) photo by Rockne Andrew Roll
West Salem-Mountain View would have been a great unofficial Mountain Valley championship game
Because of the travel restrictions the Salem-Keizer School District placed on its teams, the Mountain Valley Conference could not have the four Salem-based schools (West Salem, South Salem, Sprague and McNary) travel across the Cascades to play the three Bend schools (Mountain View, Summit and Bend).
That means no conference champion will be crowned. The way West Salem and Mountain View have played through four weeks, if they could have been scheduled during Week 6 for an unofficial title game, it would have been a thriller.
The Titans improved to 4-0 against their Salem-area opposition with a 28-20 victory over two-time defending MVC champion McNary. Nate Garcia ran for 240 yards and two touchdowns, and Jackson Lowery had two touchdown passes.
The Cougars began the second half of their double round-robin with their fellow 6A Bend schools with a hard-fought 7-3 victory over Summit. It was nothing like their first meeting in Week 1, which Mountain View won 33-3. The Cougars didn't take the lead until Luke Roberts' one-yard touchdown run with 31 seconds left.
"Playing a team twice within four weeks isn't fun, though, I'll tell you that," Mountain View coach Brian Crum said. "That was a defensive struggle. Summit has some legit kids on that side of the ball, and we struggled to execute."
The Cougars have maintained the momentum built from having a full fall practice schedule to prepare for their spring games. The extra prep time allowed the team to hone the timing and physicality that many teams didn't have the opportunity to do during the lockdowns, meaning "we were one of the more ready teams in Week 1," Crum said. "And that has continued."
He also mentioned three seniors who have had breakthrough seasons that have keyed the team's 4-0 start. Layton Valentine, a fullback and linebacker who attends Trinity Lutheran, returned to the program after sitting out his junior season, and two-way lineman Reece King and receiver/safety James Tiboni have been two of the team's most improved players.
Crum, though, doesn't lament that his team won't have the chance at a first conference title since 2017, when the Cougars were in the Class 5A Intermountain Conference.
"Our goal from the beginning was to go 1-0 for six weeks," he said. "Didn't matter who or where. To win the city championship — twice. We broke the season into two halves: Summit, out of conference, Bend, repeat.
"So now, we need to finish what we started. Ridgeview is dangerous. You can't overlook them, and then Bend gets better every week. It will be a fun final two weeks."
David Douglas, Centennial learn it's never too late to get started
The adage "better late than never" never applied more than for two East Multnomah County football teams that finally got their seasons started last week.
David Douglas and Centennial had to wait to kick off their season because of their school district's lack of in-person instruction while the county was classified as extreme and high risk under the state's COVID-19 metrics. Once the county entered moderate risk, which meant the districts were not required to have in-person instruction to opt into the season, both schools could join the party.
"It's been hard to explain to the kids why everyone else gets to play and our district was doing something different," said Eagles coach Butch Self.
That finally ended Thursday night, when the Scots opened against Class 5A power Wilsonville, falling to the Wildcats 35-6 as coach Cal Szueber acknowledged the team's offensive hiccups going up against a team that was playing its fourth game.
Centennial had to wait an additional two days, opening Saturday against a Reynolds team that also got off to a late start — albeit missing only the first week of the six-week season — and losing to the Raiders 43-32.
Centennial vs. Reynolds photo by Howard Lao, for The Oregonian/OregonLive
"There was a lot of excitement and some trepidation that we would have first-game jitters, but we had our opportunities to win," Self said. "Reynolds has two really good running backs. Miles (Wilson) is a load to deal with, especially in our first game, and we were a little tired in the fourth quarter."
While Self would have liked to have started playing earlier, he also believed that "it would have been dangerous for us to play that first week. I was worried about hurting a kid because we had not been allowed to get started with on-field training, conditioning, weight training until recently. We'd only been able to meet virtually with the kids."
Instead, the Scots and Eagles met in the only official OSAA 7-on-7 football game of the season, then spent a couple of additional days conditioning before starting the nine-day in-pad progression to prepare for a tackle season.
Each school gets two more games — the Eagles have matchups with Parkrose and Hillsboro scheduled, and the Scots play Southridge this week before finding a culminating-week opponent.
Rare win over Pendleton shows Redmond defense is for real
Redmond and Pendleton used to be Intermountain Conference rivals before reclassification and redistricting broke them up. They met annually from 1959-2005 — with the result typically being a Buckaroos victory. In the teams' 51 meetings, Pendleton owned a 43-8 record entering Friday's game in Central Oregon.
For one night, though, the tables turned decisively in the Panthers' favor. They blanked Pendleton for the first time in the series, holding a high-powered Buckaroos offense that was averaging more than 30 points per game to 89 yards of total offense in a 28-0 victory.
"Anytime you can beat a team like Pendleton, it's a good day," said Redmond coach Seth Womack. "They are always physical and very technical, so to win and to shut them out was a huge win for our program."
Shutouts, though, are becoming commonplace with the Panthers, who have blanked three opponents (Bend, Ridgeview and Pendleton) — the first time since 1998 they've had three shutouts in a season — and were blanked by Hood River Valley in posting a 3-1 start, their first since 2015.
"Our kids are taking great pride in playing defense," Womack said. "When you see a ball carrier, you see about eight to 11 Panthers tackling him. It's hard to give praise to any one guy on defense, as they are truly playing as 11 out there. It's been really fun to watch and be a part of."
Womack did praise the play of his defensive line, which has put pressure on opposing quarterbacks and freed lanes for players such as senior linebacker Blaine Aamodt, who had a key interception that set up one of three touchdown passes by Hayden Parrish.
The Panthers will try to keep the momentum going the final two weeks of the season against NWOC East rivals La Salle Prep and The Dalles.
—
Our complete high school football preview:
Meet the state's top players by position:
Our Week 4 predictions:
Statistical leaderboards through Week 3:
—
SBLive Sports has launched a free iPhone and Android app featuring exclusive coverage of Oregon high school sports. You can download the new SBLive iPhone app here, and you can download the new SBLive Android app here.