Colby Anderson's field goal wins it as 4A Mazama knocks off 5A No. 1 Thurston in thriller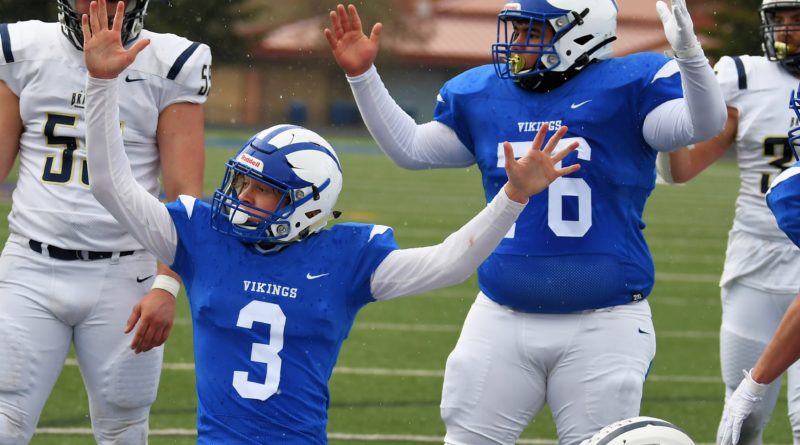 By René Ferrán | Photo by Leon Neuschwander
Mazama coach Vic Lease estimated it had been at least four years since he'd attempted a field goal in a game.
But with 2.9 seconds remaining Thursday against two-time defending Class 5A state champion Thurston, with his Vikings trailing by a point, Lease had no qualms sending senior Colby Anderson onto the field for the biggest kick of his life.
Anderson split the uprights from 31 yards as time expired, lifting SBLive Oregon Class 4A No. 2 Mazama to a 23-21 victory over the Colts in Springfield, snapping the top-ranked 5A team's win streak at 20 games.
"I knew he could kick it. He had the leg," Lease said. "I felt confident because these kids have all come through when we've called their number."
Anderson was unavailable for Saturday's 38-0 victory over Banks because of a family trip scheduled weeks before the last-minute game with Banks came about.
He missed his only PAT attempt in the first quarter, slipping on the soft, mushy grass, but he calmly kicked the field goal that capped the Vikings' comeback from a 21-6 halftime deficit.
"This game showed that we can play with and beat anybody," Lease said. "We made a lot of mistakes today, but this group is finally realizing they're a very good football team. We've had some confidence issues in the past, but we don't have that this year."
The Colts (3-1) scored 21 points in the first 13 minutes — the first points anyone has scored against Mazama (4-0) this season — but in the second half managed three first downs on their two possessions.
The Vikings chewed up half the third quarter on their opening drive of the second half and drew within 21-14 on Zeke Heaton's touchdown run, then forced a punt to get the ball back at their 3 late in the period.
They marched 97 yards and took nearly 10 minutes off the clock, overcoming a holding penalty that negated a touchdown to draw within 21-20 on a 14-yard pass from Tristan Lee to Cole Brosterhous. Lee, though, was swarmed running for the go-ahead two-point try, keeping Thurston in the lead.
"I wanted to go for the win there," Lease said. "Our defense was playing extremely well. But even when we didn't get it, the kids believed we would win. They believed we could stop them and get the ball back."
Thurston got one first down on its ensuing possession before punting with 1:21 to play, pinning Mazama at its 15-yard line.
On second-and-12, Lee hit on a 32-yard completion, then came back after spiking the ball for a 17-yard pass to put the Vikings at the Thurston 38 with 26.7 seconds left.
A pass interference penalty on a halfback pass drew the Vikings closer, and Lee scrambled for 14 yards before stepping out of bounds at the Thurston 9 with 9.6 seconds left. After a delay penalty, they took one shot at the end zone before sending Anderson onto the field.
"It just all came together on that final drive," Lease said.
Jeremy Foss' 27-yard run gave Thurston an early 7-0 lead. Aidan Kindt then returned the ensuing kickoff 92 yards for a touchdown for Mazama.
Not to be outdone, Gavin Knights returned the kickoff following Mazama's score for yet another touchdown, this one from 87 yards.
After a Vikings punt, Knights scored on a 48-yard run to put Thurston ahead 21-6 with 11:11 left in the first half.
Knights finished with 91 yards on six carries and caught three passes for 28 yards. Dawson Muggy was 7 of 10 for 93 yards.
Lee was 8 of 12 for 151 yards, and Brosterhous caught four passes for 105 yards. Heaton ran for a game-high 103 yards on 30 carries.