Mazama states its case as 4A's best team with rout of Banks in titanic clash arranged at the 11th hour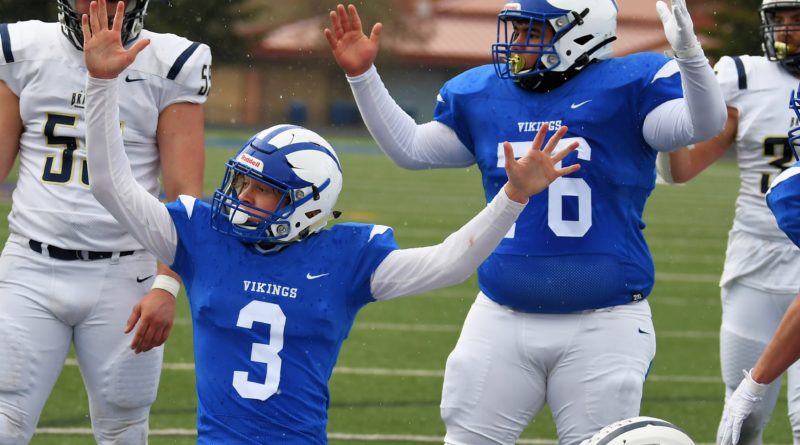 By René Ferrán | Photos by Leon Neuschwander
Only in a season as crazy as the 2021 spring football season in Oregon has become could Saturday afternoon's hastily arranged Class 4A showdown of Mazama and Banks take place at neutral Don Banks Field in Cottage Grove.
Given the opportunity to showcase itself against a top opponent, the third-ranked Vikings weren't about to waste it.
With senior quarterback Tristan Lee throwing for two touchdowns and running for a third and a suffocating defense posting a third consecutive shutout, the Vikings made their case as Class 4A's top team with a convincing 38-0 victory over second-ranked Banks.
"We know we don't get a lot of attention, but we're fine with it," said Lee, an Eastern Oregon signee who deftly directed the Vikings' veer option. "We think we're the best team in 4A. That's our mentality."
Banks made the state final each of the past two seasons, winning the title in 2018.
"I'm just impressed with how the boys played today," Vikings coach Vic Lease said. "They all rose to the occasion. I'm just really pleased with them."
How to put together a top-five matchup on short notice
Saturday's matchup came about after a series of conversations between Lease, who also is Mazama's athletic director, and Banks coach Cole Linehan and athletic director Ben Buchanan on Thursday after both teams learned their scheduled opponents had to go into COVID-19 quarantine.
The Vikings were set to play Hidden Valley in a Skyline Conference showdown, while Banks was to play Cowapa rival Seaside. Both schools learned during practice Thursday that their week of preparation might be for naught until the late agreement to meet halfway between the schools.
"We left practice Thursday with no game, and by Thursday evening, Mazama had gotten hold of us, and it was one of those deals where I told my guys, if you have a chance to go play a good team, you play them," Linehan said.
"Regardless of how much preparation time you have, in a year like this, when we're so excited to just be playing, I mean, it was a no-brainer to get these kids a game against a good opponent."
The feeling on the other sideline was mutual.
"We knew they're a great team," Lee said. "But we just wanted to play. This group is special, you know, and we just wanted more games. We didn't care who it was.
"We just wanted to play. We got this shot at Banks, and we knew they're a great team. Didn't care who it was."
Vikings senior Aidan Kindt, who ran for 80 yards and two second-half touchdowns, added, "We were pretty pumped. Banks was a better team, ranked No. 2 in 4A. We wanted to take on the better team."
That meant Lease spent much of what was supposed to be an off-day Friday — Mazama had no school because the end of the grading period was Thursday — putting together all the logistics to make the game possible. He contacted Marshfield athletic director Greg Mulkey, who coordinated with Cottage Grove officials to gain access to the facility, and set up buses to transport the Vikings from Klamath Falls to Cottage Grove in time for the 3 p.m. start.
Oh, and he had to prepare a game plan on short notice for an offense that had scored 97 points in its first two games. For that part, he leaned heavily on defensive coordinator Beau Fullerton, who came up with a gem of a plan.
"When he found out that we were playing Banks, he was at the high school until 1 in the morning, breaking down film, preparing for this game," Lease said. "These kids believe in him and everything he does, and they followed his instructions to the letter today."
Vikings defense holds Banks to 87 yards in posting shutout
Those instructions, Lee said, boiled down to one simple task: "Just stop what they do best."
In that regard, the senior free safety said it helped having spent most of the week preparing for Hidden Valley, which like Banks has a high-powered passing attack.
"Absolutely. They run a lot of the same stuff, a lot of the same formations, so that definitely helped our prep," Lee said. "Coach Fullerton got us prepared in one day for this team. Hats off to our guys. We study hard and work hard."
Meanwhile, Linehan and his staff had 24 hours to switch gears from Seaside's traditional run-heavy attack to Mazama's veer option, with its emphasis on misdirection and trap plays.
"It's not ideal, of course," he said. "You can't simulate it in practice. But that's not an excuse for 38-0. They took away our weapons and did a good job of flying around to the football and making plays. They had all the answers today."
The Vikings held Banks to zero yards rushing, 87 yards of total offense and eight first downs. Banks' longest play from scrimmage went for 18 yards during a late third-quarter drive that ended with the last of the team's three turnovers — an interception by senior Caleb Waits in the end zone.
It was the first time Banks had been shut out in a regular-season game since a 3-0 loss to Philomath in Week 2 of the 2014 season. La Grande defeated Banks 21-0 in the 2019 state final.
"The adjustments we made on defense, with the multiple sets that Banks gives you, going from two-back to empty, and their ability to run and throw, with one day's preparation, getting the shutout today is what I was more impressed with than anything else we did," Lease said.
Lee 'by far the best quarterback' Lease has coached
The game started auspiciously enough for Banks, which forced a fumble on Mazama's opening drive that junior Aaron Brown corralled at the Mazama 36.
A holding penalty wiped out a fourth-down conversion, forcing Banks to punt the ball back to the Vikings, who subsequently marched 73 yards in 11 plays, the first 10 of them runs before Lee hit Western Oregon-bound receiver Cole Brosterhous on a 26-yard touchdown pass.
Neither team mustered much offense the rest of the half until Lee again connected with Brosterhous on a 43-yard pass in the final 90 seconds, setting up a 1-yard touchdown sneak by Lee with 14 seconds before halftime.
"Tristan is by far the best quarterback I've ever coached in our system," Lease said. "He's been running our offense since he was in junior high, and he knows how our offense is supposed to go. He makes all the decisions every single snap, and he's a playmaker. They got some pressure on him, but he was able to roll out and find receivers, make things happen."
The Vikings took advantage of a Banks fumble at midfield to grab a 24-0 lead when Lee's pass into a crowd deflected into the waiting arms of Erik Hayden, who waltzed into the end zone for a 47-yard touchdown.
After a three-and-out, Mazama needed eight plays to extend its lead, with Kindt bursting 18 yards on fourth down. Kindt's 51-yard run midway through the fourth quarter capped the scoring and brought about an unexpected running-clock finish to this matchup of top-five powers.
"This is a wake-up call for us," Linehan said. "We've had a lot of success over the last two years, and the kids have won a lot of football games, so I told the kids, I hope this is an opportunity to look at themselves and see how they can get better."
No rest for Mazama: Two-time defending 5A champion next on schedule
As for the Vikings, next is a showdown with two-time defending Class 5A state champion Thurston at 6:30 p.m. Thursday in Springfield, another game put together on short notice after Phoenix asked if it could back out of its Skyline matchup with Mazama as it struggles with low numbers because of the pandemic and the aftereffects of the Almeda Drive fire that decimated the town in September.
Lease contacted Thurston coach and athletic director Justin Starck, with whom he has a long relationship going back to when they took their teams to Gold Beach team camp 20 years ago. They worked together to match Phoenix with North Eugene, which was Thurston's original Week 4 opponent, and set up their titanic matchup.
"We want to play the best competition we can, and we were lucky enough that Banks agreed to play us today and Thurston will play us next week," Lease said.
"This is a very talented group. We have three boys going on to play college football and two going to play college baseball, and they need to see real competitive games before they go. That's what we're trying to do here."
—
No. 3 Mazama 38, No. 2 Banks 0
Banks – 0 – 0 – 0 – 0 — 0
Mazama – 8 – 8 – 14 – 8 — 38
First quarter
M — Cole Brosterous 26 pass from Tristan Lee (Aidan Kindt run), 2:58
Second quarter
M — Lee 1 run (Zeke Heaton run), :03
Third quarter
M — Erik Hayden 47 pass from Lee (Brosterhous pass from Lee), 9:01
M — Kindt 18 run (run failed), 3:28
Fourth quarter
M — Kindt 51 run (Daniel Yancey run), 6:31
INDIVIDUAL LEADERS
RUSHING—Banks, Jamar Flippen 7-10, Cooper Gobel 8-(minus 10), Charles White 2-0. Mazama, Heaton 24-110, Yancey 8-47, Kindt 5-80, Lee 5-10, Eryk Mayes 4-8.
PASSING—Banks, Gobel 11-20-2-87. Mazama, Lee 3-6-0-116.
RECEIVING—Banks, Aaron Brown 3-16, Flippen 2-29, White 2-10. Mazama, Brosterous 2-69.
DEFENSE—Banks, Eliott King 9 tackles; Tyler Exline 7 tackles, 1 for loss; White 7 tackles; Ramsey Hering 6 tackles. Mazama, Caleb Waits 8 tackles, 1 for loss, forced fumble, interception; Alex Hayden 6 tackles, interception; Peyton Wright 5 tackles, 2 sacks.
—
SBLive Sports has launched a free iPhone and Android app featuring exclusive coverage of Oregon high school sports. You can download the new SBLive iPhone app here, and you can download the new SBLive Android app here.