5A offensive player of the year candidates: favorite, contenders, dark horses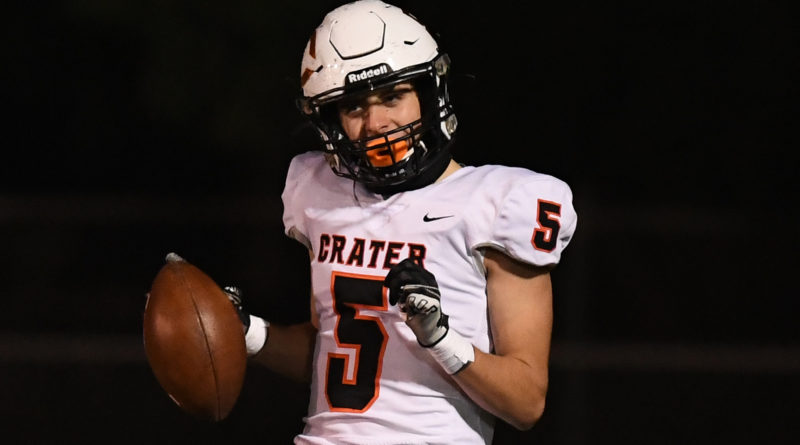 By René Ferrán
Over the past week, we've taken a look at many of Oregon's top high school football players by position:
Here, we examine some of the top offensive player of the year candidates in Class 5A.
Trevor Jaasko (Crater) photo by Leon Neuschwander
—
Favorite
WR Chance Miller, Sr., Canby
Miller has been on the move throughout his life — born in Fairbanks, Alaska, moving to Albany as a child and living there until middle school, when his family settled in Canby. He'll soon be on the move again to Colorado Springs, where he'll enroll at the Air Force Academy to play for the Falcons, but not before following a breakthrough junior season in which he caught 59 passes for 963 yards and nine touchdowns. 
Contenders
RB James Menor, Sr., La Salle Prep
A three-year starter and first-team all-NWOC East pick last season, Menor does a little of everything for the Falcons, moving from tailback to H-back to slot receiver to get the ball in his hands as much as possible.
QB Jordan McCarty, Jr., Silverton
One of the most dangerous players in the Mid-Willamette Conference, McCarty is a true dual-threat quarterback who passed for 1,783 yards and accounted for 25 touchdowns (14 passing, 11 running) last season en route to first-team all-Mid-Willamette honors. With a season of experience under his belt for a team that again figures to be one of 5A's best, what will McCarty do for an encore?
WR Payton Dart, Sr., Wilsonville
Dart won't have quarterback Jayce Knapp (who moved to Texas for his senior season) throwing to him this spring, but don't expect too much of a drop for the first-team all-state receiver from 2019, who led the Wildcats in receptions (52), receiving yards (886) and touchdowns (12).
QB Ryan Rosumny, Sr., La Salle Prep
The all-NWOC East first-teamer threw for 1,858 yards and 20 touchdowns while completing 65 percent of his passes as a junior. His coach, Aaron Hazel, called him one of the two best leaders he's coached. The future Pomona-Pitzer signal-caller might split votes with his teammate, Menor, but another strong season could vault him to the award.
WR Trevor Jaasko, Sr., Crater
Jaasko is another first-team all-state receiver returning for one more season after catching 45 passes for 731 yards and 10 touchdowns for last season's 5A state runner-up. Opponents won't be able to roll coverage too much on him — not with Dawson Douglas on the other side — so expect Jaasko to have another big season.
Dark horses
OL Henry Buckles, Sr., Hood River Valley
Let's start with the obvious — offensive linemen don't win player of the year honors. Except when they do — in Arizona last fall, future Oregon lineman Bram Walden was named his region's player of the year. So, in this craziest of seasons, would it be that crazy for the state's best offensive lineman to win the award?
RB Tyasin Burns, Sr., Pendleton/Nixya'awii
Burns attends Nixya'awii, a charter school in Pendleton that has a co-op agreement with Pendleton for football after combining with Class 1A Pilot Rock last season. He was his district's player of the year as a junior, running for 2,382 yards and 17 touchdowns, and if he gets the bulk of the carries in a time-share with all-NWOC East back Zannan Bane and others, he will show his numbers at a lower classification were no fluke.