Oklahoma high school boys basketball notebook: Kingfisher continues its winning ways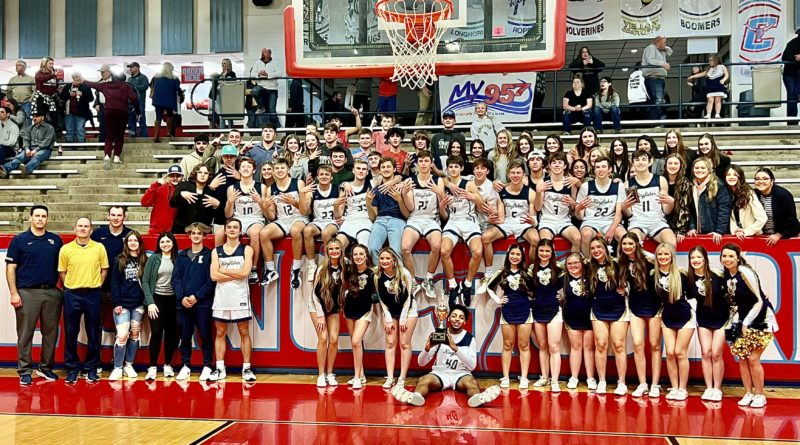 By Buck Ringgold
After Kingfisher claimed the Wheat Capital Classic title last weekend, the Yellowjackets continued a tradition that started in that tournament.
They went up into the stands and celebrated with the students who made the trip to Enid after holding off Alva, 41-39. It was the Jackets' eighth Wheat Capital title in the past nine seasons, and the only time Kingfisher didn't win was because the Yellowjackets weren't in the field, having played in the Tournament of Champions in Tulsa instead.
It was after winning the first Wheat Capital in that span that, following the game, the Jackets went into the stands to celebrate with the students. They've done that after every tournament championship since, including 4A titles in 2017, 2019 and 2021.
While the latest Wheat Capital title seemed to be routine, it wasn't necessarily the case. Despite losing all five starters from last season's 4A title team, the Jackets haven't missed a beat, moving their record to 11-0.
"I was probably a little surprised that it started that well," coach Jared Reese said. "We didn't have one player back from last year's team as far as that got any significant playing time. All five of our starters were seniors last year, and one of the guys we really thought we would be counting on this year tore his ACL right before the season started.
"We thought it would be quite a struggle early in the year, and we like our kids and we think they're pretty good, but we just thought it would be a struggle, and it probably has still been a struggle, but we've just found ways to win. They've been used to winning, they've been around it and they've been on these teams that have been very successful."
The closest anyone has come to Kingfisher all season was Newcastle, which lost 42-41 on Dec. 14, and Alva, which also brought an undefeated record into Saturday's Wheat Capital Classic title game.
"In a couple of the games that have been really tight for us, I think they just expected to win and found a way to do it," Reese said. "We feel really fortunate right now with our record and where we're at, but we also understand that we have got a long ways to go; we're not anywhere close to where we want to be as a team right now."
Reese has also been mixing and matching, having started at least seven different lineups. There have also been at least five players who have been the leading scorer on a given night.
The Jackets' top scorer is junior guard Xavier Ridenour, who hit the game-winning free throws with three-tenths of a second left to beat Alva. Another junior guard, Maddox Mecklenburg, was named the tournament MVP after scoring in double figures in all three wins, including 13 points in the title game.
Junior forward Caden Kitchens and senior Chase Davis have also been averaging double figures.
Kingfisher plays again on Tuesday, a road game at Bethany.
Tulsa Booker T. Washington
Booker T. Washington's team has put plenty of points on the board all season, helping the Hornets to a 9-0 start.
The Hornets scored at least 85 points in three of their first four ballgames. Though they haven't matched that since, they've continued to score enough to win.
Last week, BTW claimed the Bartlesville Invitational championship, beating Midwest City Carl Albert in the semifinals, 49-48, and then holding off Bartlesville for the title, 56-51.
"What's been working for us is a shift in mentality where we are more assertive, aggressive and confident," BTW coach Eli Brown III said. "Our goal wasn't to be undefeated all season, our goal was to be the best versions of ourselves and to try and play extremely hard every night and that's what we've been doing.
"Many guys on this team have stepped up this season. Our guard play has been really good thanks to guys like Kam Parker, Ijai Johnson, Lathan Boone and Aaron Potter. We also get contributions from the likes of Will Ware, Richard Wilson, Jayden Oates and Mike Smith."
Brown added the Hornets are without the services of one of their top shooters, Marques Smith, due to various ailments but is expecting to return soon.
"We knew the Bartlesville tournament would be tough with Carl Albert and Bartlesville and Southmoore being in it," Brown said. "Bixby isn't a cupcake team either, so it was really good to win that tournament.
"Wins don't come easy in 6A and definitely not in the Frontier Conference, so we don't take these wins for granted. We've definitely had to earn them all, while facing really good teams and we have really good teams left to play."
The Hornets are scheduled to go to Owasso on Friday and then will be at Tulsa Union on Tuesday. BTW also plays in the Jenks/Union Tournament Jan. 20-22.
Stilwell
The wins keep coming for the undefeated Indians.
After winning the Lincoln Christian Winter Classic over the weekend, Stilwell returned home on Tuesday to defeat Poteau, 64-37, moving the Indians to 12-0 on the season.
"It was kind of a businesslike game," Stilwell coach Michael George said. "They slowed us down, tried to get some things going and then we started kind of pushing it out there.
"We hit some shots there in the second half and kind of broke away from them and again it was a team effort."
Three players scored 10 points each for the Indians in junior guards Codey Petree and Cole Kimble, along with sophomore forward Tyrus Teehee.
On Saturday, Stilwell won the Winter Classic by holding off the tournament hosts, Lincoln Christian, 51-48.
"We went through a drought there in the second quarter and we went in behind six at halftime. … We started off with a 7-0 run in the second half and that's what helped us there, and we kind of caught them," George said.
"It was just a good, overall team effort."
Petree had 18 points and was named the tournament MVP. He also hit a big 3-pointer in the fourth quarter that put Stilwell in front.
Another Indian player, senior guard Kyler Fourkiller, also hit a big 3 late and sealed the win with a pair of free throws.
With the Indians continuing to win, residents in the town located in Adair County in eastern Oklahoma have started to take notice.
"There's been a little buzz around town now and at the game (Tuesday), everybody was wanting to stop and talk," George said.
"It's a good feeling and the boys are still working."
Stilwell returns to the court next Thursday, as the Indians face Oktaha in the opening round of the Fort Gibson Tournament.