Tradition-rich Clinton resumes place on 4A throne, defeats Tuttle for 17th state championship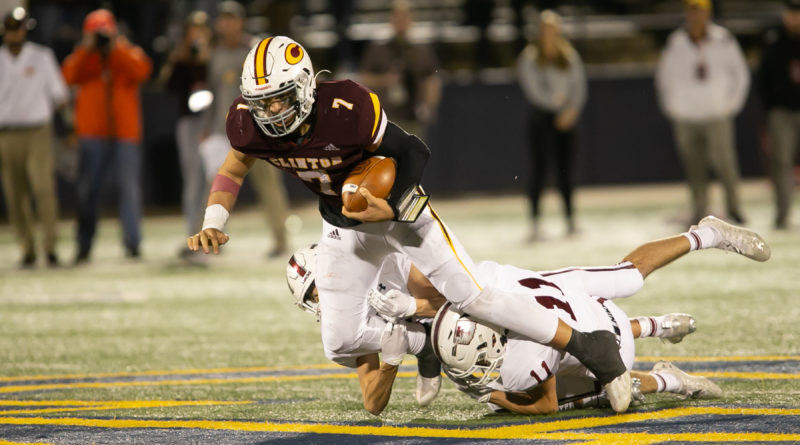 By Buck Ringgold | Photos by Karen Schwartz
EDMOND — A crown rested atop the head of Clinton senior tailback/cornerback Nate Jones following Friday's 4A championship game.
When asked about the significance of wearing the crown, Jones summed things up in a nutshell.
"Hey, we're the kings," he said. "We're the kings; we're the last one standing."
And appropriately enough, one of the most legendary high school football programs in Oklahoma regained its rightful place on the throne.
Clinton put together a dominating effort in all three phases to upend previously undefeated Tuttle, 35-0, for the 4A title Friday at Chad Richison Stadium. It was the first state title for the Red Tornadoes (13-1) since 2012, and it was the 17th gold ball in the rich history of the program.
"We just came out, and we just played good, old-fashioned Clinton football," senior right guard Bradon Snider said. "That was the goal, just hit them in the mouth. We had an idea of what they were going to do, and we picked them apart and got the gold ball."
The Red Tornadoes also didn't want a repeat of last season's 4A championship game on the same field.
Then, Clinton lined up against a Wagoner team that was vying for a perfect season. Wagoner got it, rolling past the Red Tornadoes, 42-13.
"It was embarrassing; to play last year, and we didn't get it done, we were embarrassed," Clinton coach John Higbee said. "We weren't even off the field before our kids were talking about, we're going to get our butt back here, we're going to do it and we're going to do it right.
"They did it."
Clinton's defense was on point in the opening half. The Red Tornadoes held the Tigers (13-1) to no first downs and 11 yards of total offense and intercepted two passes, turning those into a field goal and a touchdown.
For the game, Clinton held Tuttle to 159 total yards and picked off three passes, two by Jones, one of those players motivated by last season's final outcome.
"We can make it (back to the title game), we can make it again and it would be a different outcome if we worked ourselves a lot harder, and came back the next year and won it," Jones said.
"It was a good night on the defensive side of the ball. Stop number 5 (Tiger tailback Canon West), you win the game and that's it and make them throw it, so we can make plays like I did, and that was the key."
Clinton also got a tremendous performance on both sides of the ball from senior quarterback/linebacker Caden Powell, who has signed to play baseball at Oklahoma.
Powell rushed for 134 yards on 26 carries and scored three touchdowns while adding 43 yards through the air. He was also the team's leading tackler, registering nine stops, five of those unassisted, along with 1.5 tackles for loss.
"I try not to worry about (individual stats); I just let my guys, my (offensive) line, I can't say enough about them," Powell said. "And my defensive line as well; they do the dirty work and I make the plays, so shout out to them.
"Our coaches told us coming in we were going to have to execute if we wanted to win, and we executed and we won."
The Red Tornadoes also had a solid outing on special teams.
Two different placekickers made field goals in the first quarter; and a second-quarter punt was downed at the Tuttle 1. Clinton forced a punt and got outstanding field position at the Tigers' 30, which set up the Red Tornadoes' opening TD.
"We coach really hard but our kids, they've still got to do it and they did," Higbee said. "They executed and they wanted it so bad; they were bound and determined not to make mistakes, and bound and determined to come back with a gold ball."
Clinton fielded the opening kickoff and put together a 12-play drive that took nearly six minutes off the clock. However, that series stalled, and Sammy Velez came on to kick a 26-yard field goal to put the Red Tornadoes ahead, 3-0.
Tuttle fumbled on its opening series before recovering the ball.
The Tigers weren't so lucky on the ensuing play, as a pass was picked off by Jones and returned 20 yards inside the Tuttle 30.
Again, the Red Tornadoes failed to reach the end zone, and settled for a field goal. This time, Jordan Brown came on to kick it, and the 37-yard attempt was true for a 6-0 Clinton advantage with 2:05 left in the first quarter.
Early in the second quarter, a punt from Clinton's Garrison Rhodes was downed by his teammates at the Tuttle 1, and the Tigers promptly went three-and-out. The Tigers punted it back to Clinton, which got outstanding field position at the Tuttle 30.
The Red Tornadoes needed seven plays to cash in.
On a fourth-and-1, Powell took a keeper to the right side of the line and advanced 3 yards to the 3. On the next play, Powell got the call again; this time going off the left side and plunging into the end zone.
Velez added the PAT for a 13-0 lead with 4:47 left until halftime.
Pressure applied by Clinton's defense led to another interception, this coming from junior Nicholas O'Neale. That set up a five-play 33-yard drive, ending with Powell's 1-yard TD sneak on fourth-and-goal.
Tuttle jumped offside twice on the conversion attempt, and Clinton decided to go for two at the 1. Again, Powell took the snap and surged forward into the end zone, making it 21-0 with 1:25 left until halftime.
The Tigers converted their initial first down when they fielded the second-half kickoff. They went for it on fourth down near midfield, but a pass went incomplete.
Clinton took over at the Tigers' 48 and quickly scored again in five plays.
Again, it was Powell, a 6-yard run where he was stopped initially before bouncing off a defender and dashing into the end zone for the third time on the night. Velez's PAT made it 28-0 with 7:46 left in the third.
"It was down there in the trenches, and any time we're in the trenches, I'm taking my guys," Powell said.
Four plays later, Jones came through with another interception. He caught a tipped pass and nearly ran it back for a pick-six before being brought down at the Tuttle 6 after a 52-yard return.
But on the next play, Caleb Edwards ran it in from 6 for six, and Clinton held a commanding 35-0 lead.
The Tigers reached inside the Red Tornadoes' 10 on each of their final two possessions. But Clinton's defense forced stops both times on fourth down, keeping the shutout intact.
"We definitely wanted the shutout," Jones said. "The egg on the scoreboard looks nice."
Clinton finished with 266 yards of total offense, including 223 on the ground. Trey Bennett added 63 yards on nine carries, while Jeramiah Barker caught two of Powell's three passes for 34 yards.
West, the Tigers' leading rusher, was held to 88 yards on 23 carries while Clinton held quarterback Mason Dennis, who threw for nearly 200 yards and three TDs in last week's semifinal win against Poteau, to 39 yards and four completions.
Despite the Red Tornadoes' winning tradition, just four years ago, the program was coming off a 3-7 season. Higbee, a former Clinton assistant, was hired to help restore the program back to its former glory.
"We had to put it back together, and get the coaches back out that had been here in the past," Higbee said. "(Legendary former Clinton coach) Mike Lee was in the press box with us and helps us all the time in practice.
"Sometimes coaches don't fit in spots and sometimes they do. I fit here, and I was perfectly willing to embrace the tradition that had been here before long before me."
The Red Tornadoes dropped their second game this season to Heritage Hall before reeling off 11 straight wins. Not to mention bringing another gold ball back to Clinton.
"Man, I can't even describe it, it's just surreal to me," Snider said. "I envisioned myself winning one one day, but I never really thought it would be this crazy of a deal.
"It's just awesome; I'm at a loss for words."