10 games to watch this week in Oklahoma high school football: Several intriguing games highlight first round of playoffs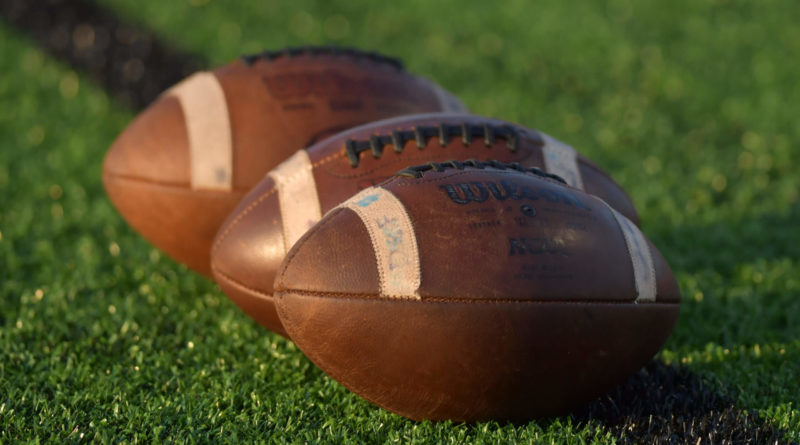 By Buck Ringgold
Playoff football in Oklahoma is here this week.
Several first-round games appear to be mismatches on paper. Then there are some other games that will definitely be worth checking out, though again, it's also on paper and waiting to be transpired on the field.
Here are the Top 10 high school football games to watch in Oklahoma for this week.
Owasso at Broken Arrow
It will be a regular-season rematch between two of the tradition-rich programs in 6AI when the Rams and Tigers square off, but this time the stakes are much higher.
The two squads met in September at Owasso, with the Rams very dominant in a 42-3 win.
But the Tigers (7-3), who struggled to a 2-3 start, have found a groove, reeling off five straight wins to set up the rematch. One of the main reasons for the Tigers' resurgence has been tailback Maurion Horn, who, in the team's past four games, has rushed for more than 900 yards and eight touchdowns.
The Rams (8-2) ended up as the No. 3 seed from 6AI-2 due to an overtime loss at Tulsa Union and a 47-41 home loss to Mustang, a game in which Owasso trailed 47-21 entering the fourth quarter.
Friday's game also marks the third time this season Owasso coach Bill Blankenship has gone up against a family member. He defeated his son, Broken Arrow coach Josh Blankenship, in the regular-season game at Owasso and lost to Mustang, led by coach Lee Blankenship, Bill Blankenship's cousin.
Norman North at Jenks
The Trojans begin their postseason defense of their 6AI state title with a home game in the first round of the 6AI playoffs. One of the teams they beat in last season's march to the 6AI crown was Norman North, with the Trojans coming away with a 63-16 win.
Since a loss to Bixby in its second game of the season, Jenks (9-1) has been overpowering during a current eight-game win streak. The Trojans have won their last eight ballgames by an average margin of 30.5 points.
One player who has had a hand in that winning streak is junior tailback Jaiden Carroll, who has rushed for more than 600 yards and 12 TDs in the Trojans' last five games. The Trojans' defense has also been on point of late, notably defensive lineman AJ Brown, who recently committed to Oklahoma State.
Norman North (7-3) got into the playoffs as the No. 4 seed out of 6AI-2 by virtue of its head-to-head win against Moore. In the Timberwolves' last two regular-season games, they scored 88 combined points, winning both.
Senior quarterback Gavin Frakes has thrown for more than 2,200 yards and 24 TDs while adding eight TDs on the ground.
Sand Springs at Del City
It will be a matchup between the No. 1 playoff seed and the No. 4 seed when the 6AII-1 champion Eagles (9-1) welcome in the Sandites.
But the Sandites (7-3) aren't the average fourth seed. They suffered a three-game losing skid against high-caliber teams in Booker T. Washington, Bixby and Choctaw.
Two weeks ago, Sand Springs senior quarterback Ty Pennington threw for 189 yards and three TDs in a win against Bartlesville before passing for 293 yards and two TDs last week in a win against Putnam City West.
Del City's quarterback, Virgil Yates, has been a big reason for the Eagles' resurgence in 2021, going from a four-win 2020 to this season's nine wins up to this point. He has accounted for nearly 1,600 yards of total offense and 28 touchdowns.
Tulsa Booker T. Washington at Stillwater
Perhaps the best first-round matchup in the 6AII bracket will be this contest between a pair of 8-2 squads.
The Hornets, though, are coming off a decisive home loss to Bixby in the regular season finale. They also ended up with the No. 3 seed from 6AII-2 due to losses against Bixby and Choctaw.
Stillwater, on the other hand, comes in as one of the hottest teams in the state. The Pioneers have won their last five games by a combined total of 253-19, and they posted shutouts in each of their final three regular-season games.
It's the first time these two teams have faced off since 2018. That was also in the playoffs, with Stillwater claiming a 38-28 win.
Tahlequah at Coweta
A battle of Tigers highlights the first round of the Class 5A playoffs as Tahlequah's Tigers travel to face their mascot counterpart.
Tahlequah (7-3) finished as the No. 3 seed from 5A-4 following a home loss last week to undefeated Collinsville. Quarterback Tyler Joice has thrown for nearly 1,300 yards and 17 TDs while adding six rushing TDs.
Coweta (9-1) bounced back from a Week 7 home loss to McAlester which essentially decided the 5A-3 championship. Since then, Coweta has won three straight games by an average margin of 25.7 points, including a 42-7 win at Durant in last week's regular season finale.
Senior quarterback Gage Hamm has thrown for 1,673 yards and 23 TDs while adding four more TDs rushing. Junior tailback Will Mason has 725 yards on 105 carries and 10 TDs.
This will be the fourth time in the past five seasons the two sets of Tigers have met in the playoffs. Tahlequah won in 2017, while Coweta posted wins each of the following two postseasons.
Elk City at Cushing
Two high-powered offenses meet up in this Class 4A opening-round contest.
It has been a resurgent season for Elk City, which won three games last season after going 0-10 in both 2018 and again in 2019.
Elk City (8-2) finished with the No. 3 seed out of 4A-1, averaging 38.2 points along the way.
The Elks are paced by senior tailback Daylan Thompson, who has set the single-season school rushing record with 1,880 yards. Last week, Thompson rushed for 188 yards and a TD in Elk City's 28-14 win against Newcastle.
Cushing (9-1) comes in averaging 42.1 points per game. After being held to seven points to eventual 4A-2 champion Tuttle in the district opener, the Tigers have averaged 46 points during a current six-game win streak.
Leading the Tigers' charge is quarterback Blaze Berlowitz, who has passed for nearly 2,850 yards and 30 touchdowns, and receiver Camden Crooks, who has caught 89 passes for 1,486 yards and 18 TDs. Both Berlowitz and Crooks are juniors.
Blanchard at Bethany
Two teams coming off losses to decide district titles meet up in this 4A opening-round game.
Last week, Blanchard nearly handed Tuttle its first defeat, but a fourth-quarter touchdown was the difference as the Lions were edged, 14-13. That dropped the Lions (7-3) down to the No. 3 seed from 4A-2, forcing them to hit the road to open the playoffs.
Bethany went into last week's game at Clinton needing a win to secure the 4A-1 title, but the Red Tornadoes proved to be too much, prevailing 49-0.
A pair of talented wideouts highlights this matchup. Blanchard senior receiver Lincoln Smith has 47 catches for 698 yards and eight TDs, while Bethany senior Jocelyn Malaska has also had a knack for finding the end zone, including a three-TD performance in a win against Elgin. He's also a cornerback and has committed to Texas Tech.
Since 2008, Blanchard has held a 6-5 edge in the series, though Bethany has won the last two meetings, both coming in 2018 and again in 2019.
Verdigris at Seminole
A rare first-round matchup between two 9-1 squads is on tap in this Class 3A playoff contest.
Despite finishing 9-1, Verdigris wound up with the No. 3 seed out of 3A-4 due to the point system. The Cardinals shared the 3A-4 title with Holland Hall and Berryhill, but finished 20 points behind Holland Hall and two points behind Berryhill, the only team to defeat the Cardinals.
Verdigris has won its past five ballgames and has given up 37 total points in that span. That included a 12-7 win against Holland Hall in Week 9, a game that snapped a 20-game winning streak for the Dutch.
Seminole's only defeat came in Week 7 to Lincoln Christian, the eventual 3A-3 champions. The Chieftains have scored at least 42 points in each of their three games since that loss, including 50 in a 50-20 win against Sequoyah-Tahlequah in last week's regular-season finale.
This will be the first matchup between the Cardinals and Chieftains since the 2011 playoffs, when Seminole posted a 35-24 win.
Metro Christian at Sperry
Last season's 2A state champions, Metro Christian, are in an unusual position, having to open the 2A postseason on the road.
That's because the Patriots (7-3) finished with the No. 3 seed from 2A-7 after losses to district champion Victory Christian and runner-up Beggs.
But don't discount the Patriots from making another deep playoff run, especially when they have players like quarterback Kirk Francis and running back Tagg Campbell. Metro is also riding a three-game win streak since its shocking 62-7 loss to Victory Christian.
Sperry (6-4) finished as the No. 2 seed from 2A-8. The Pirates were upended by Rejoice Christian, 48-14, in last week's regular-season finale. They also lost to three other playoff teams, including against district foe Adair.
This is the first time the Patriots and Pirates have faced off since 2013, when Metro won handily, 46-0.
Hominy at Pawhuska
In this Class A first-round matchup, both teams are already familiar with one another.
They squared off in September, with Hominy pulling out a 33-31 win.
But despite that win, Hominy (7-3) ended up with the No. 4 seed out of A-6, though the Bucks did snap a two-game losing skid last week with a 33-0 win against Chelsea.
Pawhuska, on the other hand, has not lost since that Sept. 17 defeat to Hominy. The Huskies rolled through A-5 play undefeated, outscoring their opponents, 363-32. That includes four straight shutouts to end the regular season.
The Huskies' other loss came in non-district play to Victory Christian, which ended up winning the 2A-7 title.
Senior receiver Mason Gilkey, an Oklahoma State commit, has caught 57 passes for 901 yards and 16 TDs. In the loss to Hominy, he still caught 11 passes for 153 yards and two touchdowns.