'It's just an unmatched feeling.' Norman North outlasts city rival in renewal of 'Crosstown Clash'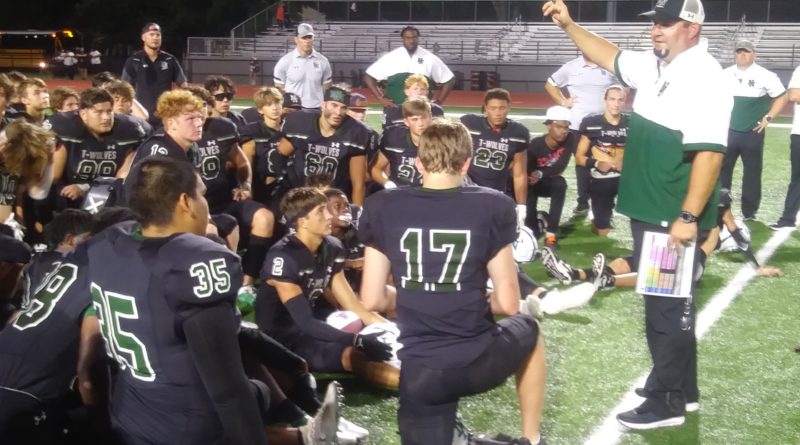 By John Michaels
NORMAN — It's known as the "Crosstown Clash," when rivals Norman High School and Norman North square off.
The two teams — Norman's Tigers and North's Timberwolves — even share a stadium, Harve Collins Field.
Last season, the rivalry was temporarily put on hold when the game was canceled due to COVID-19. But the Tigers and Timberwolves still got to face off in 2020, drawing one another in the postseason, with North winning, 42-34.
On Thursday, when the "Crosstown Clash" was renewed as the season kickoff game for both schools, the two teams waged another entertaining affair before an overflow crowd. In the end, thanks in large part to five touchdown passes by North quarterback Gavin Frakes — three to receiver Brayden Dorney — the Timberwolves pulled away from the Tigers to prevail, 41-24.
"It's a great atmosphere, it's great for the community of Norman and to be honest, we've played at (the University of Oklahoma's Gaylord Family-Oklahoma Memorial Stadium), but I love it here," North coach Justin Jones said. "It's such a great environment, packed stands, standing room only and what a great experience for these guys to come out here and start their year."
One such player eager to make an immediate impact was Frakes, a senior who was making his first start at quarterback. On his very first pass attempt, Frakes launched a 70-yard touchdown strike to a streaking Dorney to give North the lead for good.
The two connected again later in the first quarter, this time covering 50 yards, as the Timberwolves (1-0) built a 22-7 advantage. After the Tigers (0-1) closed to within five points, 22-17, midway through the third quarter, Frakes threw three consecutive TD passes to help North pull away.
"I thought he threw the ball really well and did a really good job of seeing the field," Jones said of Frakes. "For his first start, he did a great job this offseason of prepping and getting into really understanding what we're trying to get from a quarterback. Then there were a couple of plays where he extends it on the run and he's a big kid; he's a big, physical kid.
"He's 6-5, maybe a little under 220 and throws the ball that well and obviously, that's a weapon for us."
Frakes finished the game completing 13 of 17 passes for 302 yards and those five touchdowns.
"It's a great feeling; we've just been preparing super hard, working hard and trusting the process. … We've worked so hard and everything we've done, we deserve," Frakes said.
"My receivers have just done a great job of working hard with me. I've been bringing them out for extra routes after practice, and it's just paying off and it's just great to see because we've just worked so hard for it."
Dorney, a 6-foot junior, was one of the big beneficiaries of putting in the extra effort. He ended up with six catches for 174 yards and three touchdowns.
Along with his first-quarter TD receptions covering 70 and 50 yards, Dorney added an 18-yard touchdown catch late in the third quarter that gave North a 28-17 lead.
Following the game, after the Timberwolves were awarded the Harkness Trophy for claiming the "Crosstown Clash," Dorney was named the game's MVP and received a game ball for his efforts.
"Man, I honestly don't know even in pee-wee ball if I've done that in a game, but it feels great, it feels great, and it's going to feel great for the weeks to come because it's going to be normal," Dorney said.
His first touchdown came on North's third play from scrimmage after the Timberwolves forced a punt on the opening series.
Following an eight-yard run by tailback Chapman McKown for a first down to the North 30, Frakes dropped back to pass and saw a streaking Dorney.
The connection was made, as Dorney hauled in the catch in stride near the Tigers' 30 and sailed into the end zone untouched. North then went for two on a "swinging gate" formation and got it, with Kamden Sixkiller throwing a pass to Mason Pace, giving North an 8-0 lead with 8:54 left in the opening quarter.
"Before the ball was snapped, I saw one high safety I knew was coming over, and I knew it was a touchdown," Dorney said. "On the first pass play of the game, it feels amazing."
Dorney then set up North's second touchdown on the team's second possession, starting with a 24-yard punt return to the Norman 31, followed by a 15-yard late hit penalty on the Tigers that moved the ball to the 16.
On the next play, McKown got a handoff from Frakes, made a couple of cuts and discovered real estate, going in from 16 yards out. North tried for two again, but the conversion failed, keeping the Timberwolves' lead at 14-0 with 7:18 left in the first.
North appeared to be on the verge of getting the ball back again, as the defense forced a third-and-long deep in Tigers territory. One play from Norman junior quarterback Tias McClarty helped ensure the game would turn compelling.
From his 21, McClarty dropped back to pass and avoided a sack from North linebacker Duncan Parham. McClarty was chased back into his end zone before somehow breaking free, going down the right sideline before turning upfield and finishing off a highlight-reel 79-yard TD to get Norman right back into the thick of things.
The PAT from Colyn Wade made it 14-7, Timberwolves.
Late in the first quarter, North's defense forced a fumble near midfield, with linebacker Lane Painter making the recovery.
Three plays later, on a third down from the 50, Frakes threw another deep pass in the direction of Dorney, who once again hauled it in and streaked into the end zone.
Sixkiller then flipped a two-point pass to Will Bradley, extending North's lead to 22-7.
The Tigers came right back and put together a 10-play, 80-yard drive, capped by a three-yard TD run from sophomore tailback Devin Alexander with 9:54 left in the opening half. Wade's PAT made it 22-14 in favor of North.
Norman then closed the gap to five points after putting together a sustained drive on its first second-half series. The Tigers advanced inside the North 10 before the drive stalled, and Wade came on to kick a 26-yard field goal, cutting the Timberwolves' lead to 22-17 with 6:29 left in the third.
The Tigers forced a punt on the ensuing series, but they were unable to move the ball and had to punt themselves. However, the kick was shanked 14 yards to the Norman 35.
Three plays later, Dorney had his third touchdown grab, an 18-yarder, as North built a 28-17 lead with 1:28 left in the third.
Early in the final quarter, the Tigers had a fourth-and-1 at the North 42. McClarty took a keeper up the middle, but a host of black-shirted Timberwolves were there to meet him, keeping him from getting the first down.
One play later, Frakes threw a short pass to receiver Cason Cabbiness. The junior then broke free and found a seam, going off to the races for a 58-yard touchdown which dramatically turned the game around as North led, 34-17, with 9:59 left.
"Cason Cabbiness is a great playmaker," Frakes said. "He works super hard, always asking me to go do extra routes and he deserves it, all the dudes that made plays (Thursday), they deserve it, they just worked so hard for it."
Pace intercepted a pass on the next series, which set up the fifth TD pass by Frakes. Again, it went to Cabbiness, this one covering 19 yards with 7:05 left.
North then kicked the PAT, courtesy of Will Sutherlin, to build a 41-17 advantage.
McClarty had his second TD run on the night with 3:59 left, a 16-yard keeper. He finished the game with 170 yards on 27 carries.
In addition, McClarty completed 10 of 20 passes for 107 yards. Senior receiver Zack Stone caught three passes for 28 yards, and another senior, Edric Lambert, had two receptions for 40 yards.
"What we told our defense is we've just got to settle and play angles against him, and I felt like we did a better job of doing that," Jones said. "We had to make some adjustments; they had a good scheme against us. … I thought our defense did a phenomenal job of settling in and really understanding adjustments."
And Parham, who nearly sacked McClarty before the quarterback broke free on his first TD run, did register a third-down sack later in the game. After allowing 213 total yards in the first half, the Timberwolves held the Tigers to 170 yards after halftime.
"As a team, we take pride in our defense; we want to make sure we have one of the best defenses in the state every year," Parham said. "I feel like when we go back and watch film, we really had a sloppy game, but what we're really good at is we're good at moving on to the next play.
"I think part of that, too, is Coach Jones having trust in us. As a coach, he gives us an opportunity to put in thoughts and feel like during film, see stuff that works, try stuff out and when we play, he lets us play, and I think we did a good job of correcting our mistakes (Thursday)."
The Timberwolves finished with 149 yards rushing in addition to Frakes' 302 yards passing. McKown ended up with 70 yards on 12 carries while Frakes added 69 yards on 10 rushes.
But the most important stat to Frakes and his teammates was the final score. North has also taken six out of the past eight games against its crosstown rivals.
"It means the world; this is the best feeling," Frakes said. "Seeing that we got more points than them on the scoreboard, it's just an unmatched feeling."
Norman will play on Thursday night again next week, going to Moore. North is back at Harve Collins Field the following night, Sept. 10, to take on Edmond Memorial.