Vote now: Which is the best photo from the 2021 Ohio high school football regular season?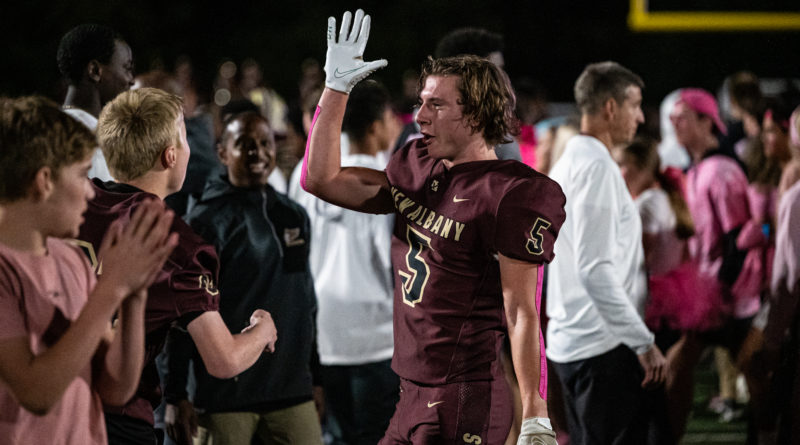 From Week 1 through Week 10, and from First Federal Lakewood Stadium just south of Lake Erie to Nippert Stadium just north of the Ohio River, SBLive Ohio shot photos and video of football games all over the state this season.
We went through the 2021 archives and picked our top 20 photos from the regular season, and now you can vote for your favorite in the poll below. A slideshow of the photos is at the bottom of the post.
(Feature photo by Gabe Haferman)
TOP 20 PHOTOS FROM THE REGULAR SEASON
Week 2: Pickerington Central's Olando Kamara helped lead the Tigers past Elder 28-10 to start the season 2-0. (Photo by Nate Swanson)
Week 3: St. Edward running back Danny Enovitch gets through the grasp of Mentor linebacker Collin Orosz. (Photo by Christian Harsa)
Week 3: St. Edward quarterback Christian Ramos tries to kick loose from Mentor defensive back Tyler Wilkinson during the Eagles' 47-7 win. (Photo by Christian Harsa)
Week 4: Marysville quarterback Brady Seger barks out calls during the Monarchs' 27-7 win over Hilliard Bradley. (Photo by Gabe Haferman)
Week 4: Marysville running back Gabe Powers looks for a hole or somebody to hit — whichever comes first. (Photo by Gabe Haferman)
Week 5: Upper Arlington running back Carson Gresock plans his next move against Central Crossing's Alec Boyd (4) and Eli Fleshman (12). (Photo by Gabe Haferman)
Week 5: St. Xavier defensive back Ryan Nolan brings down Archbishop Moeller's Jordan Marshall just before the goal line. (Photo by Ben Jackson)
Week 5: Archbishop Moeller's Alec Weeder tries to shake loose from St. Xavier's Grant Lyons during the Bombers' 49-16 win at Nippert Stadium. (Photo by Ben Jackson)
Week 6: Kettering Fairmont's Soso Poe zeros in on the ball against Springfield during the Firebirds' 17-0 loss. (Photo by Ben Jackson)
Week 6: Kettering Fairmont's Drew Baker braces for contact from Springfield's Jaivian Norman. (Photo by Ben Jackson)
Week 6: Springfield quarterback Te'Sean Smoot gets his offense ready pre-snap. (Photo by Ben Jackson)
Week 7: La Salle gang-tackles a Cathedral (Indiana) ball carrier, led by Chase Stein. (Photo by Ben Jackson)
Week 7: La Salle coaches and players watch in anticipation as receiver Jaden Troehler reaches for the ball. (Photo by Ben Jackson)
Week 7: New Albany's Jadyn Garnes gets some room to run thanks to teammate Christian Manville's block on Gahanna Lincoln's Alex Donovan. (Photo by Gabe Haferman)
Week 8: Hamilton's Kerry Ware, Colerain's Ken Willis and the ball all go flying during the Cardinals' 27-6 win. (Photo by Ben Jackson)
Week 8: Colerain's MJ Flowers is determined to find running room, or to run somebody over, against Hamilton. (Photo by Ben Jackson)
Week 9: Springboro's Nathan Coy goes airborne to try to bring down Wayne's Bryan Kinley. (Photo by Ben Jackson)
Week 9: Springboro's Allan Hopkins, TJ Allphin, Mason Leach and Luke Zier celebrate a big play against Wayne, but the Panthers lost 28-24. (Photo by Ben Jackson)
Week 10: A Lakota West coach matches Aden Miller's hops during the Firebirds' 34-7 win over Lakota East. (Photo by Ben Jackson)
Week 10: Lakota East's Justin Green takes extreme measures to make sure Lakota West's Trent Lloyd can't make the catch. (Photo by Ben Jackson)
Week 2: Pickerington Central's Olando Kamara helped lead the Tigers past Elder 28-10 to start the season 2-0. (Photo by Nate Swanson)

Week 3: St. Edward running back Danny Enovitch gets through the grasp of Mentor linebacker Collin Orosz. (Photo by Christian Harsa)

Week 3: St. Edward quarterback Christian Ramos tries to kick loose from Mentor defensive back Tyler Wilkinson during the Eagles' 47-7 win. (Photo by Christian Harsa)

Week 4: Marysville quarterback Brady Seger barks out calls during the Monarchs' 27-7 win over Hilliard Bradley. (Photo by Gabe Haferman)

Week 4: Marysville running back Gabe Powers looks for a hole or somebody to hit — whichever comes first. (Photo by Gabe Haferman)

Week 5: Upper Arlington running back Carson Gresock plans his next move against Central Crossing's Alec Boyd (4) and Eli Fleshman (12). (Photo by Gabe Haferman)

Week 5: St. Xavier defensive back Ryan Nolan brings down Archbishop Moeller's Jordan Marshall just before the goal line. (Photo by Ben Jackson)

Week 5: Archbishop Moeller's Alec Weeder tries to shake loose from St. Xavier's Grant Lyons during the Bombers' 49-16 win at Nippert Stadium. (Photo by Ben Jackson)

Week 6: Kettering Fairmont's Soso Poe zeros in on the ball against Springfield during the Firebirds' 17-0 loss. (Photo by Ben Jackson)

Week 6: Kettering Fairmont's Drew Baker braces for contact from Springfield's Jaivian Norman. (Photo by Ben Jackson)

Week 6: Springfield quarterback Te'Sean Smoot gets his offense ready pre-snap. (Photo by Ben Jackson)

Week 7: La Salle gang-tackles a Cathedral (Indiana) ball carrier, led by Chase Stein, right. (Photo by Ben Jackson)

Week 7: La Salle coaches and players watch in anticipation as receiver Jaden Troehler reaches for the ball. (Photo by Ben Jackson)

Week 7: New Albany's Jadyn Garnes gets some room to run thanks to teammate Christian Manville's block on Gahanna Lincoln's Alex Donovan. (Photo by Gabe Haferman)

Week 8: Hamilton's Kerry Ware, Colerain's Ken Willis and the ball all go flying during the Cardinals' 27-6 win. (Photo by Ben Jackson)

Week 8: Colerain's MJ Flowers is determined to find running room, or to run somebody over, against Hamilton. (Photo by Ben Jackson)

Week 9: Springboro's Nathan Coy goes airborne to try to bring down Wayne's Bryan Kinley. (Photo by Ben Jackson)

Week 9: From left, Springboro's Allan Hopkins, TJ Allphin, Mason Leach and Luke Zier celebrate a big play against Wayne, but the Panthers lost 28-24. (Photo by Ben Jackson)

Week 10: A Lakota West coach matches Aden Miller's hops during the Firebirds' 34-7 win over Lakota East. (Photo by Ben Jackson)

Week 10: Lakota East's Justin Green takes extreme measures to make sure Lakota West's Trent Lloyd can't make the catch. (Photo by Ben Jackson)