Meet SBLive Ohio's 2021 all-star football team, chosen by fan votes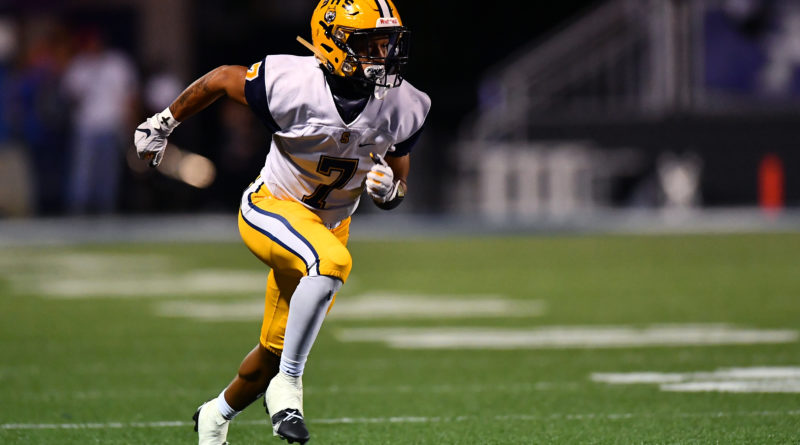 As the high school football playoffs pivot to the regional championship games this weekend, now is a good time to look back on SBLive Ohio's all-star team as voted by the fans.
We highlighted some of the top linebackers, wide receivers, quarterbacks, offensive linemen, defensive linemen, defensive backs, running backs and tight ends in the state, and the fans chose their favorites.
Pictured above is Springfield wide receiver Anthony Brown (photo by Ben Jackson), the leading vote-getter at WR.
SBLive Ohio's 2021 fan-voted football all-star team
LB: Nathanael Sulka, Chardon (leading vote-getter)
LB: Gideon Lampron, Keystone
LB: Gabe Powers, Marysville
LB: Matt Spatny, Medina
WR: Anthony Brown, Springfield (leading vote-getter)
WR: Cooper Rusk, Nordonia
WR: Will Futhey, Waverly
WR: Dom Foster, Harding
QB: D.J. Newman, Archbold (leading vote-getter)
QB: Jacob Winters, Jackson
QB: Drew Allar, Medina
QB: Terrence S. Robinson II, Hawken
OL: Gavin Rohrs, Marysville (leading vote-getter)
OL: Jonathan Harder, Olentangy Berlin
OL: Tariq Montgomery, St. Vincent-St. Mary
OL: Cameron Collins, St. Xavier
DL: Benny LoDuca, Mentor (leading vote-getter)
DL: Peter Chalhoub, St. Ignatius
DL: John Jackson, Barberton
DL: Bryan Henderson, Lakota West
DB: Dontez Howard Jr., St. Edward (leading vote-getter)
DB: Alexis Pacheco, Lake Catholic
DB: Griffin Taliak, St. Ignatius
DB: Michael Harrison, Mentor
RB: George Linberger, St. Vincent-St. Mary (leading vote-getter)
RB: Jackson Rohrs, Upper Scioto Valley
RB: Timothy Caffey, Hubbard
RB: Marty Lenehan, St. Ignatius
TE: Lucas Stoddard, Berkshire (leading vote-getter)
TE: Carter Brock, Upper Arlington
TE: Nate Schillinger, Avon Lake
TE: Alex McDonald, Chardon